Elementary School Teacher Creates Virtual Scavenger Hunt to Connect Students Stuck Home Because of Coronavirus
Newsweek's "Heroes of the Pandemic" series features everyday heroes showing service, sacrifice or kindness in the time of COVID-19.
With the ongoing coronavirus pandemic closing schools and forcing children to engage in distance learning via the internet, one teacher found a way to continue to connect with her students as they learn online.
Jenifer Levinson, who teaches first grade at Meadow Elementary school in Baldwin, New York, not only wanted her students to connect with her, but for her class to also connect with one another as the novel coronavirus forces people to socially distance for their safety.
"It was at the start of the quarantine, so it was like that first week that we were all home, and the kids and the parents were expressing that they just missed each other and missed doing things. So I was looking for a way to connect them and thought photos would be a good idea," Levinson said while speaking with Newsweek. "I was just trying to brainstorm ideas of how they can share photos of what they're doing and then had the idea to incorporate some learning."
While speaking with Newsweek, she explained that as a way to connect the students, she came up with a scavenger hunt, where the students were asked to spell out their school name, Meadow, with items they found around their house.
"Someone used a stuffed animal dog for 'D,' someone used an orange or onion for the letter 'O.' They were really creative," Levinson said.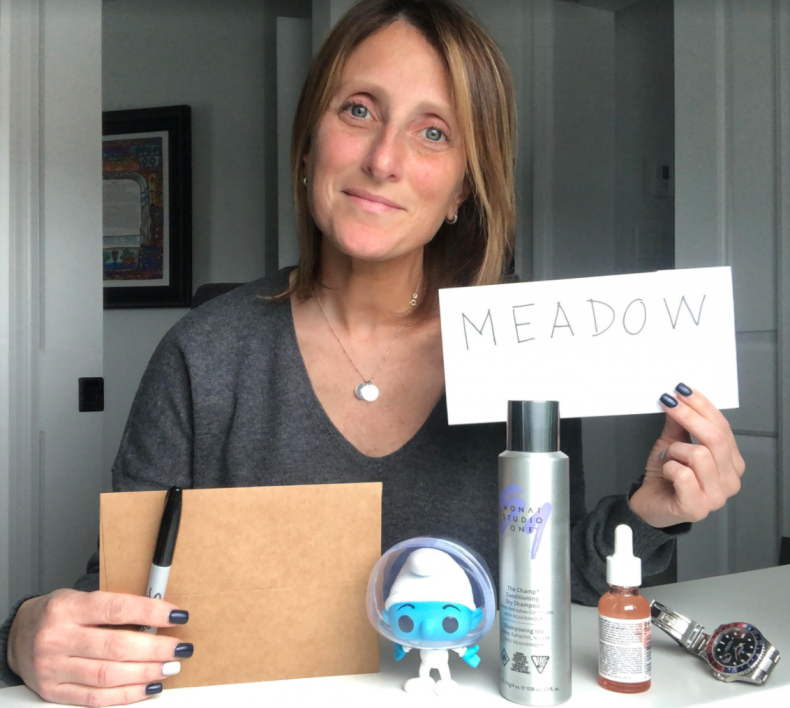 The students were then asked to take pictures of themselves with each of the items and send them to Levinson, and she then shared them with the class via a website the entire class can access, "so they could see each other."
"They were really excited to see their classmates," Levinson added.
Levinson explained that she has been unable to use the video chatting application, Zoom, with her students because she has "two kids at home that are constantly using," her Zoom account for their own virtual learning sessions. Regardless, Levinson has been able to find new ways to teach and connect with her students in ways other than the meeting app.
"The teaching right now, I've recorded myself, I've made some YouTube videos, either doing read alouds, I did a science lesson about plants yesterday online," Levinson said. "I guess we are all getting creative with how we can, not just link activities, but have them see our faces, hear our voices."
Levinson added that when teaching such a young group of children, like first graders, it is hard to find ways for them to virtually connect with each other, but following the scavenger hunt, a number of her students were prompted to find their own ways of connecting with others in their community.
"There's not a lot they can do when they're 6 with their friends virtually," Levinson said. "One of my students actually sent photos after I did the scavenger hunt of her writing thank you posters to first responders and she put them up on telephone poles around the neighborhood."
While speaking with Newsweek, Jennipher Paniagua, a parent of one of Levinson's students, praised Levinson's creative thinking with the virtual scavenger hunt.
"Just searching around the entire house for the different things to complete the scavenger hunt, my daughter found that really fun and she also enjoyed that other kids and families posted their pictures on what they did for their scavenger hunt," Paniagua said. "So, I found that to be very fun especially during a trying time like this, for all of us and kept them very busy."
In addition to her appreciation for the virtual scavenger hunt, Paniagua explained that Levinson has always found new ways to connect and help her students in every aspect of their academic lives.
"Ms. Levinson is very crafty, very much thinks outside of the box when it comes to the kids learning experiences and just even with setbacks in the past, she will always find a way to refer us to the appropriate party," Paniagua added. "She's always been that type of teacher, but my appreciation for her through this time is incredible."
Know a hero you want to nominate to be featured in our series? Drop us a line at heroes@newsweek.com.