Elementary School Teacher Goes on Racist Rant Against 'Trespassers' in Viral Video
A teacher in Florida is on leave from her job as an exceptional student educator after a video surfaced of her racist rant.
The woman, dubbed the "Kings Lake Karen" by neighbors, has been identified as Patricia Schmidt. She was placed on leave by administrators and is currently spending time at the Collier County School District administrative center. She will remain there until her investigation is complete, a representative of the Collier County School District told Newsweek.
In the video, Schmidt can be heard yelling out of her window at a woman, her mother, and her children. This all occurred after the family decided to take a walk around a local neighborhood and stopped in front of a residential trail. As they were standing on the public sidewalk, Schmidt started yelling at the family.
"She blares on her horn for like ten seconds, rolls her window down, and starts yelling out the window that we can't walk down that pathway," the anonymous victim told NBC-2 News. In the video, Schmidt tells the woman that the Home Owners Association (HOA) pays for residential paths and that she and her family were trespassing. Schmidt can be seen getting noticeably agitated and the rant quickly turns into a racist and offensive attack.
"You can't afford to live in King's Lake. You're white trash," Schmidt says in the video captured by the victim. She then begins to call the woman's children "halfbreeds" and other derogatory slurs.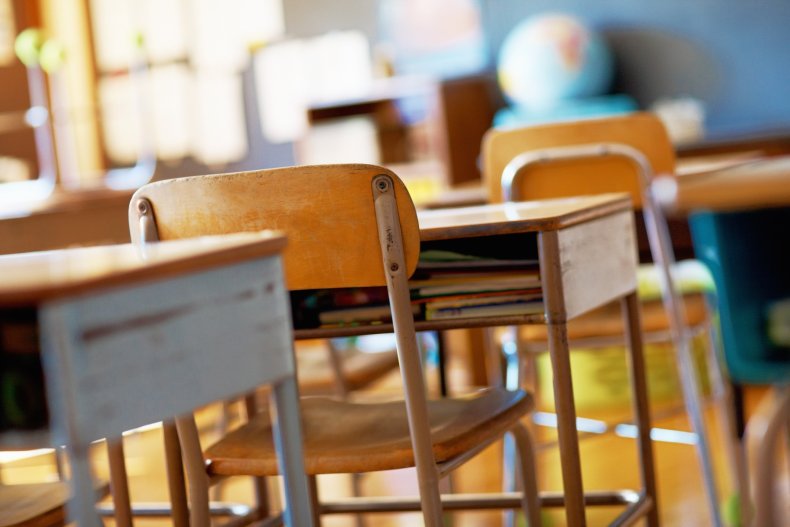 "You had sex with a Black guy? Your kids are halfbreeds, look at them," Schmidt says in the video. She then continues to mock one of the woman's children and says, "your son must be special ed. He's a r----d. Your son is a r----d."
The victim expressed concern over the fact that Schmidt teaches young students with intellectual disabilities full time. "Who knows how she's treating them in the classroom when their parents are not there to defend them," the victim told the local NBC affiliate.
The Collier County School District told Newsweek that they "are aware of the video, and the incident is currently under review. Patricia Schmidt will be on administrative leave and assigned to the Administrative Center until the conclusion of the investigation." They also stated that there have been no previously documented complaints made about Schmidt.
Schmidt's neighbors told NBC-2 News that she regularly polices the walking path near her house and has earned the title of "Kings Lake Karen."
"She's just appointed herself the bridge troll of that little stretch of property," one neighbor said.
One user on Reddit's Public Freakout subreddit wrote, "Meet my neighbor. She is a special needs teacher in Collier County. She gets into these altercations all the time, sheriff's office refuses to do anything. School board refuses to do anything. HOA refuses to do anything. We call her the lake troll!"
Some comments left under the video are from concerned parents. "The school administration should speak with her students to identify abuse. She very likely has been abusing her students," one commenter wrote.
"She's gotta go!" wrote another user. "Anyone who talks like that about kids, shouldn't be within 100 feet of a special needs kid... AND... she needs to be blacklisted forever working with anyone with special needs... or at risk... I worked with special needs folks for 35 years, unionized... and I'd be out of a job today if that were me..."
A Collier County School District representative told Newsweek on Thursday evening that the decision to fire Schmidt has been made.
"The destructive comments of Ms. Schmidt do not reflect the 7,000 talented, dedicated, and hardworking employees of Collier County Public Schools [CCPS]," CCPS told Newsweek. "Accordingly, she is no longer employed by CCPS. The video and the corresponding CCPS review have already been sent to The Florida Department of Education Office of Professional Practices Services."
Updated 08/20/2021, 9:59 a.m. ET: This story has been updated to include a statement from Collier County Public Schools that said Schmidt has been fired.