Elena Kagan Easily Clears Judiciary Committee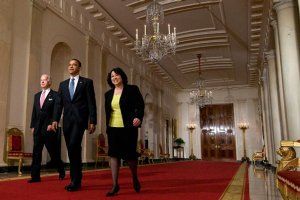 The Senate Judiciary Committee voted 13–6 Tuesday to approve Solicitor General Elena Kagan's nomination to the Supreme Court, with Lindsey Graham the only GOP senator in support.
Kagan's nomination now goes to the full Senate, where her confirmation is expected later this summer. President Obama issued a statement describing the vote as a "bipartisan affirmation of her strong performance during her confirmation hearings."
The vote, otherwise along party lines, continues the South Carolina senator's trend of bucking the GOP on Supreme Court nominations out of deference to the executive branch. He had voted to confirm Obama's previous nominee, Sonia Sotomayor. "No one spent more time trying to beat President Obama than I did, except maybe Senator McCain,'' Graham said in a lengthy speech to the committee. "But I understood—we lost, President Obama won. The Constitution in my view puts a requirement on me not to replace my judgment for his.''
It is a standard that Democrats—including Obama when he was a senator—have not always applied to Republican Supreme Court nominees. But on Tuesday, fellow committee member Dick Durbin acknowledged that Graham's philosophy represented a "better course" for future hearings.
The vote was the latest step in Kagan's low-key rise to the nation's highest court—one that has been greeted with a yawn by most Americans. During her confirmation hearings, Republicans assailed her lack of judicial experience and her partisan roots as a Clinton administration policy adviser. They also accused her of restricting U.S. military-recruiting efforts on campus during her tenure as dean of Harvard Law School. However, Kagan was widely judged to have answered adeptly, defusing her critics with humor and denying them a "gotcha" moment that could have allowed concerns about her to coalesce more broadly.
The ball is now firmly back with Senate Republicans. Having failed to demagogue Kagan to the country at large, will they attempt a filibuster, as Jeff Sessions, their ranking member on the Judiciary Committee, has threatened? Such a course appears doomed, given that Kagan has the support of Graham, as well as all 59 Senate Democrats. Other Republicans, such as Scott Brown of Massachusetts and Susan Collins and Olympia Snowe of Maine, also loom as likely Kagan pickups in the full Senate vote.
With anti-abortion activists picketing Senate Minority Leader Mitch McConnell's office, Republicans may feel pressure for a symbolic stand to maintain supporter morale in advance of November's congressional elections. However, the smarter strategy would surely be to recognize that Kagan's appointment will not alter the progressive-conservative balance of the court and hold their fire for next time.
Elena Kagan Easily Clears Judiciary Committee | U.S.