Elena Kagan's White House Inbox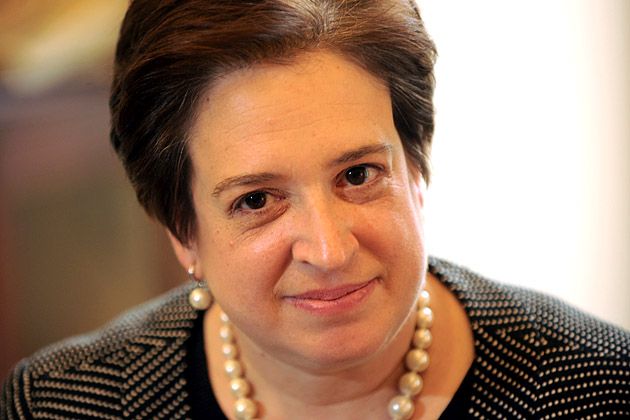 Tim Sloan / AFP-Getty Images
All email images courtesy Clinton Presidential Library
Maybe e-mails are the window into a Supreme Court nominee's soul. On Friday, the Clinton Presidential Library released the contents of Elena Kagan's inbox from 1995 to 1999, when she was working in the Clinton administration. A team of NEWSWEEK reporters sifted through tens of thousands of pages. Our verdict? The U.S. solicitor general comes across as humorous, hardworking, opinionated, and astute, alternately demanding of her colleagues and fulsome with her praise. She is also prescient: on separate occasions, she predicts a coming "gay/lesbian firestorm" and warns of mutinies from "Nader types." Nor is she afraid to use the F word.. With a week until her confirmation hearings, some excerpts:

It was early 1997 and a confident Bill Clinton had just trounced Bob Dole. Preparing his State of the Union address, Clinton was eager to quote Isaiah 58:12 to invoke the significance of his presidency's second term. "Thou shalt raise up the foundations of many generations, and thou shalt be called the repairer of the breach, the restorer of paths to dwell in." Shown an advance copy, Kagan, the deputy director of the Domestic Policy Council, was appalled. "The quote from Isaiah is the most preposterously presumptuous line I have ever seen," she railed to her boss, Bruce Reed. Still, Kagan had changed her tune by the time the speech was delivered with offending line intact. "It was grand, and you should feel really proud," she told speechwriter Michael Waldman.

The e-mails reveal Kagan's astute, often cynical, ability to spin stories for media consumption--and help devise the daily White House message. "I actually think doing two sexual predators events close together is a bit weird. I'd either combine [them] or wait a while on the second," she noted in an e-mail. In June 1997, Kagan wrote to urge the White House to avoid confusing the public by playing up a Department of Transportation ruling that would allow consumers to deactivate their car airbags: "We shouldn't hype this into a big message event." Finally, she worried that the media would distort a Clinton proposal to standardize sentences for possession of crack and powder cocaine. Citing an Associated Press article as an example of responsible reporting, she wrote: "This is excellent. Too bad it's going to get f--ked up in all later stories."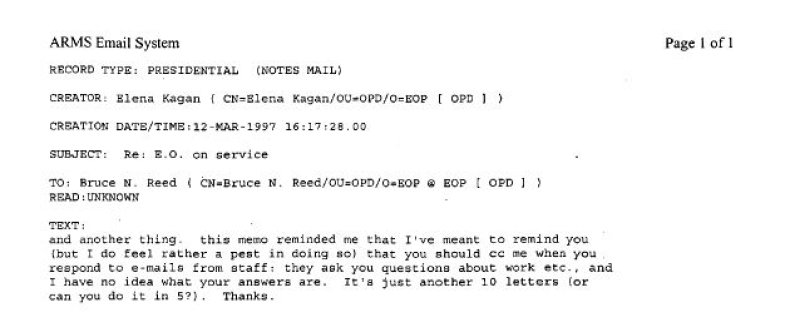 Kagan comes across as an exacting, sometimes caustic, e-mailer, never shy to admonish colleagues for slip-ups. "Not to carp, but on memos to the president, it's usually wise to spell-check," Kagan wrote in an October 1997 e-mail to Clinton education adviser Michael Cohen. When President Clinton incorrectly quoted welfare-caseload statistics and an adviser sought to airbrush his written statement after the fact, Kagan disapproved: "Sounds a bit Orwellian methinks. And this is after only two months on the job! What next?" In the excerpt shown here, she requests that her boss, Bruce Reed, keep her in the loop by cc'ing her on all relevant e-mails. He quickly agrees, blaming his failure on a software glitch with Lotus Notes.

While drafting talking points for President Clinton in October 1996, Kagan took a strong stand on how the Supreme Court should act on issues relating to campaign finance. One of her answers referred to the court's historic view that "money is speech" as "mistaken in many cases." "The Court should re-examine its premise that the freedom of speech guaranteed by the First Amendment entails a right to throw money at the political system," Kagan wrote. Her views on campaign-finance reform go against the grain of the court's recent Citizens United decision, which held on freedom-of-speech grounds that corporate funding of election communications could not be limited.

Kagan was a frequent skeptic of President Clinton's racial initiatives, particularly those she felt were too lofty to make a difference. In one memo, she declared his proposal for an expert-filled race commission as "do-good" and "touchy-feely." Then in May 1997, when Clinton planned to deliver a commencement address at the historically black Morgan State University and to discuss science but not race, Reed e-mailed Kagan in frustration: "If only we had known the purpose of the race initiative was to go around the country and NOT talk about race, we could have saved ourselves a lot of trouble." Kagan bantered back in solidarity, "We will NOT talk about race at 60% of our race initiative meetings and talk about race at 40%."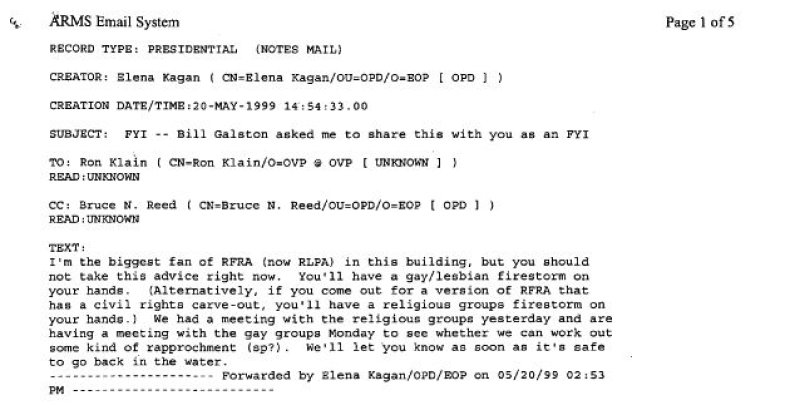 In May 1999, Kagan's antennae went up when a memo circulated urging Vice President Al Gore to support efforts to redraft the Religious Freedom Restoration Act in preparation for his White House bid. "I'm the biggest fan of RFRA ... in this building, but you should not take this advice right now. You'll have a gay/lesbian firestorm on your hands," Kagan wrote. At the time, gay and lesbian groups were worried the act would permit antigay discrimination by individuals citing their religious convictions. Kagan continued, "Alternatively, if you come out for a version of RFRA that has a civil rights carve-out, you'll have a religious groups firestorm on your hands ... We'll let you know as soon as it's safe to go back in the water."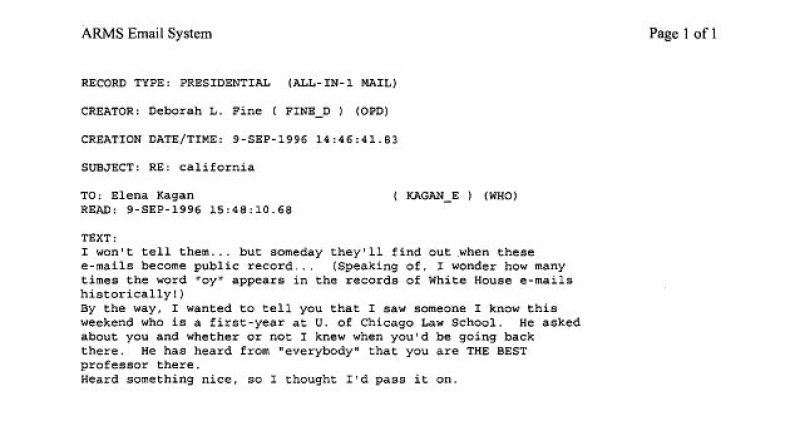 Sept. 9, 1996, was a tough day. In the midst of Kagan's battle with Senator Chris Dodd's office over welfare reform, a midafternoon message from the Justice Department's Deborah Fine offered a pleasing diversion. Fine wrote to Kagan, "I wanted to tell you that I saw someone I know this weekend who is a first-year at U[niversity] of Chicago Law School. He asked about you and whether or not I knew when you'd be going back there. He has heard from 'everybody' that you are THE BEST professor there." A touched Kagan responded, "Thanks. On a day like this, it's nice to hear something like that." Kagan joined the Chicago Law School in 1991 and received tenure in 1995. But the White House soon beckoned.
Ryan Tracy and Tara Lewis also contributed to this report.