Two young elephants have died from a virus within one week of each other at a zoo in New Mexico. The brother and sister both died from elephant endotheliotropic herpesvirus (EEHV) at the ABQ BioPark in Albuquerque. Zoo officials said members of staff were "heartbroken" at the loss.
Three-year-old male calf Thorn died on Christmas Day after staff detected the virus in his blood on December 15. While it only tends to cause mild infections in adult elephants, it causes hemorrhagic disease that can be fatal for younger herd members. According to ABQ BioPark, the disease can progress rapidly so Thorn's blood had been tested weekly since he was a baby.
After EEHV was detected, staff worked round the clock to care for him, but the disease continued to progress. He was treated with infusions of plasma, stem and whole blood cells and the BioPark was assisted by a number of other institutions, including the Smithsonian National Zoo in Washington D.C.
Thorn did not make it and succumbed to the virus in the early hours of December 25. "Our whole team is devastated by the passing of our young Thorn," Stephanie Stowell, ABQ BioPark director, said in a statement. "EEHV is a terrible disease that impacts Asian elephants worldwide. Our team worked tirelessly and did everything they could to save Thorn. They displayed incredible devotion in trying to save him."
Three days after Thorn's death, his 8-year-old sister Jazmine tested positive for EEHV. While staff began treating the disease immediately, it progressed quickly and she died on January 2.
Stowell said: "The BioPark's elephant experts and veterinary teams did everything in their power—and then some—to help Jazmine, and Jazmine matched their efforts every step along the way. True to her strong-willed nature, Jazmine fought valiantly against the disease."
Jazmine and Thorn were two of the youngest members of the multigenerational herd at ABQ BioPark. The herd includes their grandmother, Alice, the matriarch of the group, their mother Rozie, and Albert, who is the resident male. Both Alice and Jazmine were present at the birth of Thorn.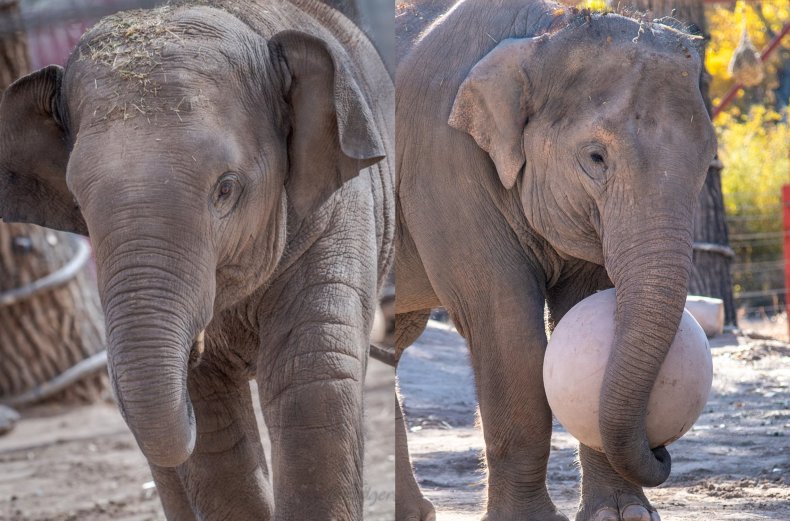 Jazmine's death, the BioPark said, was a "considerable loss" to Asian elephants as she was on a "carefully planned path" to become a matriarch. While Rozie had to be taught how to be a mother, Jazmine was learning from her own mother via Thorn. She had been observed mothering toys, tucking them under her belly and carrying them with her as she traveled around.
All elephants are known to carry EEHV in a latent state. Why the virus sometimes comes out of latency is unknown. Elephants are most at risk from the virus from 18 months to 8 years old.
Erin Latimer, from the North American EEHV Advisory Group, said the global elephant community is trying to fight this disease to prevent more deaths. "Each case of EEHV hemorrhagic disease, while tragic, does provide us with more information on its causes, transmission, and treatment," she said in a statement.
"The elephant community rallied around ABQ BioPark to provide support with husbandry, treatment, and testing. We are devastated by these latest two deaths, and we hope that the incredible cooperation amongst our colleagues will continue to provide answers on how best to prevent these deaths."