Elephant Tusks Worth Almost Half a Million Dollars Seized At Bangkok Airport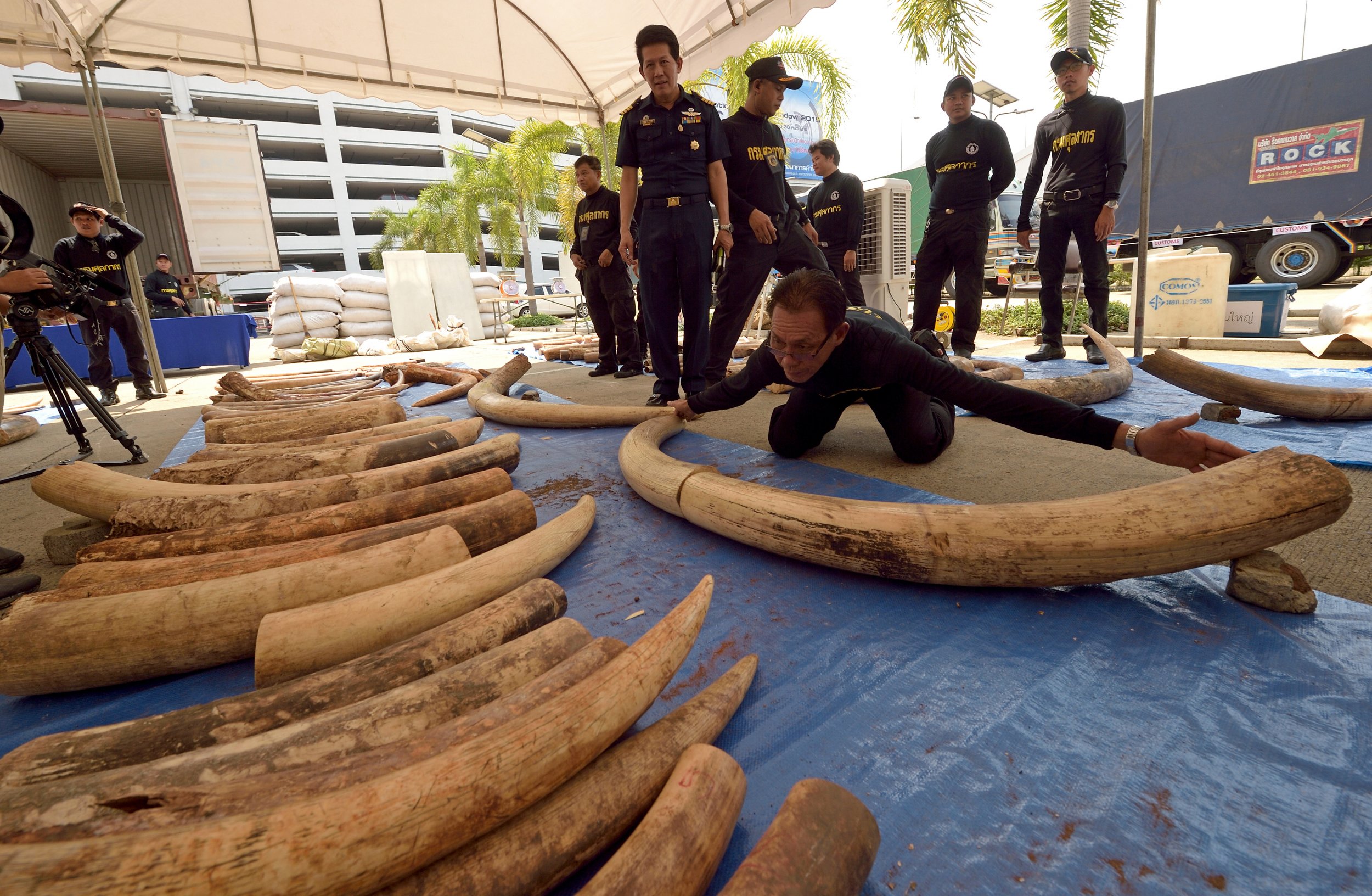 Gigantic elephant tusks worth more than $450,000 were seized by Thai officials. Airport authorities in Bangkok flagged the cargo and found 326 pounds-worth of African elephant ivory, according to The Associated Press.
The colossal size of the tusks and their discolored surface gave insight into the type of animal they belonged to and when they were taken.
"From what I can tell, these ivory tusks were taken from very big elephants, and elephants of that size are now hard to find even in Africa," Somkiat Soontornpittakkool, an official from the Department of National Parks, Wildlife and Plant Conservation told the AP. "And judging from how the tusks look, they appear to have been taken a while ago. They weren't hunted recently. They were taken and stored for a while before smugglers sent them out."
The tusks and 31 other broken pieces of tusks were shipped aboard a Bangkok-bound Ethiopian Airlines flight which departed from Nigeria, according to the pro-government newspaper The Daily Sabah. Although the goods arrived on December 20, weeks later they remained unclaimed.
"The registered address in Thailand also doesn't exist," Kulit Sombatsiri, director general of Thai customs, said in a press conference, The Daily Sabah reports.
Sombatsiri and other officials believe the items were ultimately headed for China, which is home to the world's biggest ivory market. Although the Chinese ban—which went into effect the last day of 2017—of sales on all elephant tusks is one step in the right direction, markets still exist.
"This ban alone won't end the poaching of elephants," Ginette Hemley, senior vice president of the World Wildlife Fund, said in a statement. "It's equally critical that China's neighbors follow suit and shut down ivory markets across Asia. Only then can we ensure the open trade doesn't simply shift to other countries and offer traffickers' safe channels for newly-poached ivory."
The latest seizure highlights how awful the illegal practice is, representatives from Safari Club International Foundation (SCIF), a hunting advocacy group, told Newsweek.
The seizure in Thailand "is a prime example of the horror of poaching," SCIF wrote in a statement via email, noting that legal hunting helps to conserve wildlife, while illegal poaching destroys it.
"It is important that people around the world understand that illegal poaching for profit threatens wildlife and that science-based sustainable use of wildlife as practiced by hunters helps to assure healthy wildlife populations now and into the future," SCIF wrote.