Elephant Kills Woman on Way To Work, Then Man Who Tried To Save Her
An elephant killed a woman while she was on her way to work, before turning on the man who tried to save her.
The 20-year-old woman, identified by local media as Ranjita, was on her way to work in the village of Kadaba, India, on February 20 when the elephant approached and attacked her.
Hearing her screams, 55-year-old Ramesh Rai Naila rushed to help her. But after doing so, he was also attacked by the huge animal. Naila died at the scene, while Ranjita was rushed to hospital. She died on her way there.
Forest officials have now gathered to search for the elephant responsible. On February 21, search teams along with five tamed elephants will search for the animal.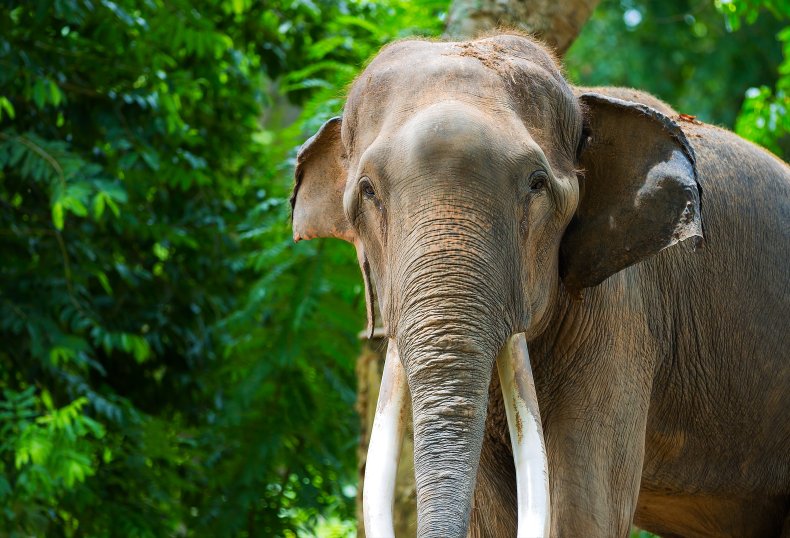 These tamed elephants are known as Kumki elephants. They are captive elephants that are specifically trained to catch other, wild elephants that may be causing a problem to human populations.
Locals believe there are several herds of elephants roaming around nearby villages. The elephant likely belongs to one of these herds.
Human and elephant conflict has been on the rise in India in recent years. Experts believe it is mainly a result of habitat loss, which has occurred due to expanding human development projects. As this happens, elephant habitats are becoming smaller, which forces humans and wildlife together more frequently. Fragmented habitats can also cause "crop raiding" instances, when elephants stray onto farmlands in search of food and water, ruining growing crops as they do so.
Experts believe climate change is also a factor in conflicts. The warming climate may be making life harder for elephants, causing them to stray into populated areas in search of resources that have been depleted in their natural habitat.
Elephants are usually gentle creatures, but they can become extremely dangerous if they are provoked or threatened. The huge animals can weigh up to 8,000 pounds, and their trunks have around 40,000 muscles in them. Elephants can also attack in retaliation. Often, villagers will harm elephants that have damaged their crops. This can also provoke the animals.
There have been multiple instances of elephant/human conflict in India recently.
In January, an elephant that terrorized villages and allegedly trampled a man to death was captured by authorities.
The tusker had also been responsible for 176 crop-raiding incidents and had damaged property 13 times, a 2022 Kerala Forest Department report said.
Duncan McNair, CEO of Save The Asian Elephants, previously told Newsweek that this elephant would have been behaving naturally amid its vanishing habitats.
"This incident is one of far too many where India's ever-dwindling population of already highly endangered Asian elephants is effectively brutally punished for reacting naturally to extreme and often violent incursions into its natural but diminishing territory," McNair said.
Do you have an animal or nature story to share with Newsweek? Do you have a question about elephants? Let us know via nature@newsweek.com.