11 Arrested During #RiseUpOctober Demonstrations in New York City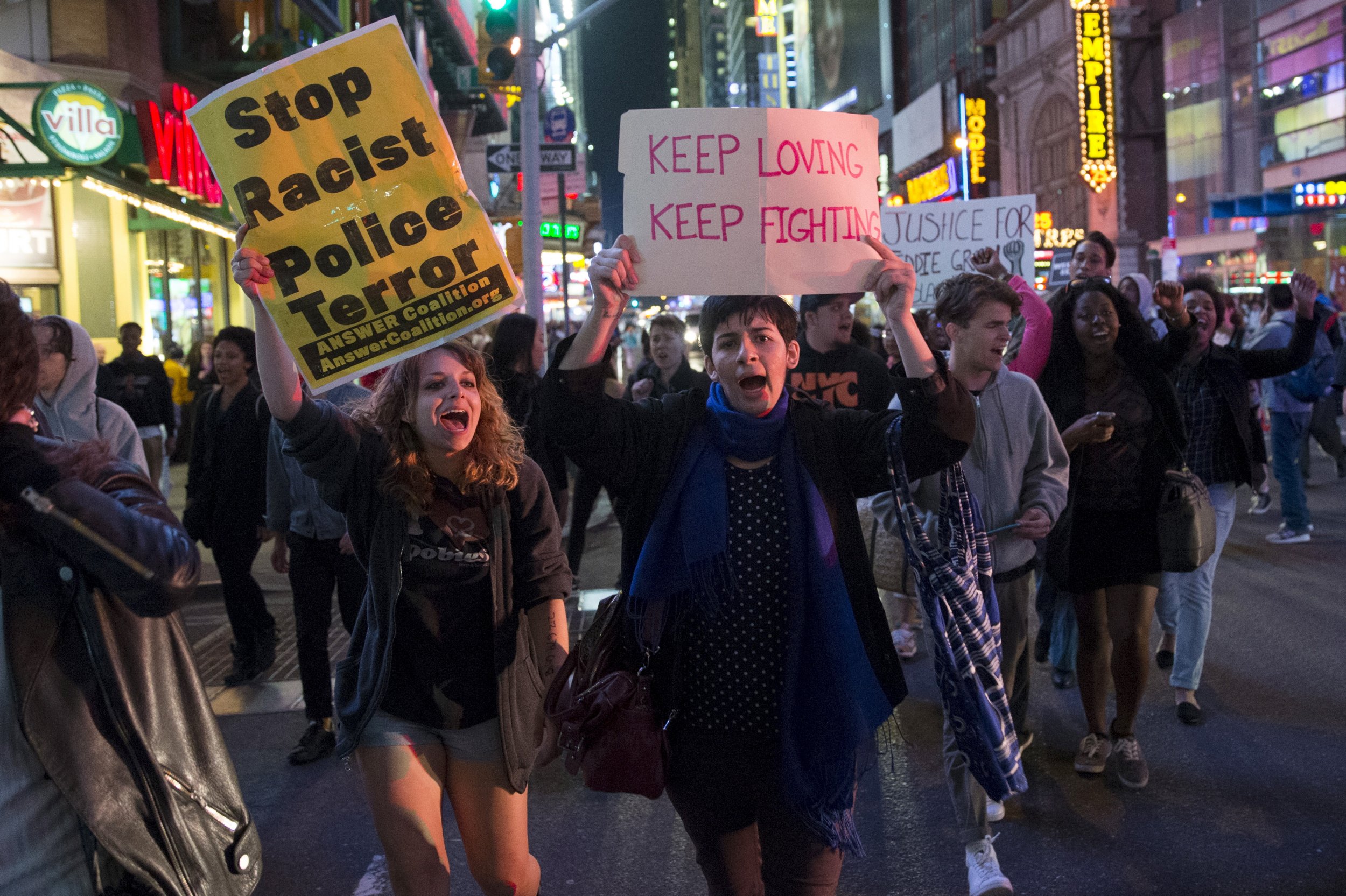 Eleven people were arrested in midtown Manhattan during #RiseUpOctober demonstrations protesting police brutality.
Gothamist reports that those arrested Saturday night were cited for resisting arrest, disorderly conduct, failing to disperse and obstructing vehicular traffic. Seven have since been released.
The event, organized by the Stop Mass Incarceration Network, kicked off on Saturday afternoon, in Washington Square Park. It came on the heels of the death of NYPD Officer Randolph Holder, who was shot and killed earlier last week in East Harlem while pursuing a gunman.
The New York Post notes that #RiseUpOctober activists marching through the city told stories into megaphones and held up handmade signs with slogans such as, "Murder with a badge is still murder" and "Rise Up! Stop Police Terror!"
As the protestors made their way uptown toward Sixth Avenue near Bryant Park, they were met with metal barricades and the NYPD.
According to civilian journalist, organizer and activist Keegan Stephan (of Photography Is Not a Crime), "anytime a protestor so much as stepped over the line of the far right lane, the NYPD mobilized their fleet of scooters, threatened arrests, and even blared dispersal orders." The protesters had received permits to rally in Washington Square North, as well as in Bryant Park, where five people were arrested. The NYPD did not immediately return a request for comment.
The protest quieted down during another rally, in Times Square, though six others were arrested while standing near the statue of George M. Cohen and reading out facts regarding police brutality to the crowd that had gathered around, according to Stephan's report, as well as his Twitter account.
The rally also included keynote speeches by professor Cornel West and film director Quentin Tarantino, who flew in for the event.
Addressing the crowd, Tarantino held up a photograph of the late Justin Smith, who was killed in police custody in 1999 after spitting on officers. "When I see murders I do not stand by...I have to call a murder a murder and I have to call the murderers the murders," he said to the raucous crowd.
West's message was less heated. "We're here because we have a deep love for those who have been abused by the police. Don't get it twisted—this is a love train!" he exclaimed.
When asked by the Post about the event's timing, given Officer Holder's death, Tarantino said, "It's like this: It's unfortunate timing, but we've flown in all these families to go and tell their stories.... That cop that was killed, that's a tragedy, too."
Tarantino's words didn't sit well with some, though. In a statement, NYPD Patrolmen's Benevolent Association President Patrick J. Lynch called for a boycott of the filmmaker's many movies, given his decision to protest shortly following the death of Holder. He writes: "It's no surprise that someone who makes a living glorifying crime and violence is a cop hater, too. The police officers that Quentin Tarantino calls 'murderers' aren't living in one of his depraved big-screen fantasies—they're risking and sometimes sacrificing their lives to protect communities from real crime and mayhem. New Yorkers need to send a message to this purveyor of degeneracy that he has no business coming to our city to peddle his slanderous 'Cop Fiction.' It's time for a boycott of Tarantino's films."