Eleven years ago today, I looked up from my window at home in Deir ez-Zor, Syria, and saw a dozen demonstrators protesting brutal crackdowns in Dar'aa—people were demanding democracy. As I ran out, camera in hand, to join and document the pro-democracy protests erupting on the streets, my life—along with the lives of the more than 21 million Syrians then living in our home country—changed irrevocably.
Flash forward 11 years, and nearly two thirds of my country's citizens, or 13.5 million Syrians, have become refugees, asylum seekers or internally displaced people. Bashar al-Assad remains in power, despite using chemical weapons against his own people, brutally killing his detractors and imprisoning hundreds of thousands of Syrians who have spoken out against his regime. Most of these detainees remain missing, their loved ones wondering day and night if they are alive.
I should know. I was one of them.
From 2011 to 2014, I was jailed four times by the Syrian government for a total of 463 days for daring to dream of a brighter, more free future for Syria. I was subjected to solitary confinement. I was brutally tortured. I was crammed in a 5-by-6-meter room and forced to watch the majority of my fellow prisoners die.
And even though I have since managed to find refuge in Turkey and pursue my career as an activist at Yale University, my ears still echo with a deafening 11-year silence. The world has chosen to mutely gaze upon the horrors unfolding in Syria, viewing them as another's problem, labeling the conflict as too complex to solve and enabling Assad to continue atrocities against his own people.
Despite all this, I still have hope for a freer, more peaceful Syria in my lifetime. I believe now might finally be the moment Syria's shouts for freedom will finally be heard. Here's why.
First and foremost, elected officials across the world have the power to pressure the Syrian government to release all remaining political detainees. The United Nations estimated that tens of thousands of people are currently detained by Assad, and 100 detention centers remain in operation.
Each of these tens of thousands of prisoners is a human being, not a number. They have stories. Dreams. Favorite songs. Birthdays. And memories of torture. Peace in Syria is impossible without justice for the current detainees and their families.
To craft the mechanisms needed to free these detainees, global leaders should look to the United States' Caesar Syria Civilian Protection Act of 2019. While it did not solve the crisis, this bill—which received bipartisan support and was signed into law by former President Donald Trump in 2020—was a step in the right direction. It imposed sanctions against Syria, and not only called for the release of all remaining detainees, but also singled out Iran and Russia for their past 11 years of support for Assad's regime.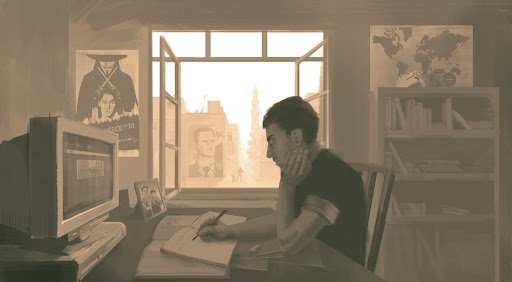 A photo still from Zendetta.
Photo Courtesy of Karam Alhamad
Simply acknowledging Iran and Russia's deplorable acts in Syria is just the beginning. The latest incidents in Ukraine and Syria are not disparate—both are grave, interrelated offenses against human rights. If we do not examine the West's botched past attempts to mitigate Russian influence in Syria, we are doomed to repeat it—this time, in Ukraine.
As the world grapples with how to hold Russia accountable for its anti-democratic invasion of Ukraine, we would also do well to remember that sanctions alone have done nothing to promote freedom and curb Russia's power in Syria. To wholeheartedly protect global democracy, NATO must intervene militarily in Ukraine and launch corresponding efforts in Syria. Allowing Russia to enact control over territory that is not its own in the Middle East certainly sends the message that it might be allowed to do so in other regions.
Similarly, as critical humanitarian aid pours out to aid Ukrainian refugees in response to the violence in Europe, philanthropists and NGOs would do well to also help the more than 2 million internally displaced Syrians living near the borders of Turkey who have been left without funding for the past three years. We must protect internally displaced civilians from Assad, who is likely to feel emboldened by his ally, Russian President Vladimir Putin's recent territory grab.
Additionally, on the quest for accountability for leaders in the Syrian regime, leaders and activists should look to a January 2022 German court ruling, which delivered the world's first conviction of state-torture activities in Syria. In this ruling, Germany decided it could no longer turn a blind eye to Assad's human rights abuses. Other nations should follow suit.
Here's something else that gives me hope: Dozens of organizations are already working on the ground in Syria, calling for the release of detainees and documenting atrocities against Syrians.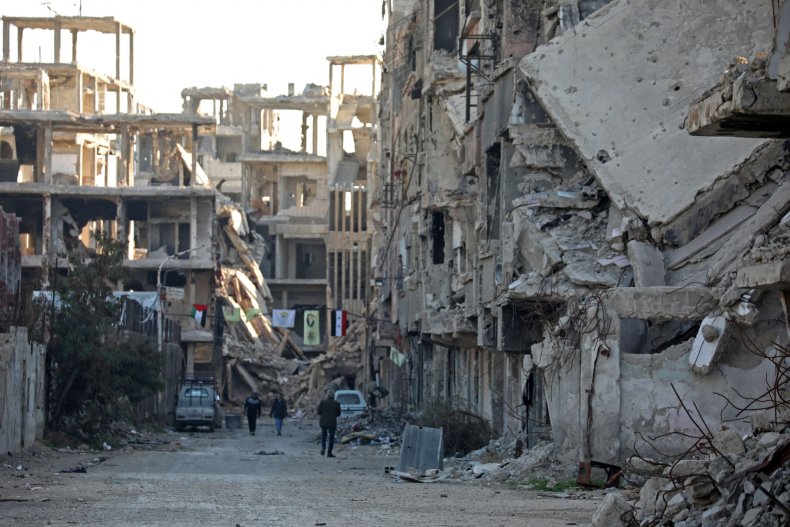 We might not yet have the nuanced policy solutions needed to completely tackle the complex, multifaceted situation in Syria. But we do have the means to support organizations such as the Syrian Network for Human Rights, The Syria Campaign, The Syrian Archive and the Syria Justice and Accountability Centre in their fight to protect human rights and document violations from all actors in Syria.
It goes without saying that this fight is not an easy one.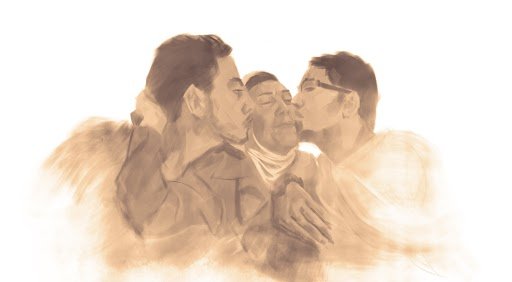 A photo still from Zendetta, depicting Karam and his brother greeting their mother after they were released from a Syrian detention center.
Photo Courtesy of Karam Alhamad
Assad has taken a large portion of our land. He has taken many of our lives. But he will never win the trust of Syrians, and—most importantly—he can never take our stories. This emboldens my belief that art is also a source of hope on the journey toward a free Syria.
Throughout the uprising, my camera has been my brush, Syria has been my canvas and the revolution has become my art. Today, I launched Zendetta, a first-of-its-kind animated graphic novel, to share my story and inspire others to join the movement. Because where policy solutions have failed, art has the power to inspire hope. Art sparks empathy. Art catalyzes connection. Art is action.
It seems that transforming Syria's story from one of geopolitical complexity into one of human experiences is critical if we are to spark empathy for Syrians in the West because a multifaceted political uprising is complex. But a mother wondering if her detained son is alive is human. And nothing else has worked to curb the racism the West has exhibited toward Middle Eastern refugees and victims of crimes against humanity.
By harnessing the power of art and technology to shed light on the situation in Syria in an interactive, digestible manner, citizens of the world can grasp and acknowledge Syrians' pain.
As a student who was not allowed to continue his bachelor's degree in Syria, a four-time detainee, a revolutionist and a human who dreams of one day returning to Syria to rebuild, let me tell you again: There is hope.
We can fight for the release of all remaining Syrian detainees. We can hold Russia and other allies of Assad accountable for their complacency and human rights violations. We can donate to groups working on the ground in Syria to defend human rights. And we can use art to bridge the education gap surrounding the situation in my home country and inspire the next generation of policymakers to uncover innovative solutions for the challenges that lie ahead in Syria.
Best of all, we can do all of this today.
Now more than ever, Americans are becoming hyper-aware of just how precious and fragile democracy truly can be. Listen to the stories of Syrians, learn from history and don't stay silent. Use your voice to be a force for hope, and join me in the art of revolution.
Karam Alhamad is a human rights activist, a policy advocate, a former Syrian detainee, a dreamer with hopes of freedom, a master's in public policy student at Yale University and–perhaps most importantly–a free-spirited artist and creator of Zendetta.
The views expressed in this article are the writer's own.