Eli Manning Could Start For Giants Next Week And Twitter Had Plenty To Say About It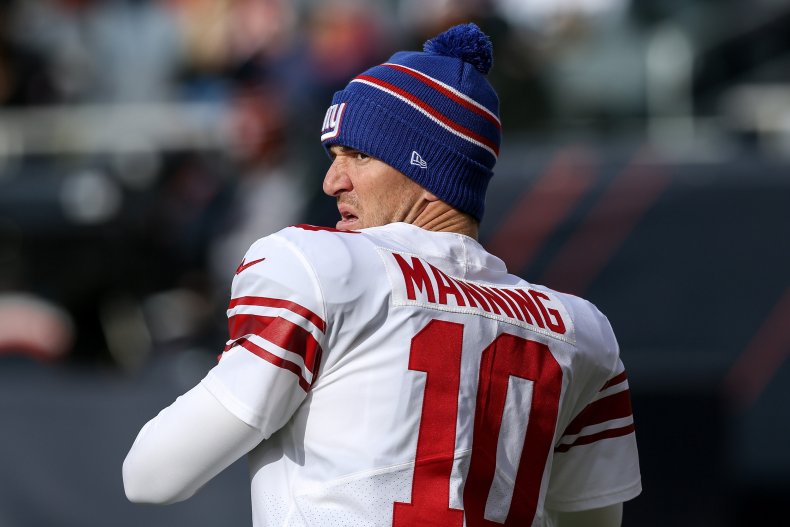 After New York Giants head coach Pat Shurmur announced that Eli Manning was "very likely" to start the teams' game on Monday Night, following a high ankle sprain suffered by rookie quarterback Daniel Jones, Twitter erupted with fans expressing their opinions on the return of the two-time Super Bowl-winning quarterback.
"Eli Manning to start Monday night. I am all in on this. Watch 10 go off and ride off into the sunset ending the season on a 4 game bender of dubs #GiantsPride," wrote former Giants kicker Lawrence Tynes on Twitter.
Manning started the first two games of the 2019-20 season but after failing to secure a win in either start he was replaced by Jones, the Giants' sixth pick in the 2019 NFL Draft.
Following the announcement, Shurmur said that he was not worried about Manning being "rusty" despite spending the past 10 games on the sidelines.
"I anticipate and expect that he's [Manning] going to be ready to play," Shurmur said.
The injury suffered by Jones has many fans talking about the fact that Manning has never missed a game due to injury throughout his 16-year career with the Giants.
"Manning played in 234 career games and never once missed a game due to injury. Daniel Jones played in 11 career games before his first game due to injury. Eli Manning's Iron Man streak is a remarkable and oft-overlooked part of his incredible career," Ralph Vacchiano of SportsNet NewYork (SNY) tweeted.
Tynes also chimed in about Jones' injury, saying "Does the Jones injury give anyone else a feeling of astonishment that Eli Manning has missed '0' games because of injury in his 16 year career."
Support for his return has been abundant, including from Manning's teammates. According to Vacchiano, Giants' tight end Evan Engram said Manning "looked really good today," and wide receiver Sterling Shepherd added that the quarterback "lit it up at practice."
"You know what letting Eli Manning play the rest of the season would do? It would put fans in the seats for the final two home games," Pat Leonard of the New York Daily News tweeted.
"Once again no matter the situation, Eli Manning always conducts himself as a true professional. If his number is called on Monday night, he'll be ready and give it his best win or lose," wrote Twitter user Jason Leach.
Manning's potential return will be against Philadelphia, and can hurt the Eagles' playoff chances with a win.
"Eli Manning starting is trouble for the Eagles. He will want them not to win the division," wrote Twitter user Christain Borja.
"Eli Manning's gonna go for 400 yards and 3 TDs against the Eagles and I'm never going to watch football again," wrote SNY's digital editor-in-chief Maurice Peebles.
Fox Sports analyst Skip Bayless also expressed his support for Manning as a potential starter in the Giants' upcoming game. "I promise you that Eli has a much better shot at pulling off an upset at Philly than Danny Dimes," Bayless said.
While support for the return of Manning has been abundant, a number of other fans are worried that his return may hurt the Giants' chances of securing a high draft pick.
"As a Giants fan hoping for a bright future. Eli Manning on MNF is a disaster for us. I love you Eli but we need to tank," wrote Twitter user Nationwide82.
"Pro: I get to watch Eli Manning play again. Which is cool. Con: If Eli plays the last four games I think there's a chance we may lose Chase Young now," said Twitter user Ben.
Speaking to the media after the announcement, Manning said the coaching staff told him Tuesday that Jones could potentially miss practice and that he should be ready to play. However, Manning added that he wasn't aware of the severity of Jones' injury since he finished the Giants' game against the Green Bay Packers on Sunday.
"I miss being part of the action, and practicing and all of that," Manning added, "It felt good to get out there today and throw it around and compete a little bit. I feel good, I've had time to kind of, you know, get extra workouts and do those things just to stay in shape and, you know, you're not banged up and you feel fresh and ready to go."
Manning, whose contract with the Giants expires at the end of the season, has been widely expected to announce his retirement from professional football, but according to SNY, the quarterback hasn't given much thought to his future.
"You never want to make decisions about your future while you're living in the present and you don't know the circumstances that could happen," he said.
The Giants will look to improve on their 2-8 record on Monday against the Philadelphia Eagles during Monday Night Football on ESPN.