Eli Manning Face Memes Go Viral after He's Benched for Geno Smith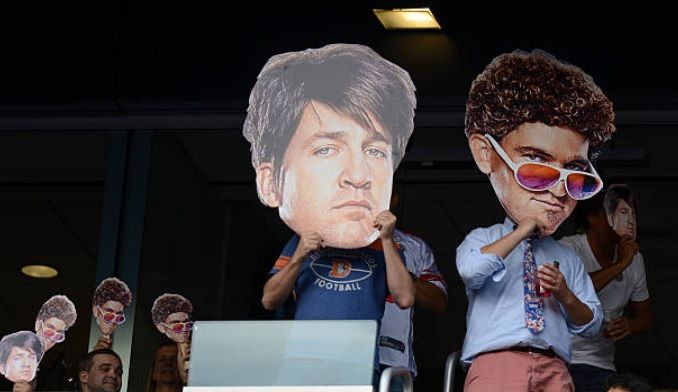 Eli Manning helped the New York Giants win two Super Bowls, but when faced with a losing record of 2-9, Coach Ben McAdoo announced on Tuesday Manning would be benched. Instead, Geno Smith is slated to start against the Oakland Raiders. Rookie Davis Webb will play, too.
"Geno will start this week," McAdoo said. "Over the last five games, we will take a look at Geno, and we will also give Davis an opportunity."
Twitter users were generally outraged over McAdoo's decision, which ended Manning's streak of starting 210 consecutive games in NFL. He's behind Brett Favre, who started 297 regular season games.
Manning apparently chose not to start against the Raiders.
"My feeling is that if you are going to play the other guys, play them," Manning said. "Starting just to keep the streak going and knowing you won't finish the game and have a chance to win it is pointless to me, and it tarnishes the streak. Like I always have, I will be ready to play if and when I am needed. I will help Geno and Davis prepare to play as well as they possibly can."
Soon after the news broke, memes of Manning's face when he heard the news started to go viral.
Injuries have plagued the beleaguered Giants, with star wide receivers Odell Beckham, Jr. and Brandon Marshall being out for most of the season.
Ultimately, McAdoo said replacing Manning was a last ditch effort to try to get a win.
"This is not the way it should be, but unfortunately, it's where we are," McAdoo said. "Our number one priority every week is to go win a game, but we owe it to the organization to get an evaluation of everybody on the roster, and that includes at the quarterback position. I'll say it again, I have the utmost respect for Eli and everything he has done for this organization throughout his career. He is the consummate professional. He doesn't like the position we are in, and neither do any of us. Eli has had to deal with a lot this season. Through it all, he has done everything we have asked of him in getting that unit ready to play. He has been steady, just like he has always been."