Eli Manning: One New Yorker Still Believes in Benched Giants QB
Eli Manning won't be under center on Sunday when the putrid 2017 version of the New York Giants travels to California to play the underwhelming 2017 version of the Oakland Raiders. With the 2-9 Giants listing like some huge, rusty tanker toward the end of the regular season, head coach Ben McAdoo will give Geno Smith and Davis Webb the chance to go to work without Odell Beckham Jr. or Brandon Marshall.
Manning cried at his locker on Tuesday, in as good a physical metaphor for the Giants' season as you will find. At least, unlike McAdoo (perhaps), he remains popular with at least one New Yorker. The Associated Press, via The Morning Call, reported that Manning received one write-in vote for New York City mayor.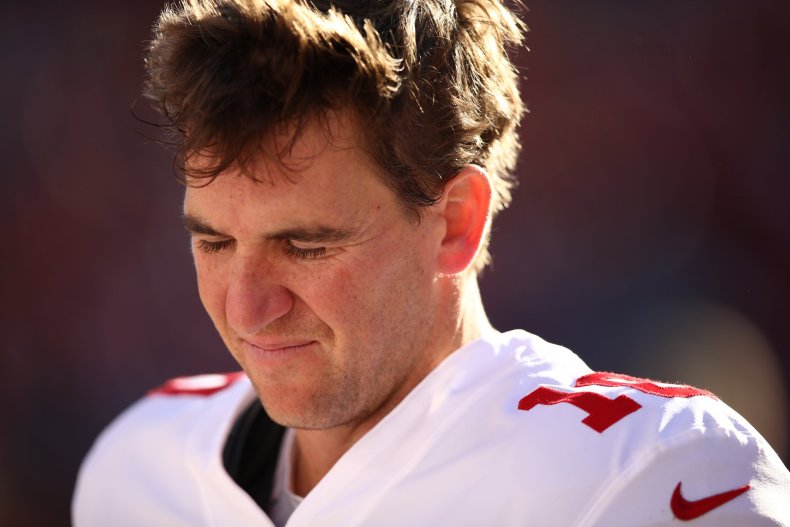 It wasn't enough to beat Bill de Blasio, the incumbent, who was re-elected with 713,634 votes on the Democratic line and 46,478 on the Working Families line. Heck, it wasn't even enough to beat several other random write-in characters from the New York City sports scene. Former Yankees Joe Girardi and Derek Jeter got two votes each, AP reported. The Knicks' Kristaps Porzingis got nine, plus two people who tried to vote for him and spelled his name wrong. Aaron Judge, the reigning American League rookie of the year, received 10 write-in ballots.
Manning won't be getting a political career he never asked for any time soon, then. But the two-time Super Bowl winner remains an immensely popular figure in New York City and New Jersey. It's probably not too much of a risk or stretch to suggest Manning is more popular than the 2017 Giants. A group of Giants fans have paid for three billboards around MetLife Stadium, according to the New York Post, emblazoned with, "Big Blue Shame On You." Manning, meanwhile, was practicing with the Giants' scout team on Wednesday, Yahoo Sports reported.
Anyone predicting that the Giants might finish the 2017 season with one more win than their quarterback received votes for New York City mayor would have been labelled as interesting, at least. But here we are at the end of November and that is actually a realistic proposition. Life is strange.