Eli Manning Rolls Back the Years, Will Giants Stick with Him Again?
Eli Manning might have something left in the tank after all. Criticized for the New York Giants' dismal performances this season and widely considered to be past his best, Manning piloted the G-Men to victory against the San Francisco 49ers on Monday night.
With the Giants trailing by three points and just one minute left in the game, Manning hit Sterling Shepard for the crucial touchdown to secure a 27-23 win and snap a five-game losing streak. Manning completed six of nine passes for 69 yards on the final drive, which was only his second game-winning drive in the last two seasons.
According to ESPN Stats & Info, Monday night's was Manning's 36th game-winning drive. With 40 each, only Drew Brees and Ben Roethlisberger have had more since 2004.
Overall, Manning completed 19 of his 31 passes, throwing for 188 yards, three touchdowns and no interceptions.
"Those are the situations you want to be in," the Giants quarterback said after the game, as per the Giants' official Twitter account.
"You want to have a chance. Obviously, you'd love to have a two-score lead with a little time and run it out or whatnot, but you prepare and practice for those two-minute drives to go win football games. To come through is exciting. And the team needs that. The defense needs that, to know that we can do that."
While the win changes little for the Giants, who remain rooted at the bottom of the NFC East with a 2-7 record, it will give Manning some much-needed breathing space.
The 37-year-old has struggled to get his team's offense going all season and had thrown for just eight touchdown in the first eight games, prompting calls for the Giants to move on from him.
While Manning showed on Monday night he is still capable of getting the Giants over the line, his return to form could be a major headache for the franchise, particularly should he play as he did against the 49ers over the remaining six games this season.
Up until Monday night, it seemed almost inevitable that Manning's performances would finally convince to the Giants to look for a new quarterback this offseason.
Last summer, in a draft loaded with quarterback talent, Giants general manager Dave Gettleman chose running back Saquon Barkley with the number two overall pick, passing on the chance to draft one between Josh Allen, Josh Rosen and Sam Darnold—who ended up on the other side of the divide in New York.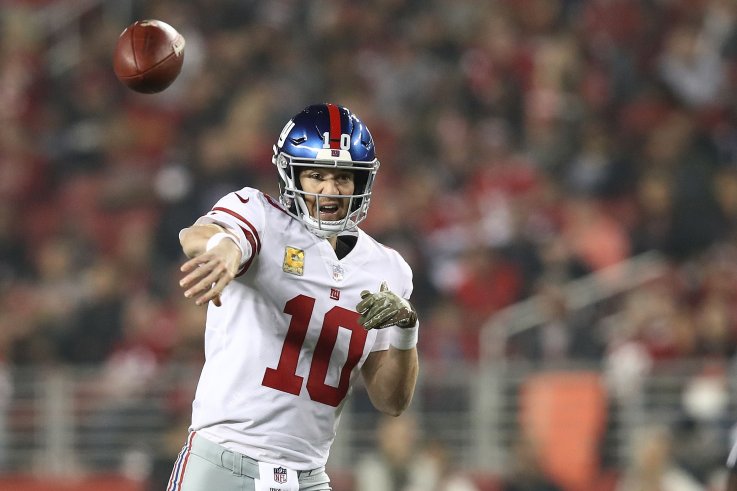 So far this season, the decision to stick with Manning had looked more and more calamitous with each passing week. Paradoxically, his return to form complicates life for his franchise, particularly as next year's draft class is unlikely to boast the same depth at quarterback.
The endless speculation over Manning's future doesn't help the team and certainly doesn't help him.
"It doesn't bother me what people say, but just having to answer questions about it," he was quoted as saying by ESPN. "You want to go out there and play football. That's what I want to do ."
How long he'll be able to do that for, remains to be seen.
Eli Manning Rolls Back the Years, Will Giants Stick with Him Again? | Sports