Is Eli Manning's Future With The New York Giants in Jeopardy?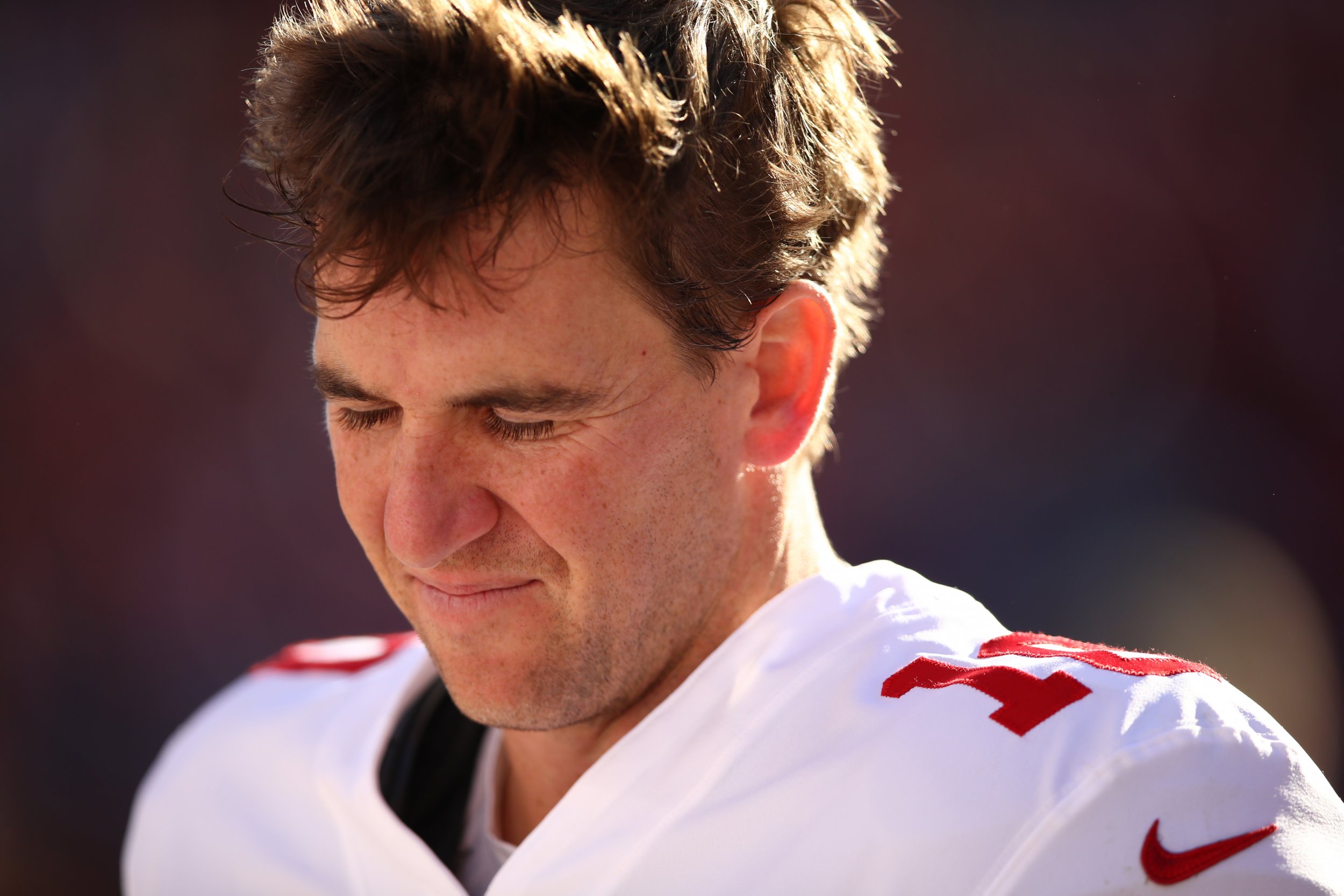 Perhaps it's time for the New York Giants to move on from starting quarterback Eli Manning. That's what many fans are saying tonight as the Giants are getting crushed by the Philadelphia Eagles, in a home game. It's even a topic that franchise wide receiver Odell Beckham Jr. discussed recently, stirring quarterback controversy in New York.
But it was Thursday's home game against the NFC East rival Philadelphia Eagles that likely caused even more doubt regarding Manning's future in the Big Apple. By the fourth quarter, the Giants trailed 34-13 and Manning, the home-team quarterback, had recorded a mere 193 yards and an interception on 14 of 28 passing.
The performance came days after Beckham, during an interview with ESPN's Josina Anderson that aired on Sunday NFL Countdown, couldn't answer whether Manning was still the right option for the Giants' offense.
"Uhh, I don't know (about Manning)," Beckham said, according to NJ Advance Media. "I feel like … he's not going to get out of the pocket. We know Eli's not going to run it. Can he still throw it? Yeah. It's cool catching it shallow and trying to take it, but I want to go over the top of somebody.
"Everything at the moment. It's just everything. It's just everything. Not to say that it isn't going to work. But, right now, I feel like I have to work entirely too hard."
Head coach Pat Shurmur also looked visibly frustrated with Manning's struggles during Thursday's game, as he was captured mouthing "throw the ball" following a check down pass to running back Saquon Barkley in a video shared by NFL Network's Mike Garafolo.
Several fans and media experts shared their opinions of the quarterback's disappointing performance via Twitter on Thursday night:
That's a huge change from last season when fans were outraged that Manning, a two-time Super Bowl MVP, was benched for one game by former head coach Ben McAdoo in favor of Geno Smith, despite having the longest consecutive game streak by any active NFL quarterback.
Perhaps Giants fans will regret those past feelings after yet another disappointing performance by the aging veteran.
There's even been debate over whether New York made the wrong decision by selecting running back Saquon Barkley at No. 2 overall, despite the former Penn State standout's impressive rookie campaign, simply because of the decision to overlook the surplus of QB talent projected in the first round.
Manning is a two-time Super Bowl-winning quarterback for the Giants, at one time heralded in the city as a savior for New York football. He won the MVP in both Super Bowls the Giants won with him leading the way. A former star at Ole Miss, the son of legendary Saints quarterback Archie Manning and the brother for former NFL star Peyton Manning, the Giants quarterback started 210 consecutive games from 2004 to 2017.
But New York finished 3-13 last season and entered Thursday night's game against the Eagles at 1-4. With a 1-5 record to start the season and an offense that can't generate much, the debate about Eli Manning's future with the Giants has heated up to another level.