Eliasberg 1913 Liberty Head: Someone Has Just Paid $4.5 Million for a Nickel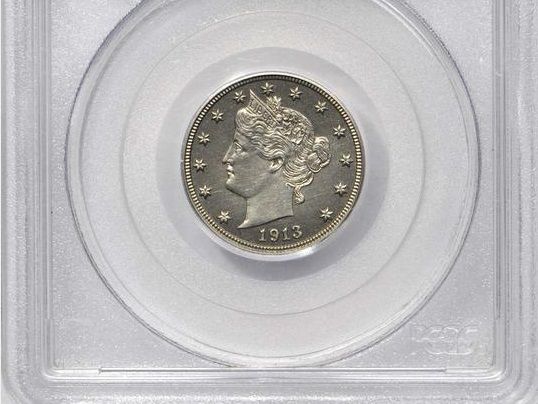 An ultra-rare nickel, believed to be one of the most valuable available in the U.S., has been sold for $4.5 million at auction in Philadelphia.
The Eliasberg 1913 Liberty Head nickel was sold after it was offered by the Stack's Bowers Galleries to the American Numismatic Association's World's Fair of Money at the Pennsylvania Convention Center.
The coin was purchased by Laura Sperber of Legend Numismatics, her partner Bruce Morelan, and an anonymous third customer from their company. Sperber and Morelan previously used to own the same coin, reports CBS Philadelphia.
"We wanted to buy it back and we made it our mission to do so tonight," Sperber said.
Named after Louis E. Eliasberg, who purchased the coin in 1948 and went on to form the only complete collection of U.S. coins by date and mintmark, the piece became the first coin in the world to cross the million-dollar threshold when it was auctioned off in 1996, according to Stack's Bowers Galleries.
The coin is believed to be one of only five ever produced at the Third Philadelphia Mint, and widely considered to be the greatest specimen of all five.
"This is truly a momentous sale and one for the history books," Brian Kendrella, president of Stack's Bowers Galleries, told WPVI.
"The new owner of the Eliasberg nickel now possesses one of the rarest, most valuable United States coins, and one of only three examples of this coveted coin in private hands."
The two remaining nickels that aren't in private hands are housed at the National Coin Collection at the Smithsonian and the American Numismatic Association Museum.
"No one really knows the circumstances of their production," Vicken Yegparian, vice president of numismatics at Stack's Bowers Galleries, told Fox News. "This is the best of the five—it's known as the Eliasberg specimen."
Prior to the sale, the gallery described the Eliasberg 1913 Liberty Head as a "national treasure" that is unique in its grade and pedigree.
"Likely, there is no more famous single coin in existence anywhere," it added.
Yegparian previously said that the five Liberty Head nickels were produced shortly before U.S. Mint began producing nickels with a Buffalo Head design on them.
The American Numismatic Association's World's Fair of Money will continue through to August 25.