Elie Wiesel: Lawmakers Push for Statue of Late Holocaust Survivor, Nobel Peace Prize Winner in U.S. Capitol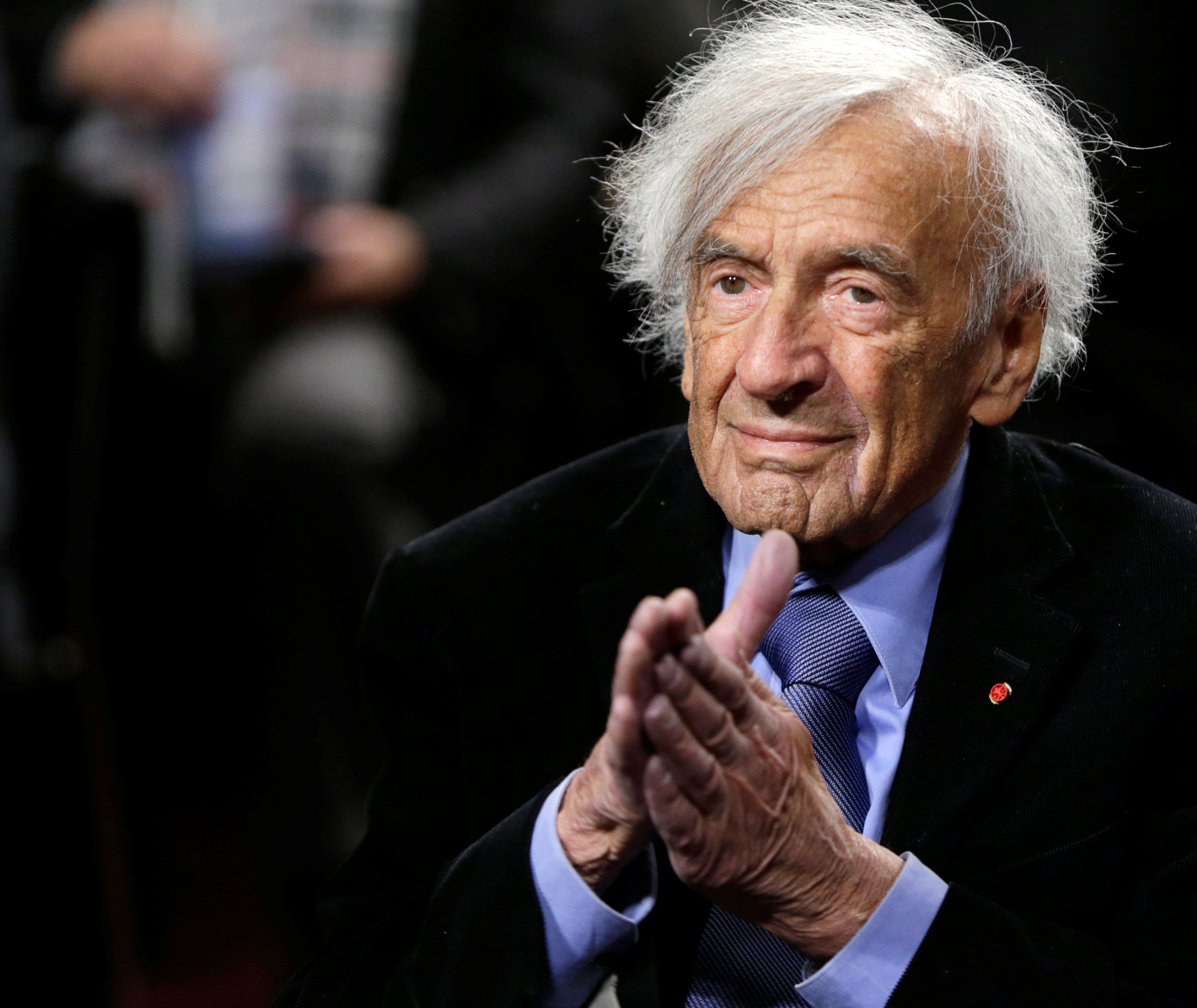 Just a few days after Israel's Holocaust Remembrance Day in late April, two U.S. representatives introduced a bill that calls for a statue or bust of Nobel Peace Prize winner Elie Wiesel to be commissioned for the U.S. Capitol.
The legislation from Representative Steve Cohen, a Tennessee Democrat, and Representative Ileana Ros-Lehtinen, a Florida Republican, directs the Joint Committee on the Library to obtain a statue or bust of Wiesel and to place it "in a suitable permanent location in the United States Capitol."
A Holocaust survivor, writer and activist, Wiesel died in July 2016 at the age of 87.
Related: Trump tries to get it right at the Holocaust Museum event
"I just thought he [Wiesel] was a phenomenal moral force," says Cohen, citing the speech the survivor gave upon receiving the Congressional Gold Medal in 1985. That day, Wiesel implored then-President Ronald Reagan not to go through with a planned visit to the Bitburg military cemetery in Germany, where there were SS men buried. He was being honored with a medal, "and yet he still spoke and stood his moral ground and told President Reagan not to go to Bitburg. He was just a courageous man."
Cohen has long been an admirer of Wiesel, who was his inspiration for drafting and passing a resolution and founding the Tennessee Holocaust Commission in 1987. He wrote to Wiesel and sent him a copy of the bill. When he received a letter of thanks for his important work, "that just put me on cloud nine, because getting a kudo from such an individual is something you never forget," Cohen says. The letter is framed on a wall at his home, he says.
"I thought a statue or a bust of Elie Wiesel would perpetually remind people who walked through [the Capitol] and saw it never to forget," says Cohen. The statue's presence would help ensure that "his death would not extinguish his work, and it would go on as long as the bust remained in the Capitol."
Cohen first introduced a bill calling for a statue or bust shortly after Wiesel's death. That bill expired, Tablet reports, but he was determined to reintroduce it in the new Congress. It carries even more importance now, he believes. "The omission by the administration of reference to Jews in the Holocaust remembrance statement" on International Holocaust Remembrance day in January, plus "the reference to quote-unquote Holocaust centers by Sean Spicer, which has struck me to the core, and other statements that I've seen lately, just bring up the need to remember," he says. "People are not remembering and making less of it, and there are Holocaust deniers.… Anyone who knew Elie Wiesel cannot let that happen."
The statue or bust of Wiesel, who won the Nobel Peace Prize in 1986, would join several others in the Capitol, including 100 historical figures represented in Statuary Hall, two chosen by each state. There are also busts of the vice presidents as well as of Abraham Lincoln, Winston Churchill, Martin Luther King Jr., Sojourner Truth and Raoul Wallenberg, a Swedish diplomat who saved tens of thousands of Jews in Hungary during World War II.
"Having just marked the first Yom HaShoah, Holocaust Remembrance Day, since Elie Wiesel passed, we are reminded of the importance of his mission: sharing the memory of the Holocaust so that we can all bear witness," said Ros-Lehtinen, who teamed up with Cohen to bring back the proposal. "A statue or bust in the Capitol would memorialize him and ensure that we continue to share his story and remind ourselves that, as he said, 'Our lives no longer belong to us alone; they belong to all those who need us desperately.'"
The bill has thus far racked up more than 50 co-sponsors, both Democrats and Republicans, including Representative John Lewis, the civil rights leader and recent winner of the National Book Award for Young People's Literature; Representative Debbie Wasserman Schultz, the former Democratic National Committee chairwoman; and members of the House from California, New York, Texas, Illinois, Colorado and other states. The bill would eventually need to be considered by the Committee on House Administration and be put to the floor for a vote by the House leadership. A corresponding bill would also need to be passed in the Senate before the legislation could reach the president's desk for a signature.
"It's not easy to get something like this done," Cohen says. "There's only a limited amount of space to put busts in the Capitol so you have to be quite selective who you choose."
Cohen plans to continue drumming up support for the bill until it passes, "whether it's this year or next year or the year after," Cohen says. "I can just say this is going to be a cause I'm going to maintain until either I pass it or I leave Congress."