Trump Praises Elijah Cummings as a 'Highly Respected Political Leader,' Just 3 Months after Blasting Him as a 'Brutal Bully'
President Donald Trump has paid tribute to Congressman Elijah Cummings following his death aged 68.
In a tweet, Trump offered his "warmest condolences" to the friends and family of the veteran representative for Maryland's 7th Congressional district.
"I got to see first hand the strength, passion and wisdom of this highly respected political leader. His work and voice on so many fronts will be very hard, if not impossible, to replace!," Trump added.
The president made no reference to the feud the pair had just months prior which included Trump describing Cummings' district as a "rodent-infested mess" where "no human being in the world" would want to live.
In July, a war of words between the pair began after Trump tweeted that Cummings is a "brutal bully" and that his district in Baltimore is considered "FAR WORSE and more dangerous" than the detention centers on the U.S.-Mexico border after the congressman criticized the conditions where children were being detained in.
"As proven last week during a Congressional tour, the Border is clean, efficient & well run, just very crowded. Cummings District is a disgusting, rat and rodent infested mess. If he spent more time in Baltimore, maybe he could help clean up this very dangerous & filthy place," Trump tweeted.
Trump's comments faced accusations of racism seeing as they targeted a predominantly black constituent and its black representative. The comments also arrived soon after Trump suggested four congresswomen of color "go back" to their own countries despite all four being U.S. citizens and three being born in this country.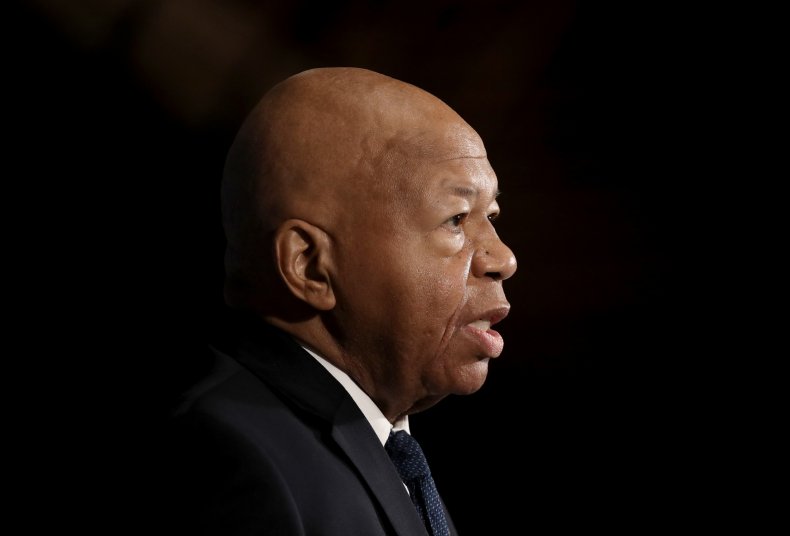 Trump denied the allegations in a follow-up tweet and then claimed Cummings himself was racist.
"There is nothing racist in stating plainly what most people already know, that Elijah Cummings has done a terrible job for the people of his district, and of Baltimore itself. Dems always play the race card when they are unable to win with facts. Shame!," the president wrote on July 28.
Earlier in July, Cummings, as role of chairman of the House Oversight and Reform Committee, launched a probe into government record keeping which involved sending subpoenas to a number of White House officials, including Trump's daughter Ivanka Trump and son-in-law, Jared Kushner.
The House Oversight and Reform Committee is also one of three panels which is leading the impeachment hearings against Trump.
In response to Trump's remarks, Cummings said that government officials should not be making "hateful, incendiary comments" which divide the nation.
"Those in the highest levels of the government must stop invoking fear, using racist language and encouraging reprehensible behavior," Cummings said in a speech at the National Press Club, reports the Associated Press.
Cummings died at the John Hopkins Hospital following a long illness. His widow, Maya Rockeymoore Cummings, chairwoman of Maryland's Democratic Party, was one of those who paid tribute to the 68-year-old.
"Congressman Cummings was an honorable man who proudly served his district and the nation with dignity, integrity, compassion and humility," she said.
"He worked until his last breath because he believed our democracy was the highest and best expression of our collective humanity and that our nation's diversity was our promise, not our problem."