'Either You Do it, or You Don't': Top Democrat Elijah Cummings Doubtful GOP Will Act on Gun Control
President Trump and congressional Republicans have promised to act on gun legislation — to some degree — in the wake of the El Paso and Dayton mass shootings over the weekend. But one top Democrat isn't buying their promises.
"Let me be clear: You have a lot of talk — ta ta ta ta ta ta ta talk! But In the end — in the end — nothing happens," House Oversight Committee Chairman Elijah Cummings said Wednesday. "I think what's happening is the Republicans — listen to me carefully. They're going to make all these glorious statements. They're going to make a lot of words: 'Oh we looove gun safety. We love it.'"
However, the Baltimore Democrat told reporters at the National Press Club in Washington, D.C., he believed his GOP counter-parts would fail to move on measures that would make it harder for would-be mass shooters and criminals to obtain firearms, as they — and some Democrats — did in the aftermath of the 2013 Sandy Hook shooting that left 26 people dead, including 20 elementary school children.
"The people simply want action. So, what [Republicans will] do, I think, is they'll make these glorious statements. And then they'll know they can make these statements without any repercussions," Cummings elaborated. "After Sandy Hook — remember that? And nothing happened. I think the question has to always be the bottom line. Either you do it, or you don't."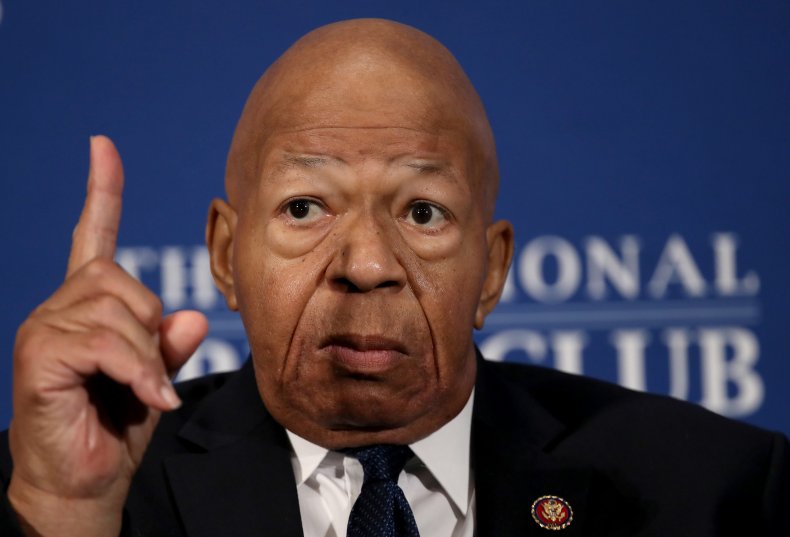 Following the Sandy Hook Elementary School shooting, an assault weapons ban and a bipartisan fix to background check loopholes failed in the Senate, which at the time was Democratic-controlled.
As Trump embarked on visits to Dayton, Ohio, and El Paso, Texas, earlier Wednesday, he promised to support some form of gun control legislation, telling reporters he thinks "background checks are important. I don't want to put guns into the hands of mentally unstable people or people with rage or hate, sick people."
But he would not commit to supporting a ban on military-style assault rifles, something Democrats and at least one House Republican from Ohio have advocated for in recent days.
"I can tell you that there is no political appetite for that at this moment," Trump continued. "If you look at the -- you could speak, you could do your own polling. And there's no political appetite, probably, from the standpoint of legislature."
Polls show that while the majority of Americans support stricter gun laws, the majority does not support banning assault rifles, like the firearms commonly used in mass shootings that can unleash hundreds of rounds per minute. The same style weapon was used in both of the most recent shootings.
Various members of Congress have floated several gun control proposals in both chambers. Some Senate Republicans have teamed up with Senate Democrats to craft so-called "red flag" laws, which would give law enforcement the ability to temporarily confiscate firearms from individuals believed to be mentally ill and pose an imminent threat to themselves or society.
Democrats have demanded that Senate Majority Leader Mitch McConnell, a Kentucky Republican, call senators back from August recess to pass universal background check bills that the Democratic-led House approved in February. More than 200 House Democrats penned a letter to McConnell on Wednesday urging him to allow a floor vote on the measure.
"The House stands ready to return to pass legislation, if the Senate sends us back an amended bipartisan bill or if other legislation is ready for House action," House Speaker Nancy Pelosi told her Democratic colleagues in a Monday letter.
But McConnell has — thus far — not moved publicly from his resistance to the background checks, saying in a statement on Monday that "only serious, bipartisan, bicameral efforts" would be able to "produce further legislation that can pass the Senate, pass the House, and earn the president's signature."
Cummings believed the country's current inability to curb gun violence was a multifaceted issue comprised of guns, anger, race and mental health, saying that it's possible for a leader's comments to push someone already are on the brink of committing a violent act "a little further." Some Democrats have suggested Trump's rhetoric on immigrants may have emboldened the El Paso shooter based on a racist manifesto the gunman posted online that used similar terms as the president to describe Hispanic immigration. The same could happen, some have suggested, with others in the future, unless Trump tone down his rhetoric.
Cummings, who said he was already scheduled to deliver remarks at the National Press Club prior to being the target of racially-charged comments made by Trump, expressed his doubts that the president would follow through with his promises.
"Even if the president said some nice things, I believe it's a situation where McConnell has got his back. What we have to do is demand results," he said. "Do not ask the question in these difficult times, 'why did something happen to you?' Ask the question, 'why did it happen for you?' And I do believe that this is a moment in our history, that journalists — journalists — will be the ones who open the doors of government and bring us to a new sense of normal."