Elijah Cummings: 'No Doubt' President Trump is Racist, Compares Rally Chants to 1960s Civil Rights Era Bigotry
Maryland Congressman Elijah Cummings compared the "send her back" chants at a recent campaign rally for President Donald Trump to the civil rights desegregation era of the 1960s, declaring the president a "racist" after years of trying to give him the benefit of the doubt.
The Baltimore Democrat and House Oversight Committee chairman said he "rarely" calls anyone a "racist" but that Trump's recent xenophobic "go back" remarks directed at congresswomen of color have led him to the conclusion the president is, in fact, a racist.
Speaking on ABC News' This Week Sunday, Cummings said his constituents are "scared of their leader" and are pleading with him to "save our democracy" from Trump's presidency. Cummings compared the current atmosphere with regard to race to the harassment and beatings he received in 1962 as he and other members of his community pushed for the integration of a local public pool.
"I heard the same kind of chants: 'Go home, you don't belong here,' and they called us the n-word over and over and over again," Cummings told host George Stephanopoulos. "When [Trump] does these things it brings up the same feelings that I had over fifty-some years ago, and it's very, very painful. It's extremely divisive."
"Do you believe President Trump is a racist?" asked Stephanopoulos.
"Yes, no doubt about it. I tried to give him the benefit of the doubt," Cummings replied.
Cummings urged members of the Republican Party to stand up to Trump and not only call out his verbal assaults as simply "inappropriate," but as "wrong."
The Maryland Democrat said he has spoken to all four members of the progressive "Squad" in Congress — Representatives Alexandria Ocasio-Cortez, Rashida Tlaib, Ilhan Omar and Ayanna Pressley — and he believes they have "common sense and a commitment to do the right thing."
Cummings did, however, suggest the four congresswomen change how they get their message across to the American people. He used the example of almost never calling someone such as Trump a "racist" because people get caught up in the "tone or the language" and are unable to have an honest discussion.
"I've told them they can say the things they need to say but they've got to say it in a different way," Cummings said. "There's a way of saying things. You'll never hear me — you'll rarely hear me — say the word 'racist.' You'll never hear me call somebody a 'liar' for example."
"But you did just say that President Trump is a racist" Stephanopoulos pressed.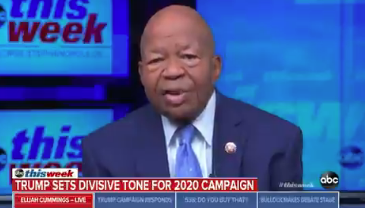 "What I'm trying to point out to you is that's very significant. I know what it feels like to be at the other end of those kinds of comments and I see what's happening in our country with hate crimes going up and more and more people being emboldened with racist statements and treating people badly. That's not the way we should be. We need to be working with each other. Our diversity is not our problem, it is our promise."
Trump and Cummings have traded barbs in the past. In April 2017, the two took shots at each other regarding whether or not Cummings told him he could be "one of the best presidents" during a private, frank discussion.
"Elijah Cummings was in my office and he said, 'You will go down as one of the great presidents in the history of our country,'" Trump said in an interview with The New York Times in 2017.
But Cummings issued a statement denying that was the tone of the exchange which included a blunt discussion of Trump's tone when he talks about black neighborhoods: "During my meeting with the president and on several occasions since then, I have said repeatedly that he could be a great president if — if — he takes steps to truly represent all Americans rather than continuing on the divisive and harmful path he is currently on."
Trump campaign aide Mercedes Schlapp appeared on the program saying the president was not happy with the "send her back" chants.
"[President Trump] made it very clear he disagreed with the chant and I will tell you, he stands with those people in North Carolina, across the country who support him. And why? Because they love America," she told Stephanopoulos Sunday.
Elijah Cummings: 'No Doubt' President Trump is Racist, Compares Rally Chants to 1960s Civil Rights Era Bigotry | U.S.