Elijah James Smith: Police Video Shows Utah Intruder Shot Dead By Officer In Family Garage
The final actions of a man police shot dead in the garage of a home in West Valley City, Utah earlier this month have been revealed in newly released from a police body-camera.
Officers had been pursuing Elijah James Smith in response to a "routine theft call" and followed him to a house. Unsure if the home belonged to Smith, the three officers knocked on the door before entering.
They quickly realized Smith, 20, had entered the home, where three young children had been left alone, was an intruder, when a young boy, who police say is 13-years-old, opened the door and warned there was "some guy here."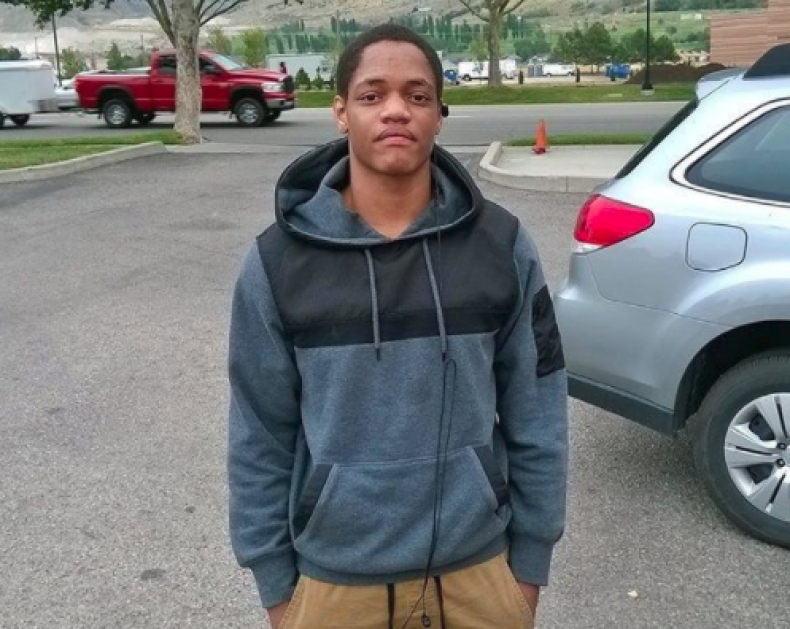 Police said the boy told officers Smith had entered the house "aggressively," scaring the 13-year-old and his two younger brothers, ages 8 and 10. The boy said Smith told them he wanted a drink before entering the home's garage.
Video captured by the three officers' body-cameras shows police being led to a garage door, where at least two officers can be seen drawing their weapons, as they shout "West Valley Police. Make yourself known!"
As they open the door, officers shout for Smith to "put your hands up now!" The calls are repeated several times, with one officer repeating, "I said, let me see your hands!" At least one child can be heard shouting behind them.
When officers enter the garage, Smith, who appears in video footage to have been crouching behind a cabinet, can be seen standing up and walking towards the closed garage door, as officers continue to shout for him to show his hands and "get your hands out of your pocket."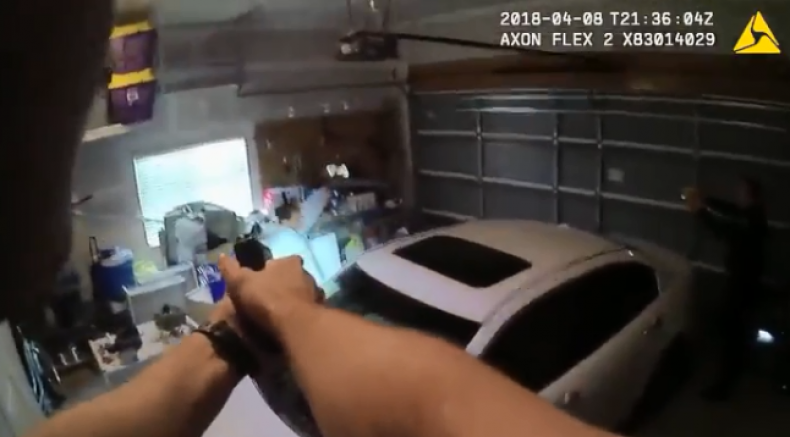 After walking a few steps, Smith raises one hand, as an officer with a taser moves towards him. Another officer, still standing on the stairs with his gun pointed at the 20-year-old, shouts for Smith to get his hand out of his pocket several times before firing three shots at him.
While the shooting itself cannot be seen in the video, West Valley City Police Chief Colleen Jacobs said during a press conference that both the officer with the gun and the officer with a Taser fired the weapons at the same time after Smith made what they perceived as a "draw-stroke" motion with the hand that was in his pocket.
Investigators have said Smith was found to have had a "modified" screwdriver in his pocket. The screwdriver, they said, had been modified to look like something else, though they have not expanded on what it was made to look like.
Jacobs said she believes the officers involved in the shooting "followed protocol" based on the body-camera video evidence.
"From the time the officers opened the garage door until the shots were fired was approximately 24 seconds. They told him 15 times in those 24 seconds to show them his hands and to come out from hiding. And he had his hands out at one point," Jacobs said at Tuesday's press conference, according to Deseret News.
"He chose to conceal both his hands and his person as he moved behind the car," Jacobs said. "As Mr. Smith continued to fail to comply with orders and he made that draw-stroke, both officers perceived that threat at the same time and they both fired," she added.
The officer who fired the shots that killed Smith is now on paid administrative leave, pending the outcome of an officer-involved shooting protocol investigation.
Family members and friends of Smith held a protest on Saturday outside West Valley City Hall, claiming the officer's use of deadly force had been excessive.
Read more: Stephon Clark's Family Vows To Take Legal Action After Sacramento Police Shoot Unarmed 22-Year-Old
They demanded that body-camera footage be released, a request Jacobs said the department decided to comply with for transparency.
"I am sad for their loss. It is a very unfortunate incident Mr. Smith lost his life during this incident," Jacobs said on Tuesday.
A GoFundMe set up to help pay for funeral expenses for Smith has reached more than $6,200 in donations.
The fundraiser page, set up by Smith's family, says the 20-year-old had stolen a cellphone and ran from police, but asserts he was "not a threat" and had been "unarmed."
It describes the 20-year-old as a "crazy little guy that only wants to have fun and make music...With positive vibes and great energy that he brought to everyone's life."
Smith's family has not responded to a request for comment.