Ukraine's Elina Svitolina Thrashes Russian Tennis Opponent, Donates Winnings to the Army
A Ukrainian tennis star has pledged to donate her Monterrey Open winnings to her country's army after beating Russian Anastasia Potapova.
Elina Svitolina thrashed Anastasia Potapova 6-2, 6-1 in Mexico on Tuesday, having previously said she wouldn't play against any Russian or Belarussian opponent
The 27-year-old later agreed that she could do more for her country by refusing to boycott those countries, after the International Tennis Federation said Russian and Belarusian players must compete as neutral athletes without flags, national symbols or anthems.
Speaking on social media, Svitolina said she did not think her fellow athletes should be published for their country's actions.
"I do not blame any of the Russian athletes," Svitolina wrote. "They are not responsible for the invasion of our motherland."
Following her victory on Tuesday, Svitolina said she was "on a mission for my country."
"I'm in a very sad mood, but I'm happy I'm here playing tennis," she said, per BBC Sports.
"I think it's my mission to unite our tennis community to stand with Ukraine, to help Ukraine because what we're going through is a horrible thing for all Ukrainians."
The world number 15 said: "That's why I'm here. That's why I'm playing for my country and doing my best to use my platform to try to invite people to support Ukraine."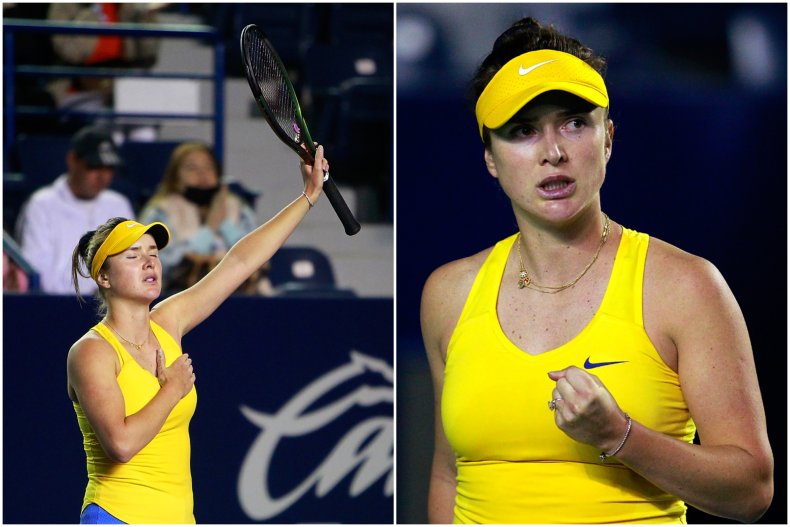 Svitolina is a two-time Grand Slam semifinalist and has 16 career tour-level singles titles under her belt.
She confirmed that she plans to donate her winnings to the Ukrainian Army as Russia's invasion enters its seventh day.
"All the prize money that I'm going to earn is going to be for the Ukrainian army," Svitolina said.
The Monterrey Open winnings are $31,000 in prize money for the champion.
"I'm playing to help the Ukrainian army and people in need," she added. "Every victory that I'm going to get is going to be very special."
Another Ukrainian tennis player has also had success on the court this week, with Dayana Yastremska winning a victory over Romanian Ana Bogdan at the WTA 250 tournament in Lyon, France.
"I'm happy that I won for my country, but at the same time I'm very sad," Yastremska said on court afterward draped in her country's flag.
"My heart stays at home, and my mind is fighting here, so it's very difficult to find the concentration, to find the balance," she said, per ABC Sports.
"This win, compared to what's going on in my country, is nothing. But I'm happy, at least, I'm also fighting for my country. I'm really proud of the Ukrainians and they're really heroes. I hope everything is going to finish soon."