Who Attacked Seth Rollins? Elisah Spencer Identified as Man Who Ambushed WWE Star
The fan that attacked Seth Rollins at WWE RAW on Monday night has been named by police.
The New York Police Department has identified 24-year-old Elisah Spencer, of Brooklyn, New York who has been arrested in connection with the incident.
According to ESPN, the man is facing multiple charges after he tackled the WWE star during a live show in the Barclay's Center.
Spencer is charged with attempted assault and attempted violation of arts and cultural affairs (disrupting live sporting event).
It is not clear why Spencer decided to charge at Rollins during the show.
Footage of the incident is racking up millions of views on social media and Rollins is reported to have suffered swelling to his lip, but refused medical attention.
The wrestler—whose real name is Colby Lopez—was walking back towards the arena entrance after a clash with Finn Balor when a Spencer suddenly charged from the stands and tackled the fighter to the ground.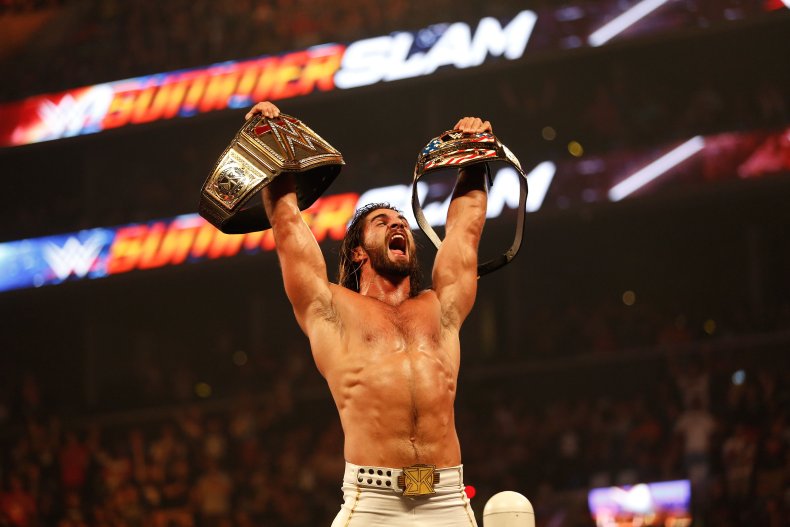 Footage from multiple angles is being widely shared on social media. A small fracas ensued with Rollins managing to control Spencer as security intervened.
The moment could be seen live on television at first but WWE cameras quickly cut away when it became apparent that the tackle was not part of the script.
Rollins has yet to comment on the situation but returned to the show later on for a battle with Kevin Owens.
WWE has released a statement following the incident, confirming Spencer's arrest.
"WWE takes the safety of its performers very seriously," the statement reads. "The individual who attacked Seth Rollins has been turned over to the NYPD and will be prosecuted to the fullest extent of the law."
ESPN's Marc Raimondi has also confirmed Spencer's arrest.
"Elisah Spencer, 24, has been charged with attempted assault and attempted violation of arts and cultural affairs (disrupting live sporting event) for his attack on WWE wrestler Seth Rollins during the Raw television show Monday night at Barclays Center in Brooklyn, per the NYPD," he tweeted.
The footage of Spencer being escorted from the building can also be seen on Twitter in a clip shared by user @VancityConner.
As Spencer is escorted up the stairs by security, chants of "a******" can be heard from the audience.
The WWE incident comes a day after another sporting drama racked up millions of views on Twitter when LeBron James elbowed Isaiah Stewart in the face during Sunday night's Los Angeles Lakers-Detroit Pistons game.