Elise Stefanik Calls Joe Biden's Criticism of Republicans 'Sad and Desperate'
Rep. Elise Stefanik has lambasted President Joe Biden for speaking out against members of her party who he said had voted against his pandemic relief bill but were attempting to take credit for it with their constituents.
"Even my Republican friends in Congress, not a single one of them voted for the Rescue Plan. I'm not going to embarrass any one of them, but I have here a list of how back in their districts they're bragging about the Rescue Plan," Biden said during a speech in Cleveland.
"Some people have no shame … I'm happy they know that it benefited their constituents. That's OK with me. But if you're going to try to take credit for what you've done, don't get in the way of what we still need to do."
The president held up the list, drawing laughter from the crowd. Among the GOP names visible on it were Stefanik, a New York representative and the newly elected chair of the House Republican conference; House Minority Leader Kevin McCarthy, from California; and Rep. Greg Pence of Indiana, brother of the former vice president, Mike Pence.
Stefanik, a staunch ally of Donald Trump, took to Twitter to criticize the president for "desperately attacking Republicans."
She wrote: "Biden has caused the economic crisis, the energy crisis, the border crisis, and the national security crisis. All crises hurting the American people every day.
"And yet he spends his time with cue cards desperately attacking Republicans?? What a sad disgrace."
In a second tweet, she added: "President Biden promised the American people bipartisanship, yet he has governed as the most Far-Left President in history.
"I will proudly fire back at his sad and desperate partisan cue card attacks any time!"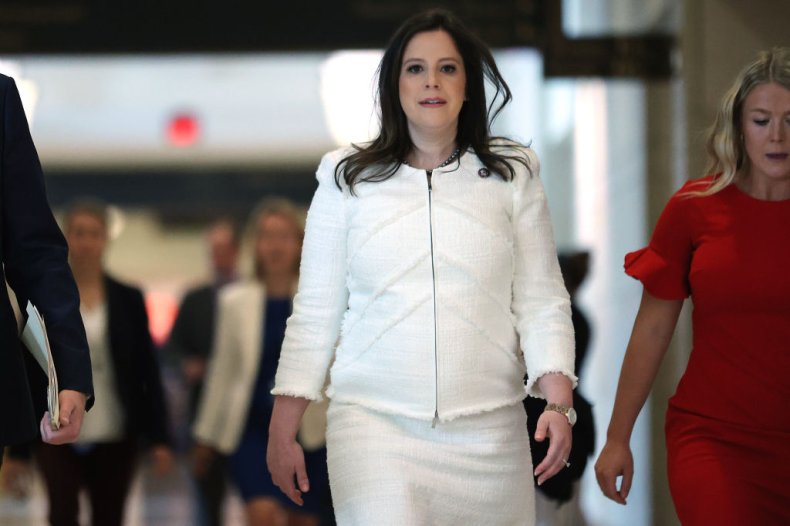 Biden passed the $1.9 trillion COVID stimulus package without Republican support.
The proposal was announced in the first days of his presidency to "change the course of the pandemic, build a bridge towards economic recovery and invest in racial justice."
The White House said the plan would "address the stark, intergenerational inequities that have worsened in the wake of COVID-19."
The package included funding to run a national vaccination program, reopen schools, send households payments of up to $1,400 each, and protect small businesses, especially those owned by entrepreneurs of color. It also aimed to protect the jobs of first responders, transit workers and other essential workers.
Every Republican in Congress voted against the bill.