Elise Stefanik, New House Republican Chair, Raises $250K During Event With Donald Trump
GOP Representative Elise Stefanik of New York has raised more than $250,000 after holding an event in New Jersey with former President Donald Trump on Wednesday evening.
Stefanik successfully ousted a prominent Trump critic, Representative Liz Cheney of Wyoming, in May to take over her role as House Republican Conference chair. Although Stefanik was initially viewed as a moderate Republican, the congresswoman has allied herself closely with Trump and received his endorsement in her bid to oust Cheney last month.
Trump praised Stefanik during a Wednesday evening fundraising event held at his National Golf Course Bedminster in New Jersey.
"Elise has been incredible and loyal to our movement. We have to make sure she's able to win big and raise the money she needs to help lead our party to retake the House," Trump told the room of dozens of Republican donors, the New York Post reported. The former commander in chief asserted that he is "with Elise 100 percent," urging those in attendance to "back her 100 percent" as well.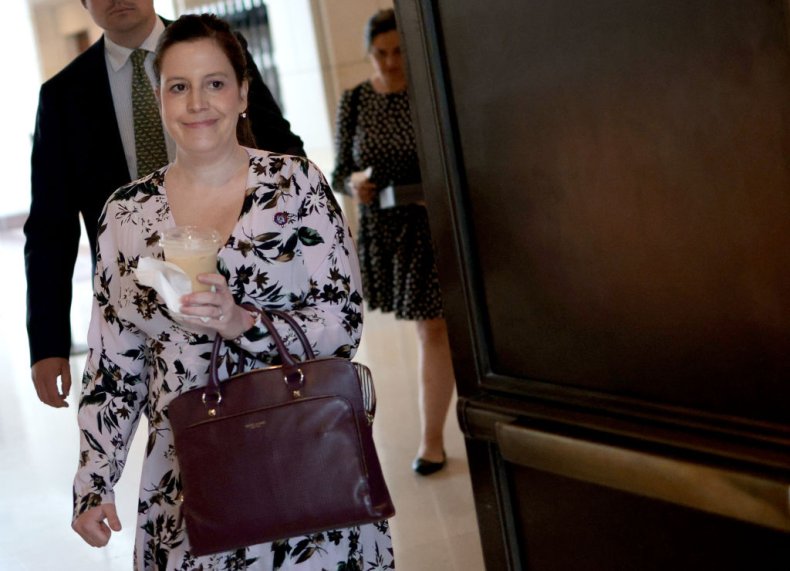 "I see she has the radical crazies after her, crazy Democrats, meaning she's already doing an amazing job as our conference chair," Trump said.
On Thursday morning, Stefanik tweeted her appreciation for his continued support.
"Thank you to my friend President Trump for hosting such an incredible event as we work as one Republican team to win next November. The stakes could not be higher and with President Trump's support, it's 516 days until we #FIREPelosi once and for all," she wrote. According to Punchbowl News, Stefanik raked in more than $250,000 in contributions during the event.
Newsweek reached out to Stefanik's and Trump's press offices for further comment but did not immediately receive a response.
Stefanik first drew Trump's praise during his first impeachment, at the end of 2019 and early 2020, when she vigorously defended him amid allegations that he abused his office to pressure Ukraine to announce politically motivated investigations into then-presidential candidate Joe Biden. The congresswoman has aligned herself closely with Trump since then, voting against the certification of the 2020 election results and backing baseless allegations that the results were somehow fraudulent.
Unlike Stefanik, Cheney has repeatedly condemned the former president after his supporters violently attacked the U.S. Capitol on January 6. The Wyoming Republican's consistent criticism drew the ire of Trump and fellow Republicans as they continue to promote falsehoods about the 2020 election results.
Those who attacked the Capitol on January 6 were misled by Trump and his allies into believing that the election was rigged or stolen. These unsubstantiated allegations have been thoroughly litigated and wholly debunked.