A federal judge in Virginia heard arguments Tuesday in a lawsuit alleging a 2020 change to Thomas Jefferson High School for Science and Technology (TJ) admissions policies had an anti-Asian bias, which one school board member said they felt was true in text messages revealed in court Tuesday.
"I mean there has been an anti asian feel underlying some of this, hate to say it lol," read a text message from Fairfax County School Board member Abrar Omeish to another board member, according to the collection of released texts and emails on the Parents Defending Education website.
In October 2020, the school eliminated standardized testing score requirements and application fees, opting for a policy that guaranteed admission to the highest performing students at local middle schools and factoring in income levels in the student's home through access to programs like free or reduced-price school lunches, according to The Associated Press.
The school, which has been named the top public high school in the country by U.S. News and World Report, said the changes were designed to even the playing field for potential students, while critics of the changes said the school simply wanted to reduce its significant majority of Asian-American students in favor of admitting more white, Black and Hispanic students.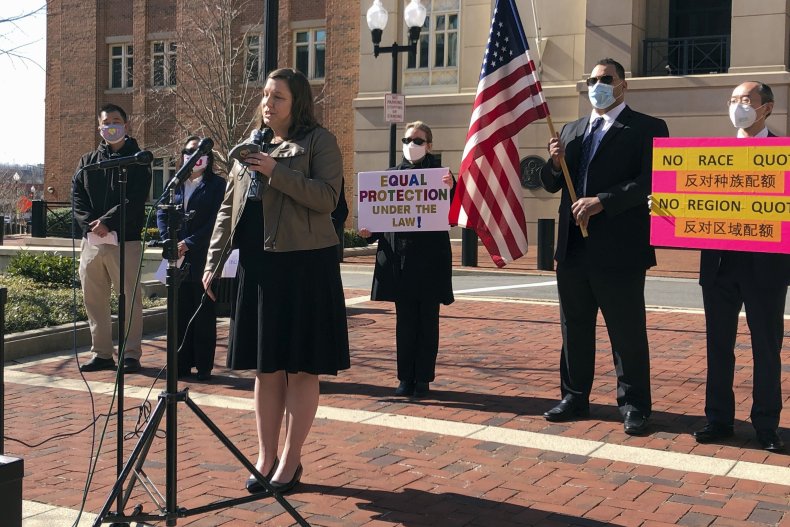 Admissions data for 2021 gave credibility to that criticism. The percentage of Asian-American enrollments fell from 73 percent to 54 percent, Coalition for TJ attorney Chris Kieser said in court Tuesday.
Enrollment of Black students increased from 1 percent to 7 percent, and Hispanic students 3 percent to 11 percent. White students also saw a rise in enrollments from 18 percent to 22 percent, according to the AP.
The school pushed back against a bill proposed last week that would reintroduce testing and grades as qualifications for enrollments while preventing schools from requesting racial or ethnic information on applications, according to WTOP News.
Sona Rewari, representing the school, said the changed policies were not intended to be discriminatory and were instead meant "to give top students from every part of Fairfax County a meaningful opportunity to attend TJ," the AP reported.
She also said that if the judge rules that TJ's admissions policies were unconstitutional, then any efforts to balance the racial representation in a school and correct past wrongs of racial discrimination could be banned as they would mathematically have to reduce the percentage of one group's students in favor of another.
U.S. District Judge Claude Hilton did not issue a ruling Tuesday or say when that would happen, but did say it seems unnecessary to take this case to trial, meaning his ruling will decide the case pending appeal from either side, the AP reported.