'Elite' Season 3: Who Are the New Cast Members in the Netflix Show?
Another year at Las Encinas brings another batch of new students to Season 3 of Netflix's hit Spanish-language teen drama Elite. Joining cast members like Itzan Escamilla (who plays Samuel), Miguel Bernardeau (Guzman) and Mina El Hammani (Nadia) are Sergio Momo and Leïti Sène as Yeray and Malick respectively.
Fans of the show may already recognise the new Elite actors. Momo, who plays Yeray, previously starred in El Vecino, known in English-speaking territories as The Neighbor. He also had roles in the miniseries Lost in the West and the Spanish thriller set in Afghanistan, Rescue Under Fire.
Malick actor Leïti Sène, meanwhile, made his acting debut in Welcome to the Family (Benvinguts a la Familia), a series that is streaming internationally on Netflix. However, he is better known as part of the Barcelona hip-hop duo Samxsen, who have a number of singles streaming on Spotify as well as their debut EP Gliese 581 C. He has also released two EPs as a solo star, with Joel and TATIMU MIXTAPE also on music streaming sites now.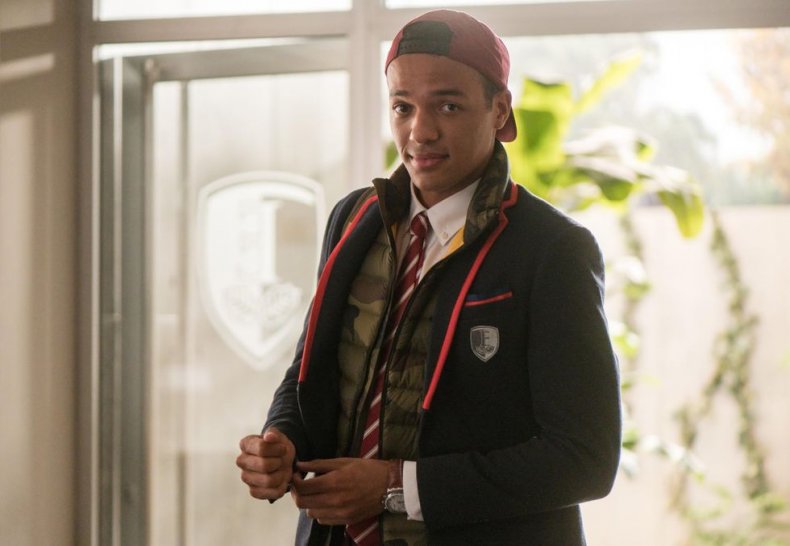 Warning: Spoilers for Elite Season 3 below.
Soon after Malick's introduction in Elite Season 3, he gets involved in not one but two different love triangles, causing big complications between Nadia and Guzman and also hooking up with Omar (Omar Ayuso) just as things have improved between him and Ander (Aron Piper).
Speaking to Sensacine, Nadia actress Mina El Hammani teased of the relationship between Nadia and Malick: "Malick is a factor that makes very interesting things happen. I can't tell you what now, but he makes Nadia evaluate certain things."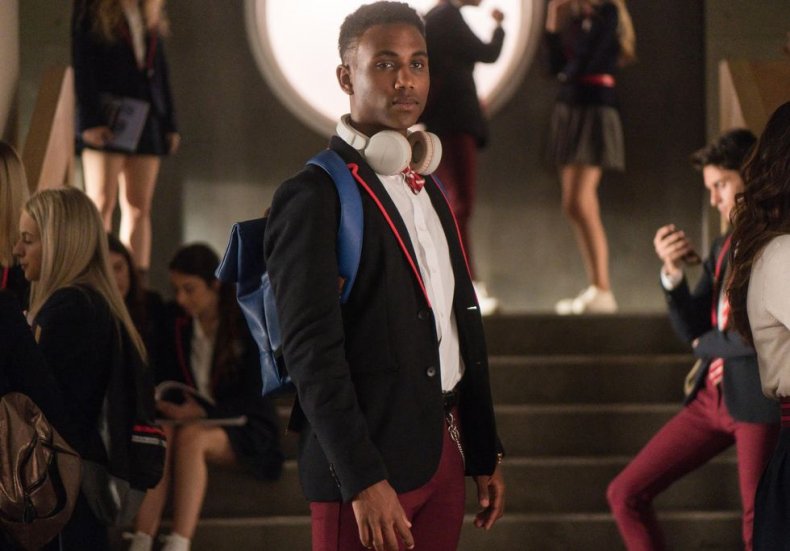 In the trailer, we see Malick give Nadia what looks suspiciously like an engagement ring, meaning we could have an Elite wedding on our hands if his tryst with Omar does not become public.
Already, fans are worried about the character. One, for example, wrote on Twitter: "I like Malick but I feel like he's going to get the Rahim from Sex Education treatment." As Rahim in that show got dumped by fan favorite Eric in Season 2, this might suggest that Malick will end the season unlucky in love.
Yeray, meanwhile, quickly gets involved with Carla (Ester Exposito), adding yet another love triangle to the show due to Samuel still having feelings for her in Elite Season 3, despite his huge betrayal of her at the end of Season 2.
Elite Season 3 is streaming now on Netflix.