'Elite' Ending Explained: What Happened at the End of Season 3?
Elite season four premieres Friday, June 18 on Netflix worldwide. Fans have been waiting one year for the latest series to arrive which will see many of the Las Encinas students enter their final year, with some new faces joining the school roll. Newsweek has a full recap of the ending of Elite season three ahead of the highly-anticipated new series.
What happened at end of Elite season 3?
Polo's death
Elite would of course not be the same without an unsolved murder case. In season three of Elite, unfortunately for Polo (played by Álvaro Rico), he was the one to meet his death.
At the beginning of the series, Polo was fatally stabbed by a student as Las Encinas. In the end, that student was revealed to be Lu (Danna Paola), who attacked Polo with a broken champagne bottle.
Lu had plans to confront Polo over the loss of her scholarship to New York.
After they settled their differences and reconciled, Lu and Polo hugged, and Lu, still holding the broken champagne bottle, stabbed Polo.
Polo then staggered out of the bathroom and somehow through a second-floor window, falling to his death.
As expected, Lu got away with Polo's death after her friends at Las Encinas banded together to disrupt the police investigation. They placed all of their fingerprints on the murder weapon and during their interrogations, told the police inspector they saw a different person each time entering the bathroom
In the end, without a strong suspect, the police were forced to rule Polo's death as suicide.
Their theory was backed up by the fact Polo had finally confessed to Marina's (María Pedraza) murder to his mother the same night of his death. Polo's confession finally revealed to Marina's family that Nano was officially innocent.
Nadia, Lu, and Malick move to New York
In a bid to restore their family's image, Polo's family set up a scholarship program to the University of Columbia in New York.
Nadia (Mina al Hammani) and Lu won places on the scholarship and left their lives behind in Madrid for NYC with Malick (Leïti Sène).
Malick is a new character on the Elite scene, who was once engaged to Nadia before he confessed he had more interest in her brother Omar (Omar Ayuso).
At the end of Elite season four, Nadia and Malick will be living together, which may pose some problems for Nadia's brother Omar.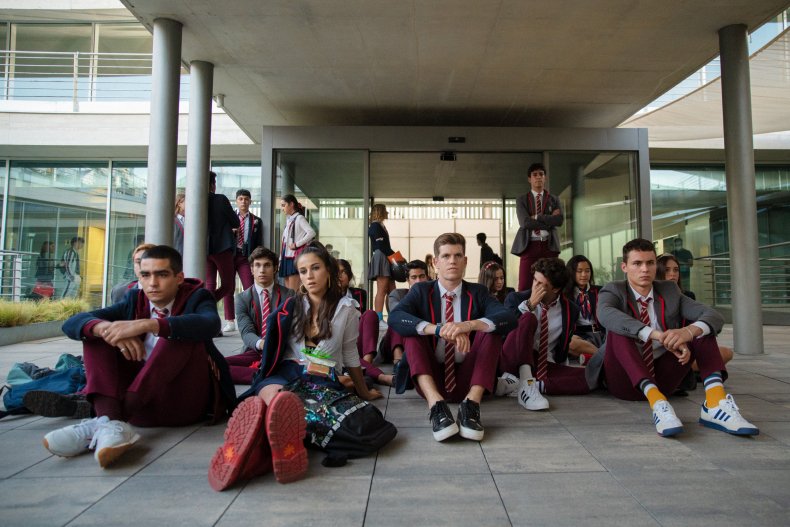 The Break-Up's
Since they will be living on different sides of the world, Nadia and Guzmán (Miguel Bernadeau) decided to put a pause on their relationship.
They both agreed they would get back together if and when Nadia returns to Spain.
However, in the Elite: Short Stories it was revealed there was trouble in paradise for Nadia and Guzmán.
Over the 40 minute episode, Nadia and Guzmán questioned whether they would be able to sustain the pressures of a long-distance relationship, with Nadia fearing Guzmán was holding her back.
Thankfully, in the end, they both agreed to give their relationship a real shot. Hopefully, in season four of Elite, the pair will still be together and there will not be any bumps in the road along the way.
Nadia and Guzmán were not the only couples whose relationship was on the rocks.
Carla (Ester Expósito) and Samú (Itzan Escamilla) called it quits on their relationship after she decided to leave the country to study in Europe.
In the Elite: Short Stories, Samú tried everything to stop Carla from leaving. After Carla's flight was cancelled, they spent one last romantic evening together and Carla even changed her mind and agreed to stay.
Carla stayed for an extra week but sadly, the relationship was not meant to last. After a night at the Lake Club, the next morning Samuel woke up to a voice note from Carla, where she puts an end to their relationship.
Ander is in remission
In Elite season three, Ander (Áron Piper) was diagnosed with leukemia but thankfully it was revealed he had entered remission.
Elite fans were also over the moon to see Ander and Omar back together after they broke up at the beginning of Ander's cancer treatment.
Things may be a little unsteady between the couple in season four of Elite, considering they both had new boyfriends in season three before getting back together.
Omar also turned down the chance to be in New York with Malick to be with Ander.
Cayetana is the Las Encinas janitor
In the final scene of Elite season three, it was revealed Cayetana had turned down the offer from Polo's parents to pay for her tuition.
Instead, she took on the job of school janitor at Las Encinas, where she will be able to keep her friends close and her enemies most definitely closer.
In Elite: Short Stories, Guzmán Caye Rebe it was confirmed Cayetana will definitely be taking on the school janitor role and had not changed her mind over the summer.
Elsewhere, Carla handed her father's business over to Valerio (Jorge López) and Rebeca (Claudia Salas) gave her mother an ultimatum - to give up the crime or give up her family.
At the end of the series, it was revealed Sam (Itzan Escamilla), Ander, Guzmán, and Rebeca had all returned to Las Encinas for their final here.
Elite season 4 premieres Friday, June 17 on Netflix.