'Elite' Season 3 Ending Explained: Who Killed Polo and How It Sets Up Season 4
Though Elite has already been renewed for two additional seasons, the ending of Season 3 could be said to bring to an end the first chapter of the Netflix show, with many of the students graduating and leaving Las Encinas. However, before they go, Elite Season 3, Episode 8 focuses on their fateful graduation day, revealing who it was who killed Polo (Alvaro Rico) and how they got away with it.
In Elite Season 3, Episode 8, titled "Polo," we learn that it was Lu (Danna Paola) who stabbed Polo with the broken champagne bottle in a fit of passion after she confronts him, thinking he caused his mothers to cancel the scholarship that would send her to New York. The irony is, however, that the only reason Polo was at the graduation party was to tell her he had actually managed to get his mothers to reinstate the bursary, but he does not have time to tell her that before she stabs him and he stumbles through a window.
Nearly all of Elite's main character are there, and know that Lu killed Polo, but in an attempt to get their lives back to normal and not disrupted by yet another long murder investigation, they make a pact to cover up her crime by each putting their fingerprints onto the bottle to cover her incriminating marks before putting Polo's own prints of the bottle to make it look like a possible suicide.
This plan is also the reason why no one's stories added up across Elite Season 3. They each pledge to give different information to the police, including saying they saw different people go into the bathroom with Polo to confuse the police. Lu nearly breaks this pledge and confesses before half-brother Valerio (Jorge Lopez) gets her to stick to her story.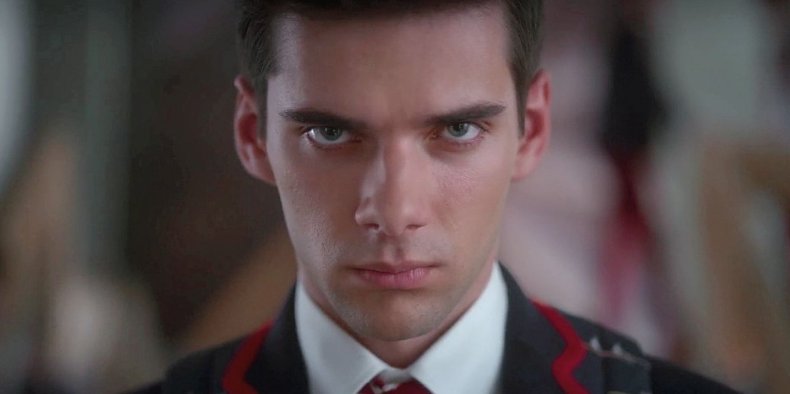 As such, Lu gets away with the murder, and gets to go to New York on the scholarship that the parents of the boy she murdered paid for. However, her and Nadia are not the only people who leave Las Encinas, and by extension the main cast of the Netflix show itself. Also leaving at the end of Elite Season 3 are:
Carla, who leaves to study abroad despite the fact that she is now free to date Samuel (Itzan Escamilla);
Nadia (Mina El Hammani), who leaves for New York on the second scholarship paid for by Polo's parents; and
Malick (Leïti Sène), also going to New York.
However, right at the end of Elite Season 3, we learn that new cast members are back at Las Encinas for another year, meaning they will presumably appear in some capacity in Elite Season 4:
Rebeca (Claudia Salas), Samuel and Guzman (Miguel Bernerdeau), all of whom are allowed to return to the school for a final year;
Ander (Aron Piper), taking his graduation year after having to take time off school to battle leukemia; and
Omar (Omar Ayuso), joining the school for the first time to be with boyfriend Ander.
Other characters are out of the school, but still in the town, meaning they could be back. Valerio looks set to take over Carla's family's wineries while Cayetana (Georgina Amoros) is currently working as a janitor at Las Encinas after rejecting a scholarship and deciding she wants to make her own way in the world.
Though multiple characters remain in Madrid and could return, early reports about Elite Season 4 suggest it will focus on new characters. In a Spanish video (reported on by Popbuzz), Rico confirmed this, saying that Season 3 is "the definitive ending to the evolution of the characters."
Elite Season 3 is streaming now on Netflix.