'Elite' Season 4 Ending Explained: What Happened at the End of the Series?
Elite is the Netflix show everybody is talking about. Season 4 of the Spanish drama series has not disappointed and fans are still trying to dissect everything that happened and what it all means.
The fourth season introduced four new characters—Mencía (played by Martina Cariddi), Ari (Carla Diaz), Patrick (Manu Ríos), Phillipe Florian Von Triesenberg (Pol Granch) — to the world of Las Encinas, and bid farewell to fan favorites Nadia (Mina El Hammani) and Carla (Ester Expósito).
There was also a new principal at the school, Benjamin (Diego Martin), whose alternative outlook on education posed problems for many of the students.
Little did Benjamin know, it was his children, Mencía, Ari, and Patrick, who would end up being the biggest problem of them all.
It would not be Elite without at least one murder at the hands of a Las Encinas student.
In Elite season four, it was Guzmán's (Miguel Bernardeau) turn to kill, arguably in a case of self-defense.
The series began with the revelation that Ari had been seriously assaulted and was unconscious in hospital.
She survived the horrific ordeal and for eight episodes, viewers were left wondering who done it and why.
Ari's attacker turned out to be Armando (Andrés Velencoso), a man with a questionable past and interest in young women.
Armando was a stranger to Ari but had close ties to her sister Mencía.
He had been paying Mencía for sex and when she put an end to their arrangement, he became obsessed with her.
Instead of telling her family what happened, Mencía remained silent, which only allowed Armando to further abuse her.
Mencía's girlfriend Rebe (Claudia Salas) told Ari the truth about Mencía and Armando's previous arrangement, but she was quick to dismiss it and Mencía herself denied everything.
However, when Ari saw Mencía and Armando arguing on the pier and Rebe punching him to the ground, she confronted Armando on her own.
As Ari called her father, who had the power to destroy his life and reputation in an instant, Armando violently attacked her and left her on the pier to die.
Thankfully Guzmán was quick on the scene and chased after Armando, cornering him in a storage room.
In a moment of panic and a bid to defend himself, Guzmán grabbed a gun, which shot a firework right into the back of Armando.
The shot killed Armando instantly and at the end of the series, Guzmán, Rebe, and Samuel (Itzan Escamilla) were seen dropping his lifeless body into the river.
As expected, this was a secret only Guzmán, Rebe and Samuel knew, with Guzmán lying to Ari and the police about his encounter with Armando, claiming Armando knocked him out and he never saw him again.
Ari's attack and the death of Armando were not the only big events to take place in the Elite season four finale. Newsweek has a full recap of where the other students of Las Encinas were at the end of Elite season four.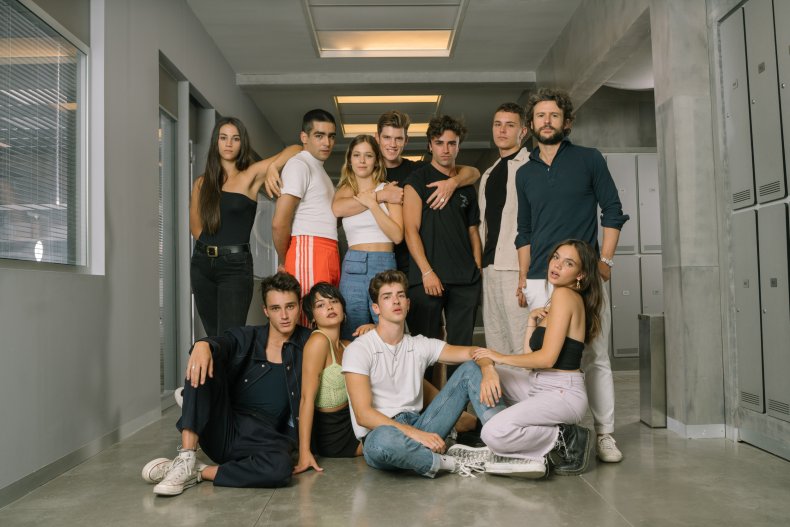 Omar and Ander (sort of) broke up
Elite season four took fans on one hell of a ride with Omar (Omar Ayuso) and Ander's (Arón Piper) relationship.
The couple got back together at the end of season three just as Ander entered remission.
In season three, they brought Patrick into their relationship, which sparked one of the most complicated love (and sex) triangles in Elite history.
Omar and Ander decided to get back together at the very end of Elite but in a twist, Omar and Ander stans would not have seen coming, Omar called it quits on their relationship.
He wanted Ander to stick to his plans to travel and not stay in Madrid just for him.
Omar agreed to wait for Ander but the couple did agree to see other people during their time apart.
Their breakup ended with a lot of "I love you"s and tears, so hopefully the pair can make their way back to each other.
Guzmán and Ander went traveling
Guzmán decided to join Ander on his adventure of a lifetime.
The trip will probably do the world of good for Guzmán, who had not really addressed his breakup with Nadia or handled Ari's rejection well.
His decision to leave Madrid probably served as a metaphor for leaving his tainted past behind—he did just kill a man.
Mencía told her family the truth
Mencía finally accepted her father's love and was able to tell him the truth about her relationship with Armando.
In a dramatic scene, Mencía could be seen telling her father she was a former prostitute and speaking of her ordeal.
Exactly what Mencía could not be heard as intense music played over their conversation.
From what it looked like, it was an emotional and heartbreaking moment, causing her father to smash their glass table into pieces.
Elite seasons 1 to 4 are streaming on Netflix now.