Five Questions That Need Answering from 'Elite' Season 4
Elite season 4 may have only premiered on June 18, but fans are already counting down the days until season 5 arrives on Netflix. The latest series ended on several cliffhangers, including the disappearance of seedy businessman Armando (played by Andrés Velencoso). Newsweek has a full list of all the questions posed by the events of Elite season four.
Questions that need answering from Elite season 4
1. Is anybody looking for Armando?
In season 4 of Elite, Armando was grooming 16-year-old Mencia Blanco Commerford (Martina Carridi).
He developed an unhealthy obsession with Mencia and began exerting controlling and manipulative behavior, blackmailing her into having sex with him.
At Prince Phillip's (Pol Granch) New Year's Party, he forced Mencia into spending the evening with him, showing up at the party uninvited. Thankfully, Rebe (Claudia Salas) saw what was happening and was quick to push Armando off of Menica.
Armando was then confronted by Mencia's sister Ari (Carla Diaz) about his non-consensual relationship with Mencia and the pair got into a physical struggle.
Ari was brutally beaten up by Armando and left pretty much for dead at the side of the pier until she was rescued by Guzmán Nunier Osuna (Miguel Bernardeau).
Guzmán chased down Armando and shot him with a firework, killing him. He later dumped his body into the lake with the help of Rebe and Samuel (Itzan Escamilla).
When Guzmán later visited Ari in hospital, he lied and told her Armando knocked him out and got away. Mencia also told her sister Armando hadn't been seen since the attack.
Guzmán, Rebe, and Samuel will have to keep their secret between them if the authorities start looking for Armando.
Mencia was also seen telling her father Benjamin (Diego Martín) the truth about Armando, and there is no doubt her confession could have serious ramifications for her future.
At the moment, the plot of Elite season 5 remains unknown, but there is the possibility Armando's murder could set up the beginning of the new season.
2. Will Rebe and Mencia get back together?
Rebe and Mencia's romance was one of the most popular among Elite fans.
Sadly, the pair's relationship became severely strained after Rebe uncovered Mencia was involved in sex work.
Rebe was unaware Mencia was being groomed by Armando. She was heartbroken by the love of her life visiting Armando's hotel, despite Mencia insisting they were no longer sleeping together.
Thankfully, Rebe was there to save Mencia from Armando when he attacked her at the pier at the New Year's Eve Party.
She also helped dump his body into the lake with Samuel and Guzmán, proving she really would do anything for love.
However, whether Rebe and Mencia rekindled their romance at the end of the season was left up in the air.
One thing is for sure, a romance between Rebe and Mencia is something fans want to see in Elite season 5.
One fan tweeted: "Rebe and Mencia are the only reason I'm watching season 4 of Elite #menbeka."
A second fan said: "The only thing I care about this season is the Rebe & Mencía relationship REBEKA AND MENCIA SAVING ELITE #Elite4."
A third fan added: "I'm already contacting Netflix to have elite s5 be the last season so that I can get my Rebe and Mencia endgame."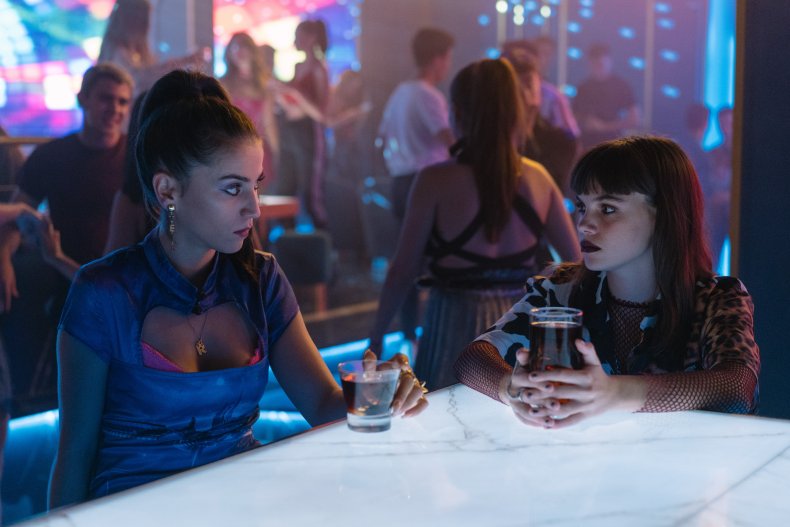 3. Will Guzman and Ander return for Elite season 5?
At the end of Elite season 4, it was revealed Guzmán would be joining his best friend Ander (Arón Piper) to travel the world.
Sadly, their decisions to travel meant a (sort of) end for Ander and Omar's (Omar Ayuso) relationship, with the pair agreeing to see other people while Ander was away.
The pair have been Elite regulars since the show began in 2018 and fans are worried the decision to travel means they will be missing for the fifth series.
However, there is a possibility Guzmán could become embroiled in a murder case if Armando is found and Ander may not be able to stay away from Omar for too long.
Fans have taken to Twitter to share their sadness around the possibility Guzman and Ander may not return.
One fan tweeted: "Seeing the last scene of ELITES4 I knew already that Guzman and Ander will be no longer part of the next season for sure OLD CAST ARE SLOWLY FADING"
A second fan added: "There is nothing left for me to watch if Ander and Guzman are not coming back next season #Elite4 #EliteNetflix."
A third fan said: "oh no, we need to see Ander and guzman on elite 5 :'( #Elite #Elite4 #EliteNetflix."
4. Will Samuel and Ari date?
Now that Guzmán is out of the picture, Samuel and Ari could pursue their relationship in season 5.
However, at the end of season 4, Samuel was almost framed as Ari's attacker after text messages were found on his phone, with Ari asking Samuel to meet her on the pier.
Elite fans know Samuel never received the text message as it was intercepted by Guzmán during their fistfight in the final episode.
One thing is for sure, Ari's dad Benjamin is not happy about Samuel's interest in his daughter.
5. Will Patrick and Omar get together?
The most complicated love triangle of all time took place in Elite season 4 between Patrick (Manu Ríos), Omar and Ander.
Omar and Ander decided to open up their relationship to Patrick, but things became pretty intense when feelings became involved.
Eventually, Omar and Ander called it quits on their relationship, with Patrick wanting to make things serious between him and Ander.
Sadly for Patrick, Ander only wanted sex and nothing exclusive. Patrick then tried to pursue things with Omar, but Omar was so clearly still in love with Ander, leaving Patrick completely heartbroken.
Now Ander is away traveling and Omar is alone, fans are wondering if Omar and Patrick will explore their relationship. After all, they did look like they stood more of a chance of having a loving relationship that was not purely based on sex.
One thing is for sure, Omar and Patrick will cross paths in season 5, but whether it will be as friends or more is unknown for now.
Elite seasons 1 to 4 are streaming on Netflix now.