'Elite' Season 4: Everything We Know About What Will Happen in the Next Season
Elite Season 4 could be a very different outing for fans of the Netflix show. After tying up a number of character arcs at the end of Season 3, the next set of episodes is said to introduce an entirely new cast of characters into the corridors of the elite Las Encinas school in Barcelona.
Everything we know about what will happen in Elite Season 4
Elite Season 4 is almost certain
A Netflix spokesperson told Newsweek that they "trust that the story will continue" into Elite Season 4, which is very close to a full confirmation of the rumors around the series. In January, Spanish website Bluper reported that the show had already been greenlit for both Seasons 4 and 5.
Elite Season 4 starts filming soon
Per Bluper, filming on both Season 4 and Season 5 will start in the spring, with the 16 episodes filmed consecutively. This is something that Elite previously did when the Netflix show shot Seasons 2 and 3 back to back. As there was a year between the years of Seasons 1 and 2 (shot separately) and six months between Season 2 and 3 (shot together), this might mean that we get Elite Season 4 in spring 2021, followed by Season 5 in the fall of that same year.
Season 4 will have a new cast
The next season of Elite will reportedly focus on a new cast, following the example of fellow teen drama Skins (the U.K. version), which updated its cast every two seasons. This was hinted by the way that Season 3 tied up a lot of plots, sending many cast members out of Madrid.
However, several characters are still going to Las Encinas and/or working there, which means that they could still make cameo appearances in the new season, similar to how some of the original Scrubs cast reappeared when Season 9 introduced a batch of new interns.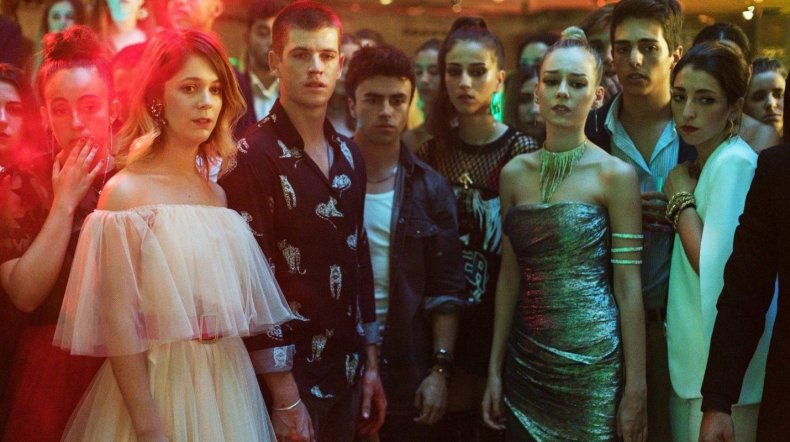 Whether the cast will reappear depends on how you read some of the current cast's statement about a new season. Cayetana actor Georgina Amoros, for example, said in a video interview: "it's a season where the cycle is completed. Another one starts," which could mean that the show will get a second cycle with an entirely new cast, or that Cayetana herself will get a new plot cycle, which seems to be hinted by her becoming the janitor of Las Encinas at the end of Season 3.
Alvaro Rico, who plays Polo, meanwhile, said: "It's the definitive ending to the evolution of the characters," though of course he was already destined not to appear in Season 4 after his death in the current season.
Valerio will not be returning
Even if some of the Elite cast return, Valerio will not be among them, despite the character getting control of a winery business at the end of Season 3.
In an interview with Esquire Spain, actor Jorge Lopez said, "A couple of seasons for me and for Valerio is perfect, I don't want to do more."
Elite Seasons 1 to 3 are streaming now on Netflix.