'Elite' Season 4: Will There Be Another Season of the Netflix Show?
Netflix tends not to officially renew its shows until at they have a least of month of viewing data from a new season, but if reports are to be believed, the hit Spanish teen drama Elite may have got the go-ahead for Seasons 4 and 5, with the main cast being replaced by a new batch of students entering Las Encinas.
This was first reported by Spanish site Bluper, which claimed that the two seasons have been greenlit and will shoot one after the other in spring 2020.
There is some precedent for this in the production of Elite. Per Bluper, Seasons 2 and 3 were also shot back-to-back, though Netflix did not confirm that they had renewed Elite Season 3 until late 2019, when it was already shooting.
This means we may not get a confirmation that Elite Season 5 has been ordered until Elite Season 4 airs at some point in early 2021.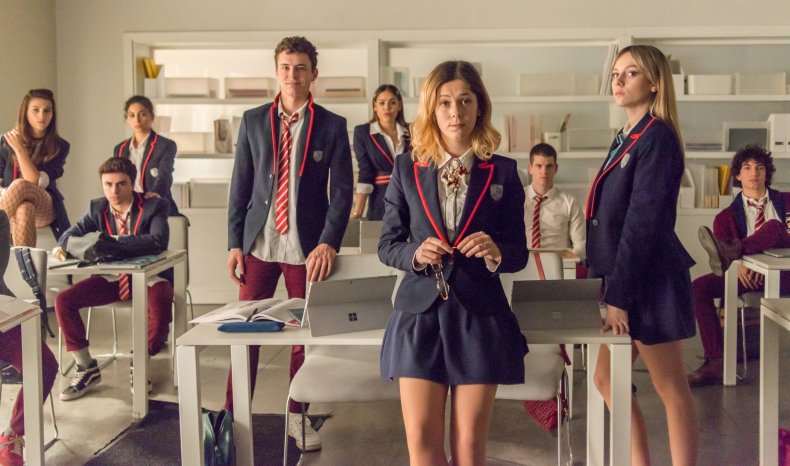 Though Elite Season 4 has not been confirmed, what seems likely if the show gets another season is that our current cast will either be leaving completely or playing much smaller roles. This was hinted in a number of interviews from the cast.
Per Popbuzz, Cayetana actress Georgina Amoros said in a video, "It's [Season 3] a season where the cycle is completed. Another one starts. Get your tissues ready because you will need them. It's a very complete season."
Valerio actor Jorge Lopez, meanwhile, confirmed his character would not be back to Esquire Spain, saying, "A couple of seasons for me and for Valerio is perfect, I don't want to do more."
Who the new cast members will be has not been confirmed yet. However, a number of students are still in Las Encinas at the end of Elite Season 3, which means they are likely to at least make cameos in the next season.
In Episode 8 of that season, Rebeca (Claudia Salas), Samuel (Itzan Escamilla), Guzman (Miguel Bernardeau) and Ander (Aron Piper) all returned for another go at their graduation year, while Omar (Omar Ayuso) is joining the school for the first time. Cayetena, meanwhile, starts working as a cleaner at Las Encinas, suggesting that she to could appear in the new "cycle" of the Netflix hit.
In a statement to Newsweek, Netflix also seemed to confirm there would be another season. The statement read: "We trust that the story will continue. We hope to give more details soon."
Elite Seasons 1 to 3 are streaming now on Netflix.