'Elite' Season 5: Will There Be Another Series?
Elite season 4 has taken the world by storm since it premiered on June 18. The latest series saw 4 new pupils arrive at Las Encinas, as well as one murder victim—but this time around, it was not one of the students who met their end.
Will there be another series of Elite on Netflix?
Season 4 ended on several cliffhangers, leaving fans with many questions unanswered. Many Elite fans are desperate to find out what will happen next, from Armando's (played by Andrés Velencoso) death to Ari's (Carla Díaz) recovery.
There is good news for Elite fans. Season 5 has already been given the green light by Netflix.
Unfortunately, an exact release date has not yet been confirmed but fans can expect the new series to arrive in 2022 at the earliest.
Following the release pattern of the show's previous seasons, Elite series 5 could arrive in mid-2022.
Back in February 2021, a video on Elite's official social media pages was released, confirming the news.
The video saw Carla Díaz and Georgina Amorós opening a box containing the number five with the words: "season 5 in production."
At the time, Netflix also tweeted: "Elite fans, get ready for more because the show has been renewed for a fifth season! (and before you ask... no, Season 4 has not premiered yet)."
There will be new faces joining the cast of Elite season 5, including Soy Luna's Valentina Zenere and I Am More Me's André Lamoglia.
At the moment, very little is known about their characters. One thing is for sure, however: fans are counting down the days until the new series arrives.
One fan tweeted: "Elite season 4 is officially out!!!!! Can't wait to binge-watch all the episodes at once and then cry about having to wait a year for season 5 #EliteWeek #Elite4."
A second fan said: "Elite season 5 better give me Rebeka and Mencia only being happy together."
A third Elite fan posted: "I just finished watching elite season 4 but like now what do I do until season 5 comes out?"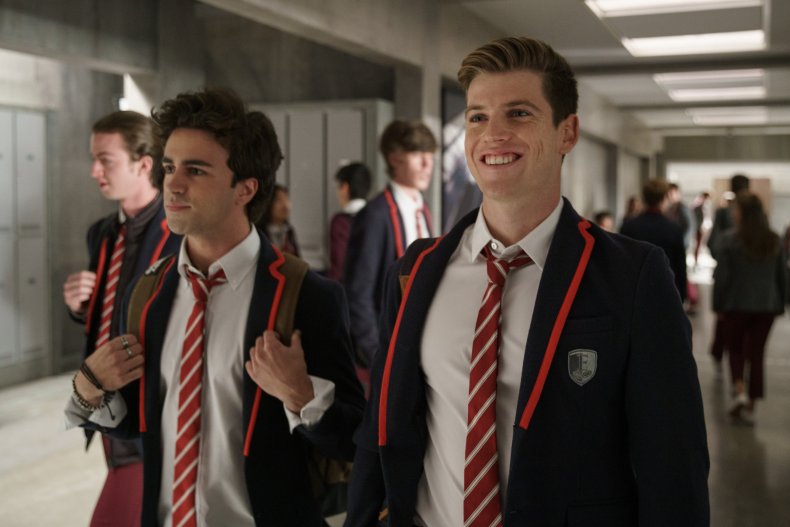 What will happen in Elite season 5?
At the end of Elite season 4, the identity of Ari's attacker was finally revealed to be Armando.
In a twist nobody saw coming, Guzmán (Miguel Bernardeau) shot Armando dead with a firework and dumped his body in the lake with the help of Samuel (Itzan Escamilla) and Rebe (Claudia Salas).
There is a huge possibility Armando's unsolved disappearance could form the basis of season 5.
Elsewhere, there were many romantic relationships up in the air.
For example, will Ari and Samuel give their relationship a shot, especially now Guzmán is out of the picture?
At the end of season 4, Ander and Guzmán decided to leave Las Encinas to go traveling, with Ander and Omar (Omar Ayuso) agreeing to call it quits on their relationship while Ander was away.
Mencía (Martina Cariddi) also came clean to her father Benjamin (Diego Martin) about her sexual relations with her sister's attacker Armando at the very end of the series.
Season 5of Elite may follow the fallout that will come with Mencía's confession and could explore the impact it will have on her relationship with Rebe.
Hopefully fans will not have too much longer to wait for the new series to arrive on Netflix.
Elite seasons 1 to 4 are streaming on Netflix now.