How Eliud Kipchoge Did It: Here's All the Preparation That Went Into the Runner's Marathon Feat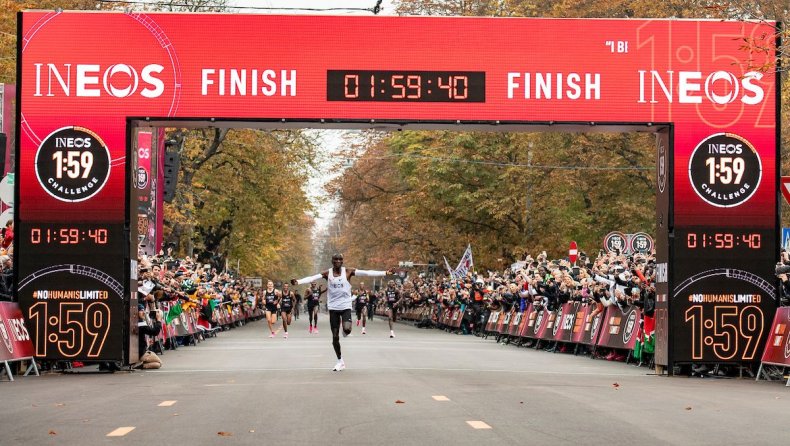 The course was specially chosen for its pavement and straight design. Likewise, the location was selected for its temperate fall weather. With well wishes from his country's president, a team of professional runners setting the pace, and a hands-on corporate sponsor, Kenyan runner Eliud Kipchoge was set up to succeed Saturday morning as he set out to complete the fastest marathon in recorded history.
"I am the happiest man to run under two hours and I can tell people that no human is limited," Kipchoge said after the event. Clocking in at 1:59:40, he even beat his team's expectations, obliterating the 1:59:50 time target.
Kipchoge accomplished his historic feat on a closed course in Vienna, Austria in conjunction with the INEOS 1:59 Challenge. INEOS is "a global manufacturer of petrochemicals, speciality chemicals and oil products" according to its website. The company sponsors numerous international athletic squads, including Team INEOS, home of cyclist Egan Bernal, the 2019 winner of the Tour de France.
INEOS launched the 1:59 Challenge in May after Kipchoge won the eighth major marathon of his career in London. In July, the company announced its chosen route through Vienna, starting on the Reichsbrücke, the city's imperial bridge, which is also the starting point for the annual marathon.
As anticipation for the event grew among running fans, a team of scientists led by Rodger Kram, a professor of integrative physiology at the University of Colorado, set out to analyze INEOS' selected route.
From the Reichsbrücke, Kipchoge would run back and forth four and a half times down Hauptallee, circling roundabouts at either end to complete the necessary turns. Using measurements provided by a local contact in Austria, Kram's team found that "beyond a benefit from the downhill in the first 1km of the course, oxygen uptake rates will fluctuate by no more than 2 [percent] of the oxygen uptake rates on a flat, straight course for km 1 to 42, leading to an overall increase in oxygen uptake of only 0.11 [percent]. Together, we estimate that the undulations and curves of the Vienna course incur a penalty of less than 5 [seconds] compared to a perfectly level and straight course."
The researchers further noted that "the course itself appears to be very well-chosen to minimize the negative effects of elevation changes and curves."
Jim Ratcliffe, INEOS' billionaire founder, was on hand Saturday to celebrate with Kipchoge at the end of his run. "Everything had to go right to do this and it's been immaculately well organized. It was especially brilliant to see the pacemakers because running is normally such a solitary sport and here they were all running for Eliud."
Whereas most marathoners have to contend with a crowded field of competitors, for the 1:59 Challenge, Kipchoge found himself surrounded—literally—by friends and teammates, carefully selected to help him keep the rapid pace necessary to accomplish his historic task.
Without crowds of runners or a meandering track, officials with the Guiness Book of World Records explained Saturday that Kipchoge's "run won't count as an official marathon record as it was not completed in open competition." Not to worry—Kipchoge already holds that record with a 2:01:39 finish at the Berlin Marathon last year.