Elizabeth Banks' Voice at Oscars Sparks Concern—'She Sounds Outrageous'
Viewers watching the 95th Academy Awards were left scratching their heads as Elizabeth Banks presented an award.
The actress and director, 49, made a memorable entrance when she tripped twice and almost fell as she walked onto the stage.
She revealed the reason for her fumble was due to the person dressed in a bear suit joining her on stage had stepped on her train both times because they couldn't see through the costume.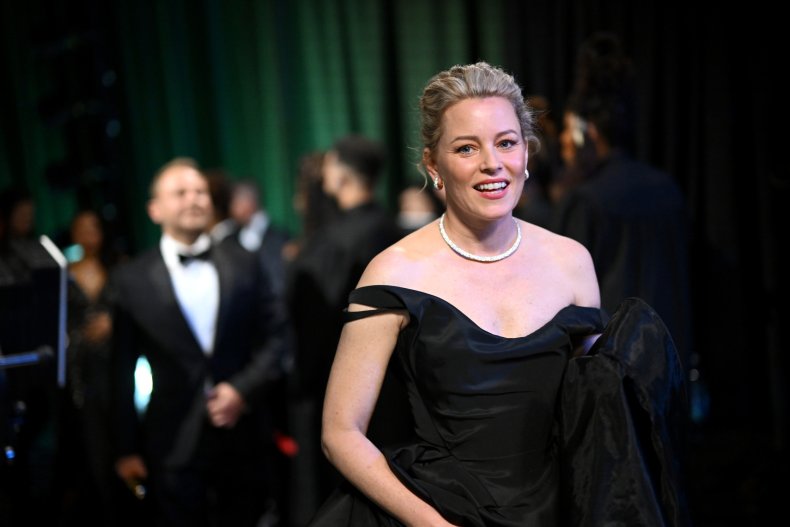 The bear represented the one in her newest film, Cocaine Bear. Banks directed the film about the true story of an American black bear who got confused after ingesting a full duffel bag of cocaine in 1985, which had been flung from a plane by drug smugglers.
Banks and the bear were on stage to present the Oscar for best visual effects, but she struggled to speak thanks to a very raspy voice.
"Sorry, my voice," she said as she tried to get through her monologue.
The actress did not explain why she had a raspy voice and wrote on Twitter that she "woke up with no voice."
Despite her best efforts to get through the presenting, people watching at home were very distracted by Banks' scratchy voice.
"Elizabeth Banks should've dubbed her voice, she sounds OUTRAGEOUS. I can't even focus on what she's saying cuz she clearly lost her voice and she won't even address," tweeted one disgruntled viewer.
But others were more supportive, including one fan who wrote: "I love Elizabeth Banks. I love the tripping on the big gorgeous dress and presenting with a lost voice and directing Cocaine Bear."
And another added: "Not enough people shouting out Elizabeth Banks—the tripping, the bear, the humor, losing her voice—she should be hosting."
Banks eventually made it through presenting to announce the winner of the visual effects category was Avatar: The Way of Water.
Despite being up for best film and nominations in three other categories, Avatar: The Way of Water managed only the win for visual effects.
The film's director, James Cameron, skipped the Oscars ceremony due to "personal reasons," which host Jimmy Kimmel poked fun at in his opening monologue.
"Some cynics are saying Jim Cameron is not here tonight because he didn't get a Best Director nomination," he joked. "And while I find that very hard to believe about a man of such deep humility, he does have a point. I mean, how does the Academy not nominate the man who directed Avatar? What do they think he is, a woman?"
Avatar: The Way of Water may have only won a single Oscar, but it has grossed $2.3 billion at the worldwide box office and is the third highest-grossing movie of all time.
Update: This story was updated on 3/13/2023 at 5.30 a.m. ET to include additional information.