Eat, Pray, Love Your Way Down the Danube with Elizabeth Gilbert
Elizabeth Gilbert takes us with her as she sails down the Danube on Avalon Waterways' newest ship, the Envision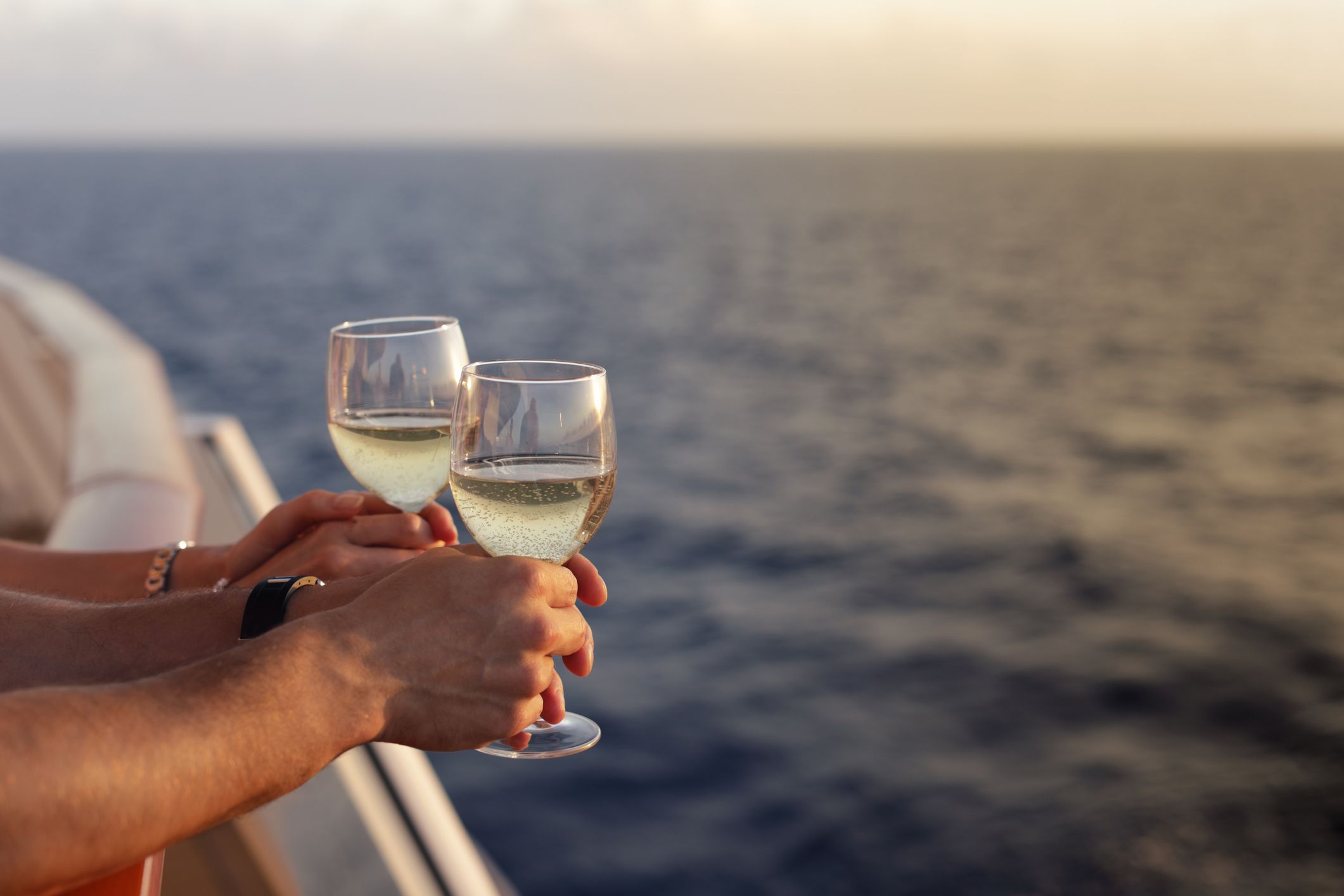 Elizabeth Gilbert had never considered taking a cruise. So when the invitation came from Avalon Waterways to become the godmother of its newest ship, The Envision, the Eat, Pray, Love author was a little taken aback. But then she thought about the opportunity to bring her parents and current sweetheart for an all-expense-paid weekend on the Danube in Budapest and embraced the idea with her trademark ebullience.
"I've never been a godmother of a ship before," she told a group of passengers the other week in the airy lounge of the 166-passenger vessel, which arrived from its shipyard in Holland just days before. "But it's easier to be the godmother of a ship than a child, I guess."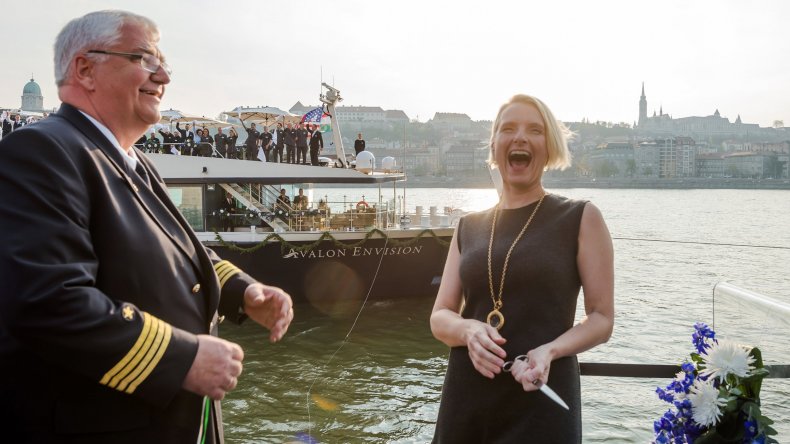 Over the course of three days, the child-free author with cropped blonde hair and the lithe build of a yoga acolyte mingled with travel-industry insiders and members of the media. She was clearly enjoying the handsome new ship, with its unique panoramic balcony windows and generous cabins that are Avalon's signature—along with casual dress code, flexible dining, (indoors or out), and a focus on active outdoor programming for the new generation of river cruisers. Bikes were at the ready on the Envision, as was a staff primed for everything from pub-crawl excursions to market visits and wine tastings.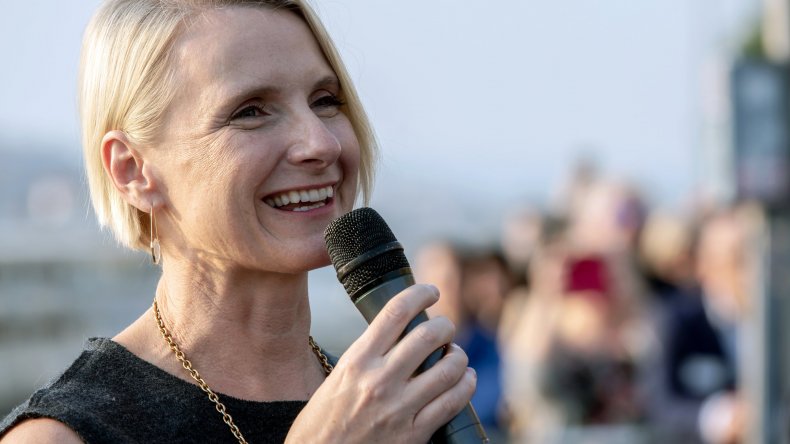 The day before the christening, Gilbert explored the system of caves outside Budapest, and she would be canoeing with her parents and photographer beau Simon MacArthur (a good friend of her late ex-girlfriend, Rayya Elias) the following day. Having grown up on a river in upstate New York and owning a country home on the Delaware River in Frenchtown, New Jersey, Gilbert was feeling right at home on the water.
"Something about a river always makes me feel things are going to be alright," she said, adding that when she meditates she tries to watch her thoughts go by like a river. "Although when I was meditating this morning," she told a group of passengers, "I was having a hard time focusing on my thoughts because I kept looking outside to see what was going on along the shore."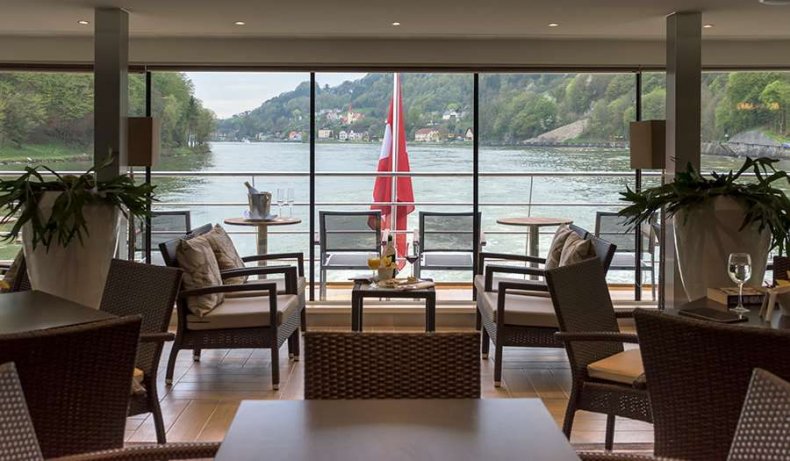 It's hard to blame her, with the Envision docked under the city's historic central Chain Bridge. Spring had come to Budapest, a metropolis of hills, thermal baths, and beautiful Art Nouveau and Ottoman buildings. The milder weather brought out the tulips and an irrepressible cheer to the city, a port of call on an Avalon itinerary that sails past Vienna and Passau to Nuremberg, where the Danube—the second longest river in Europe—begins its run in the Black Forest south and eastward, past the Czech Republic and Romania, to the Black Sea.
Of course, warm weather isn't always something to celebrate: In recent years, climate change has caused droughts that have left some rivers in Europe perilously low. (Last summer the Rhine was so shallow it affected cruise itineraries.) The Envision, however, is designed to have the "draw" of its bow more suitable for shallow waters. Its width also allows the ship to nimbly navigate 68 locks along its scenic and historical journey down the Danube.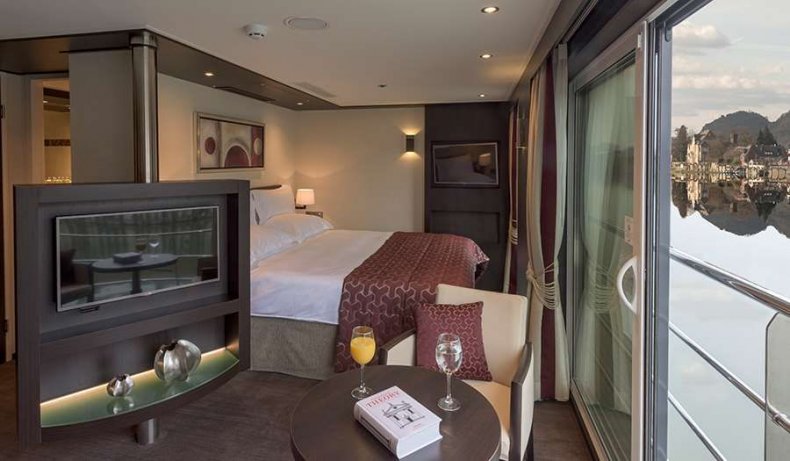 "Low water or high, it doesn't matter—with this ship I can always sail," said portly captain Ralf Remus. Later, at the christening, Remus thanked Avalon Waterways, "You gave me a wonderful lady, a nice girl whose young and I hope the older ships aren't jealous." Then he turned to Gilbert, wearing a charcoal-gray cocktail sheath and asked if she was nervous about her ceremonial duty. Just the opposite, actually.
Before a crowd of European tourism officials, Dutch boat builders, media, travel professionals and other invited celebrants, she began to speak as a bottle of Hungarian sparkling wine waited on a rope to hit the boat. "In these dark times of division and fear and anxiety," Gilbert said, avoiding a direct mention of Viktor Orban, Hungary's populist president, who has been riling the European Union with reactionary policies. "Never is it more important than to travel …and to meet people who are not the same as you."
The sun was setting behind her over Buda, the hilly side of the city with its palace and cathedral, and local pedestrians had gathered on the river banks to listen.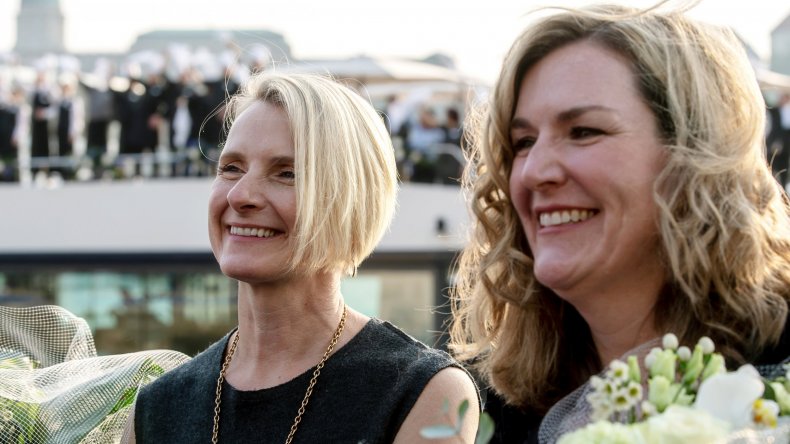 "I have never been afraid of the world," Gilbert continued with statesmanlike fervor, "but I am afraid of people who are afraid of the world. If you are a traveler you are not afraid of the world, which means you are my kind of people."
The audience cheered and she gave her official blessing to the Envision, stating that we come from water, and we are made of water and we are drawn to water. "Our lives are rivers meant to be explored and enjoyed. May we all be changed for the better by what we discover along this river."
Then, after yelling "Onward," she cut the rope that sent the bottle crashing against the ship.