Elizabeth Smart's New Mission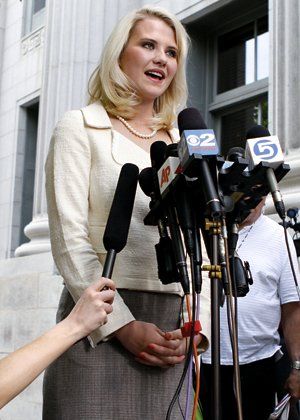 Late last month Elizabeth Smart stared defiantly into the face of her kidnapper for the first time in nearly a decade. In 2002 Brian David Mitchell, a self-styled Mormon prophet, claimed divine sanction in kidnapping Smart (then 14 ) at knifepoint, dragging her up a dark Utah mountain, and forcing her into a polygamous marriage during which she was tied to a tree for weeks at a time and raped almost daily for nine months.
Mitchell was sent to prison for life at last month's sentencing hearing—but not before Smart got to confront her assailant, telling him to his face, "I want you to know that I have a wonderful life now." And so she does, working hard as a high-profile children's advocate—one whosepoise and confidence flow from the very faith that was perversely misused to victimize her as a child.
In an interview with NEWSWEEK, Smart recounted her recently completed proselytizing mission in France. She says she felt compelled to become a missionary, in part, because of her gratitude for the millions of people throughout the world who prayed for her safe return—and saw their prayers answered. "It made me want to go out and give back and make a difference," she says.
When Smart arrived in Paris, however, she quickly realized that not everyone in the secular city was as willing to believe in miracles as she was. The rejection was constant, and often discouraging, but she took comfort in a favorite passage of LDS scripture that had helped her through trying times before: "Be patient in afflictions, for thou shalt have many; but endure them, for lo, I am with thee, even unto the end of thy days."
Smart soon discovered that she was uniquely qualified to respond to one of the common doubts the people in France expressed. "There are many crimes committed nowadays in the name of religion," she says. "And so people just automatically throw up walls when they realize you're trying to talk to them about God."
As a former victim of such a crime, Smart was able to argue passionately that the abuse of faith does not discount its preponderant good. "People aren't perfect; people do things wrong all the time," she says, explaining that sin and abuse are natural byproducts of the moral freedom God affords mankind—and which Smart has learned not to take for granted. In fact, the Mormon doctrine of free agency has empowered her to progress beyond victimhood.
"I know that no one can tell you that God called them to force you to do something," she says. "That's really important to me, knowing that everything that I do in my life is a choice."
Smart says that the difficult challenge of proselytizing also made her appreciate her influence and opportunities in the United States. Now entering her senior year at Brigham Young University, she says her involvement in the prosecution of her kidnappers has sparked an interest in attending law school.
She also recently formed the Elizabeth Smart Foundation, which is working to develop a program that will teach young kids how to defend themselves against would-be abusers and kidnappers.
"Standing out on a street corner in Paris and having people reject something that is so valuable and important to me," she recalls, "really helped me realize that I have a huge potential to do good here."
With Hal Boyd in Salt Lake City