Elizabeth Warren Won't Run for President Against Trump, Says She'll Serve Full Senate Term If Reelected
Massachusetts Senator Elizabeth Warren quashed rumors that she'll run against President Donald Trump in 2020, stating in no uncertain terms that, if reelected to the Senate this November, she will serve the full six years in office.
"Yes, that's my plan," Warren said on Thursday at a town hall for the Boston Teachers Union. "I'm running for the United States Senate in 2018. I am not running for president of the United States. That's my plan."
People have speculated for months whether Warren would challenge Trump in the next presidential race, especially as the president continues to sling insults at her, mounting what appears at times to be a systematic attack on a potential political opponent.
Trump routinely refers to Warren as "Pocahontas," a dig at the senator's self-identified Native American heritage. Warren has largely responded to those disparaging comments by embracing her stated background: In February, she delivered an unexpected address at a gathering of 500 tribal members at the National Congress of American Indians.
"I've noticed that every time my name comes up, President Trump likes to talk about Pocahontas. So I figured, let's talk about Pocahontas," Warren told the crowd. "In the fairy tale, Pocahontas and John Smith meet and fall in love... In reality, the fable is used to bleach away the stain of genocide."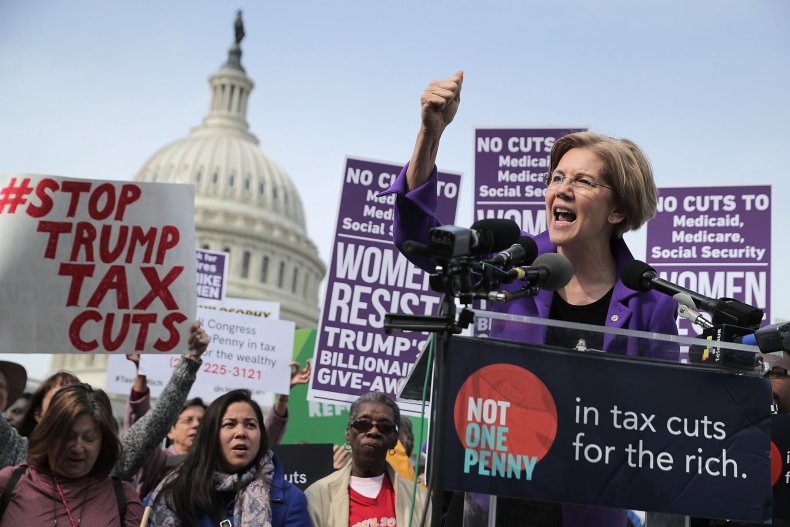 Such remarks led many to see Warren as a worthy adversary for Trump—not that the president would ever admit it.
Earlier this year, amid plummeting approval ratings, Politico reported on Trump's views on his rumored 2020 rivals. Along with dismissing potential candidates like Vermont Senator Bernie Sanders, whom he deemed too old for another presidential run, Trump said he wasn't threatened by Warren either. She'd be "easy to beat," he said.
Even if Warren doesn't run for president in 2020, it's likely Trump will still have to contend with her as a very vocal opponent in the Senate. Recent polls show Warren with a 30-point lead in her Senate race, and a 53 percent approval rating.
Warren's office did not immediately return Newsweek's requests for further comment.