As Tyson Foods, Inc., reported record profits, Senator Elizabeth Warren (D-Mass.) accused the company of "jacking up" prices during the COVID-19 pandemic.
Tyson made headlines in 2021 after lawsuits were filed against the meatpacking company, alleging it took part in an illegal conspiracy to manipulate and inflate meat prices. Simultaneously, the company was under fire for the amount of COVID-19 deaths and positive cases reported by Tyson employees. The virus became so widespread that the company fired several workers, accusing them of betting on how many employees would test positive for COVID.
Amid the tumult, Tyson reported that its first-quarter profits nearly doubled due to soaring U.S. meat prices.
"Tyson is abusing their corporate market power and raking in record profits by jacking up meat prices," Warren wrote on Twitter. "I've long argued that we need to enforce our antitrust laws to break up monopolies and promote competition, and now it's more vital than ever as a tool to fight inflation."
For the quarter, Tyson said the average price of beef rose by nearly 32 percent, raking in $5 billion. Chicken prices rose by 20 percent and pork increased by 13 percent.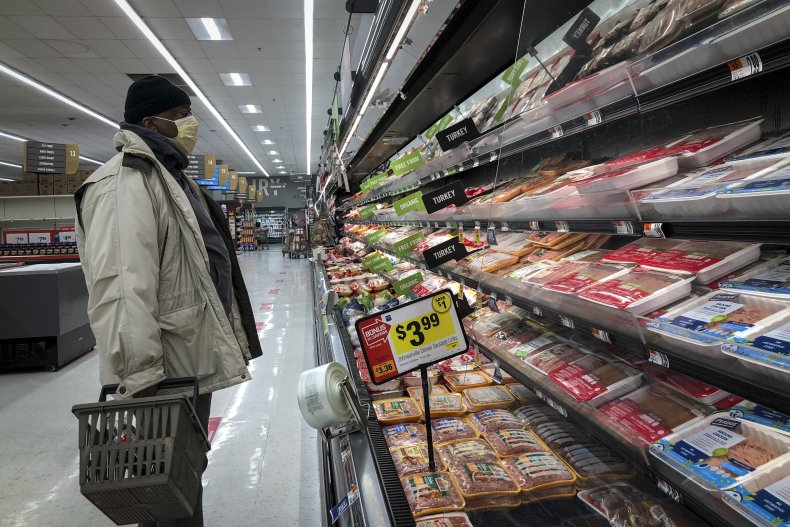 "Our performance reflects the resilience of our multi-protein portfolio even with continued volatility in the marketplace," Tyson Foods CEO and President Donnie King said in a statement.
The company cited inflation, labor, cattle and grain costs for the uptick in prices.
"We're asking them to pay for inflation and the rest of what we do is we try to find ways to be more productive to lower cost and increase throughputs," Chief Executive Officer Donnie King said on a conference call with analysts, according to Bloomberg.
U.S. Representative Jamaal Bowman (D-N.Y.) accused Tyson of greed for "shamelessly" skyrocketing the prices during the pandemic when people struggled to put food on their tables.
"While every day people struggle to make ends meet and put food on the table, @TysonFoods shamelessly raised prices on chicken and beef to double their profits," Bowman wrote on Twitter. "This isn't about inflation, this is about corporate greed. Enough is enough."
To offset the meatpacking monopoly, the Biden administration said it will dedicate $1 billion in American Rescue Plan funds for expansion of independent processing capacity. Only four meatpacking companies control over 80 percent of the beef market, and four firms control 54 percent of the poultry market, according to a fact sheet released by the White House.
As one of the big four, Tyson expects sales to be upward of $49 billion at the end of the 2022 fiscal year.