Elizabeth Warren Quickly Apologizes at Native American Forum: 'I'm Sorry for Harm I Have Caused'
Speaking at a presidential forum in Iowa on Monday, Senator Elizabeth Warren wasted no time in apologizing to a Native American audience for past claims that she has tribal ancestry.
"I'm sorry for harm that I have caused," were some of the 2020 hopeful's first words after taking the stage at the Frank LaMere Native American Presidential Forum in Sioux City.
"Like anyone who's been honest with themselves, I know that I have made mistakes," Warren continued. "I have listened, and I have learned—a lot. I am grateful for the many conversations that we've had together."
Warren further pledged to "partner with Indian Country" as president, receiving praise from the audience.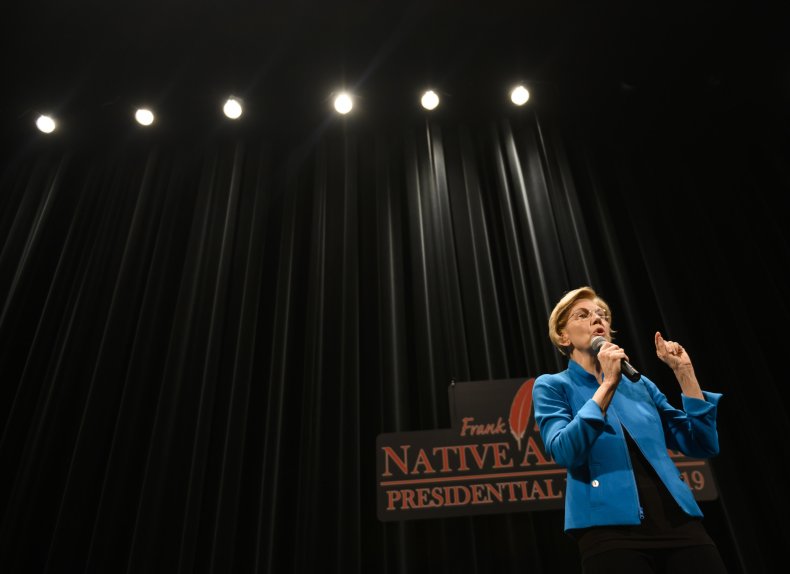 The apology came just days after the Massachusetts senator unveiled a new policy plan that seeks to provide new federal resources and funding for Native American communities. The proposal would implement criminal justice reforms and improve the financial, digital and physical infrastructure for tribal lands.
Warren, who's been dubbed "Pocahontas" by President Donald Trump, has apologized several times in the past after it was revealed through a DNA test that she was only between 1/64 and 1/1028 Native American. However, the president has continued to use the nickname for his potential future opponent, knocking her time and again. Critics say it is derogatory and a racial slur, but rally-goers have continued to respond positively to the name-calling.
"I did the Pocahontas thing. I hit her really hard and it looked like she was down and out but that was too long ago," Trump told supporters at a New Hampshire rally last week. "But don't worry, we will revive it. It can be revived. It will be revived, and it can be revived very easily and very quickly, and we're going to have some fun in the state of New Hampshire."
Warren was introduced on stage Monday by New Mexico Representative Deb Haaland, a Democrat. Last year, she became one of the first Native American women elected to Congress. Having endorsed Warren for president and filed several pieces of legislation focusing on improving Native American communities, Haaland said that when people "ask about Elizabeth's family instead of issues of vital importance to Indian Country," it only "feed[s] the president's racism."
Uncovered by The Washington Post in February, Warren once claimed in 1986 on a registration card for the State Bar of Texas she was American Indian, causing her to receive more fierce backlash. She originally stood by her controversial DNA test last year and its results, which showed there was "strong evidence'' she had a Native American ancestry dating back 6 to 10 generations. However, she later apologized after receiving criticism from tribal groups.
Elizabeth Warren Quickly Apologizes at Native American Forum: 'I'm Sorry for Harm I Have Caused' | Politics