Ayanna Pressley Steps in to Stop 'We Want to Be Heard' Chants Against Elizabeth Warren at Atlanta Rally
Senator Elizabeth Warren had to rely on her endorser Rep. Ayanna Pressley to quell chanting that interrupted the Democratic presidential contender during a rally in Atlanta.
At Clark Atlanta University on Thursday, Pressley introduced the Massachusetts senator who was making her pitch about race issues and her plans for equality to a room mostly comprised of black voters.
Warren started by saying "as a white woman I will never fully understand the discrimination, the pain, the harm that black Americans have experienced just because of the color of their skin."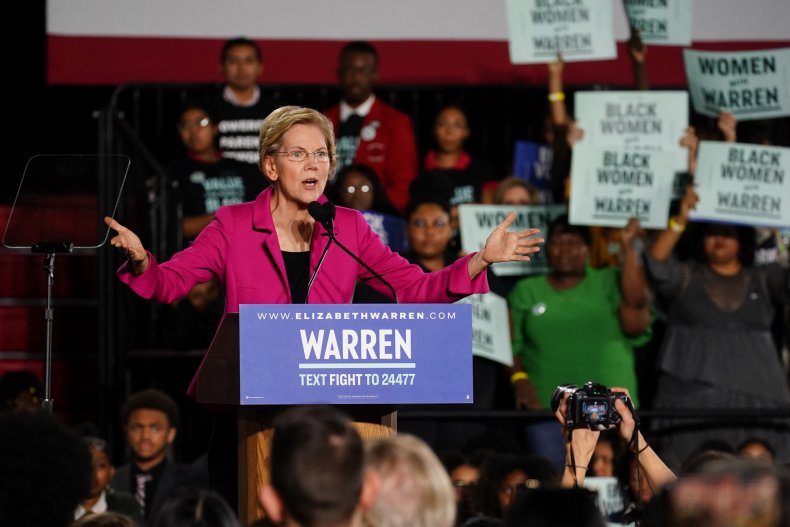 However, the initial cheers for Warren were suddenly drowned out by a group of protesters dressed in matching black T-shirts that said "Powerful Parent Network," who shouted, "Our children, our choice!"
The presidential contender's supporters responded by chanting "Warren! Warren!" which was countered by the protesters shouting "Dream big, our choice!" and "We want to be heard!"
Fox News reported that the protesters were from a parent activist group from Camden, New Jersey, who were angry at "failing public schools" and Warren's stance on charter schools.
Pressley then returned to the stage and with Warren on her right shoulder, told the crowd: "No one is here to quiet you, at least not this black woman who knows what it is when people try to put me in a corner and tell me to be quiet."
"You are welcome here. The senator is here to talk about the contributions, fighters like you, have made to history so in this moment, there are many people that do not know this story because we have rendered as a historical footnote in history so I am going to appeal to you to not dishonor that history."
This was followed by loud applause and chants of "Warren!" as the senator resumed her speech without any further interruptions.
Her speech centred on the motif of a black women-led strike in Atlanta in 1881 and aimed to increase her support among black voters, and particularly black women, ABC News reported.
Unlike her fellow members of the so-called "Squad" of representatives—Alexandria Ocasio-Cortez, Ilhan Omar and Rashida Tlaib—Pressley has endorsed Warren instead of Bernie Sanders for the Democratic primaries.
Pressley announced in a video earlier this month, "We find ourselves in a fight for the soul of our nation, and I know Elizabeth can win it."
Warren is tied with Sanders in second, behind Joe Biden, among Democratic contenders, according to RealClearPolitics average polling numbers.
However, in the the first southern primary state of South Carolina, Warren only has 8 percent support among African-Americans, 36 points behind Biden, according to a recent Quinnipiac poll.