Elizabeth Warren Ahead of Bernie Sanders for the First Time in Two New 2020 Election Polls
Elizabeth Warren has pulled ahead of fellow senator Bernie Sanders for the first time in two new 2020 election polls released on Wednesday as the two candidates continue to battle for support from progressive voters.
Warren has climbed into second place among the crowded Democratic primary field, according to a survey conducted by The Economist/YouGov. Sixteen percent of those polled said they would support Warren if the Democratic presidential primary were held today, while 12 percent said they would vote for Sanders.
This is the first time since Warren entered the 2020 race that she has led Sanders by more than the margin of error in a national poll.
Former Vice President Joe Biden, who was one of the last Democrats to enter the race, had the most support by far (26 percent) in The Economist/YouGov poll. The survey polled 1,500 U.S. adults from June 9 to June 11 and has a 3 percent margin of error.
Warren's winning streak continued in a Monmouth University poll of likely Nevada Democratic caucus-goers released Wednesday afternoon. Nineteen percent of those polled supported Warren, while 13 percent backed Sanders.
Again, Biden had the clear lead with 26 percent support among registered Democrats and unaffiliated voters. The survey polled 1,333 Democratic or unaffiliated Nevada voters from June 6 to June 11 and a 5 percent margin of error.
The Monmouth poll was the first time Warren has been ahead of Sanders in an early-voting state. The Nevada caucuses take place after New Hampshire and South Carolina, and is the westernmost of early-voting states in the presidential primary.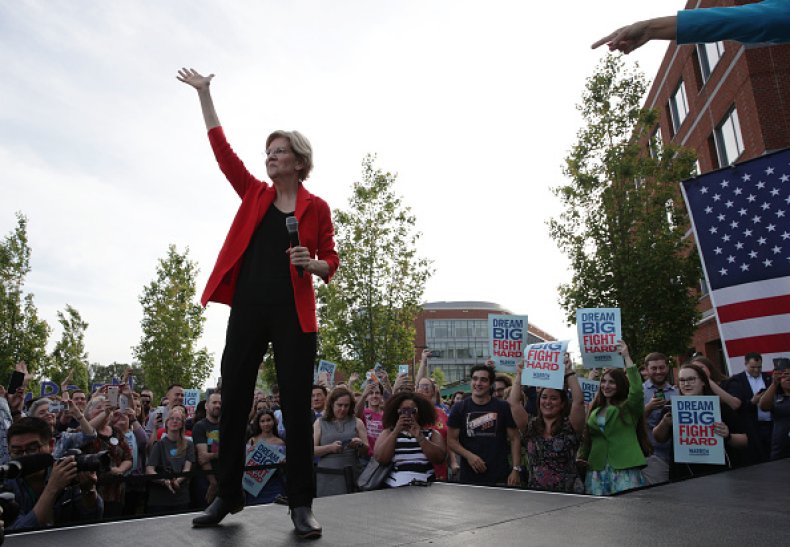 Both Sanders and Warren are considered the more progressive candidates in the 2020 field, churning out bold policy proposals that go after Wall Street and aim to break up large technology companies like Facebook. The two also have plans for free college tuition and universal health care.
On Wednesday, Sanders will outline his democratic socialist vision in an expansive speech at George Washington University. According to excerpts of his speech released by his 2020 campaign, Sanders will say that President Donald Trump loves socialism but not for the working class.
"While President Trump and his fellow oligarchs attack us for our support of democratic socialism, they don't really oppose all forms of socialism," Sanders will say. "They may hate democratic socialism because it benefits working people, but they absolutely love corporate socialism that enriches Trump and other billionaires."
Most national polling still shows Sanders ahead of Warren, but over the past few months the Massachusetts senator has been on the rise while the independent senator's numbers keep dropping. A Fox News survey in May showed Warren had gained 5 percentage points since March while Sanders had dropped 6 points.
That trend continued in Wednesday's The Economist/YouGov survey, where Sanders had dropped 4 percentage points from the week prior. Warren, on the other hand, was up 5 percentage points from the week before.