Elizabeth Warren Has 2020 Momentum. But These Bernie Sanders Supporters Say They'll Never Vote for Her—Even Against Trump
Massachusetts Senator Elizabeth Warren has the momentum in the Democratic Party's 2020 race with polls suggesting that she is now pulling ahead of former vice president Joe Biden, the longtime frontrunner in a contest that is still months away from its conclusion in July next year.
The data shows she is drawing in a big chunk of support from both moderate and liberal Democratic primary voters. Warren is the most popular second choice among not only Biden's supporters but also those backing independent Vermont Senator Bernie Sanders, a democratic socialist.
Yet there is a group of Sanders supporters active on social media who say, as they did in 2016 when he ran against Hillary Clinton, that it is "Bernie or bust." Warren may appeal to many Sanders supporters. But some of them say they will never vote for her—in either the primaries or 2020.
Victor Tiffany, an activist from New York, describes himself as the godfather of the #BernieorBust campaign, which started back in 2015. He even co-authored a book on it: Bernie or Bust: Pioneers of Electoral Revolt. And he has plenty of reasons for never voting Warren even in a two-horse race with Trump.
"Take your pick: She's 'a capitalist to her bones,' consulting with Hillary Clinton, a warmonger who's been voting for Trump's defense budgets, not especially honest, not progressive but a 'fauxgressive' Obamawannabe, and more," Tiffany tells Newsweek.
He does not believe that Warren is a strong enough candidate to defeat Trump. Or, if Trump is removed from office through the current impeachment efforts, Vice President Mike Pence. Why? The economy is performing too well.
"In 2016 Bernie or Bust was a prediction. This time, it's bigger and better organized. #BernieOrBust is a foregone conclusion whether Warren's supporters like it or not," Tiffany said. "Only Bernie has the coalition to defeat Trump unless there's a recession. Then Mickey Mouse could defeat Trump."
Yanette Rivera describes herself as a stay at home mom in Pennsylvania. She supports Sanders. And to her, it's also Bernie or bust. "I don't trust any other candidate to do what I want of a president," Rivera tells Newsweek.
"And I can't vote for any of them in the general cause I can't trust the media to keep them accountable to the public, unlike with Trump. With Trump even those that don't pay attention must and do. It shouldn't be that way but it is."
Rhonda, who did not give her surname, is a utility company worker in Michigan who loved Warren at one point but now feels let down by her. So much so that if Warren wins the race, "I cannot muster up the strength to vote for her," she tells Newsweek.
"I cannot vote for Trump, but it would take every ounce of my strength and being to cast that vote for Warren. I feel Elizabeth Warren is a vital component of the DNC machine; the same machine built to reserve the fortunes for the wealthy and keep the poor in their place."
Rhonda is middle class and her household brings in more than $100,000 a year. But the family is in "substantial debt" because of medical bills. Her three daughters are also already in debt. She had to park her own dreams of going to college because it was too expensive.
She described Warren's plans for the likes of health care and student debt as "half-hearted and full of conditions. She is fickle and she is untrustworthy. Warren takes corporate donations, how could I trust her?"
"I do not think I could vote for Warren; I will not vote for her. She cannot beat Trump. He will eat her alive in debates," she added.
Despite the misgivings of some Sanders supporters, polling suggests Warren could be a beneficiary if he were to drop out of the 2020 contest. Sanders recently had a heart attack and his support, while robust, is not making progress.
"Senator Warren and Senator Sanders both see their strongest numbers among Democrats who are very liberal. She is leading in that category, Sanders is second among very liberal [voters]," Mary Snow, polling analyst for the Quinnipiac University Poll, tells Newsweek.
Snow said Quinnipiac has Warren at 38 percent to Sanders' 26 percent among very liberal voters in its October 8 poll. What's more, she is now getting similar support among somewhat liberal voters: "You see her numbers going up among that group."
Kathy Frankovic, a polling expert and a consultant to YouGov, said name recognition helped boost Biden and Sanders to the top of the polls early on. But over time, awareness of Warren has grown among voters as she hit the campaign trail, and it is starting to pay off.
Frankovic pointed to the Economist/YouGov poll over the last weekend in which 51 percent of Democratic voters said they had a very favorable opinion Warren. "That's astonishing," she said.
Overall, 79 percent of Democratic voters had a favorable view, making her the best-liked candidate: "But it took a long time for that to happen...Democrats love Sanders. I mean, 75 percent of Democratic primary voters have a favorable opinion of him. He's second only to Warren on this. But it's not translating into votes."
Per the Economist/YouGov data, Warren has also for the last two weeks been "the only candidate for whom a majority say they are considering supporting her. And over the last weekend it was 58 percent. Biden was at 48 percent, Sanders at 40 percent," Frankovic said.
Moreover, the data shows that 46 percent of people supporting Bernie Sanders first and foremost are also considering Warren, putting her as their top second-choice candidate.
"That's probably a good guide as to what she might gain should Sanders leave the race. Basically about half of his support is potentially gettable for her," Frankovic said.
"And it's not much different among the Biden supporters, the people who have Joe Biden as their first choice, 45 percent of them say they are also considering Warren. And again, among Biden supporters that's the highest other candidate."
There is room for her support to grow further, Frankovic said, but it's "not a done deal that Sanders voters would all shift to her immediately should he drop out."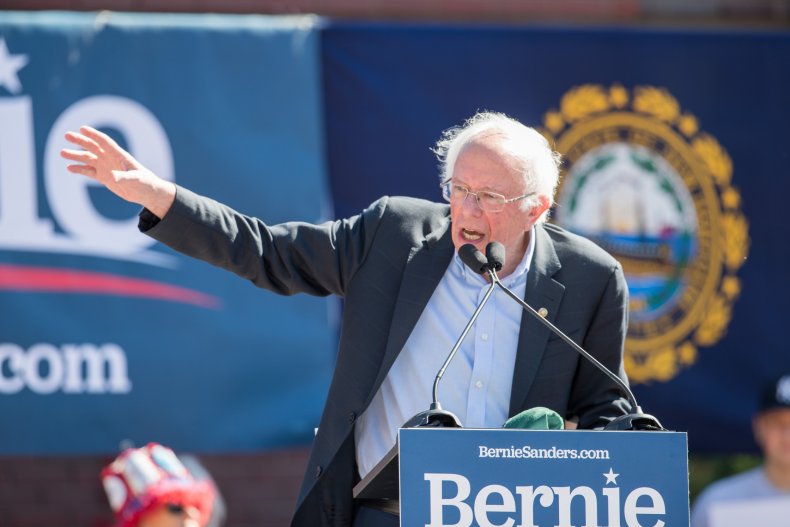 Cameron Easley, a senior editor at the pollster Morning Consult, said his organization's data does not show a lot of natural crossover between Warren and Sanders supporters, apart from those who classify themselves as extremely or very liberal.
Easley also emphasized that Sanders does not just appeal to people who want the Democratic Party to shift further to the left, but "people who just don't like the Democratic Party and the Democratic Party establishment. And that's a big difference with Warren."
Warren has made gains, Easley said, mainly among voters who have paid close attention to the race so far, such as college-educated whites and older voters. And that means drawing support from Democratic establishment candidates like Senators Kamala Harris and Cory Booker.
"She's the only candidate who has shown continuous momentum since April who has either retained her support each week or improved upon it," Easley told Newsweek. "Sanders in our polling has been very, very stable. He's been unable to build on his support."
But if he were to drop out and endorse Warren, which he is likelier to do than backing Biden, it could be a major moment for her campaign even though there are passionate Never Warrens in the Sanders camp.
"We happened to do a little bit of testing on this in the past month, and while we hadn't released the results because the sample sizes were a little bit small, we have seen our own internal polling that indicates a Sanders endorsement for Warren would significantly move his supporters into her camp," Easley said.
However, one of the big questions for Warren is whether she can break through with black voters, as her support base is very white. Biden is highly popular among black voters and so is Sanders, which could make his endorsement, were it to come, even more significant.
"That is the former vice president's main advantage in the race to this point and I think that as long as he has that kind of an edge, that is a legitimate challenge for her," Easley said.
"Looking back to 2008 you can actually see a similar dynamic in that race. Black voters were overwhelmingly likely to support Hillary Clinton over Barack Obama. What changed that was Obama's strong performance in Iowa.
"A lot of black voters took that as a cue if they had concerns about Obama's ability to get white people to vote for him, just winning that primary among a very, very white electorate went a long way in assuaging those concerns.
"If Warren is able to maybe win Iowa or New Hampshire, could we see black voters desert the former vice president in a similar manner that happened in 2008? I certainly think it's a possibility."
The polling suggests that Biden, Warren, and Sanders all have a good chance of defeating Trump at the 2020 election. But each candidate has their weaknesses.
Biden is mired in the Ukraine drama, Sanders has health concerns, and Warren has the embarrassing drama about her weak claim to Native American heritage, which Trump has weaponized at his rallies.
For supporters of Sanders, and especially those who say they will never vote for Warren, it is still early days. And they have faith in their candidate to do what Clinton could not do in 2016—keep Trump out.
"Trump is a threat. His re-election would be a disaster, and every Democrat knows this," Tiffany told Newsweek, but said he would not vote for any Democrat who is not Sanders or Congresswoman Tulsi Gabbard at the 2020 election.
"Yes, that will divide the opposition to Trump; so if Democrats want to defeat Trump, then they can nominate the one candidate who can both unite the Party and bring in poor and poorly educated voters under the party tent.
"Bernie or Busters, Bernie or Trump swing voters, many of the poor and the poorly educated citizens will not vote for Warren, Biden or any other Democrat because we need a revolution against the neo-liberal order, higher wages, health care insurance and free college education respectively."
When asked if she would prefer Trump to win over any non-Sanders candidate, Rhonda from Michigan said she would not. But, either way, it would not make all that much difference to her.
"The 'votebluenomatterwho' crowd are irritating with their bullying and strong-arm tactics," she told Newsweek.
"We have not had the primaries yet, and with all due respect, this is a pointless question. Clearly, it would not matter what I want in the end if Warren is the nominee. Neither candidate cares about people like me.
"If Warren is the candidate, it would make no fundamental difference who I voted for."