Elizabeth Warren Suggests Bernie Sanders Wants to Change Primary Rules Because It Would Be 'An Advantage to Him'
Elizabeth Warren said she would fight for the Democratic party nomination at its summer convention if another candidate had a plurality of delegates, and suggested her rival Bernie Sanders wanted the rules changed because it would be "an advantage to him."
Sen. Warren (D-Mass.) told the audience at her CNN town hall in South Carolina on Wednesday night that she was willing to stay in the race until the Democratic convention in July because "a lot of people" had made $5 donations to her campaign in order to keep her in the race.
She also argued that Sen. Sanders (I-Vt.) had a "big hand" in setting out those "rules" when he sought to contest the Democratic convention in 2016.
At the CNN town hall Wednesday night, a supporter of Sanders asked Warren to comment on her position that the primary candidate who wins the most votes should not necessarily be the party's 2020 nominee if they do not have a majority of delegates.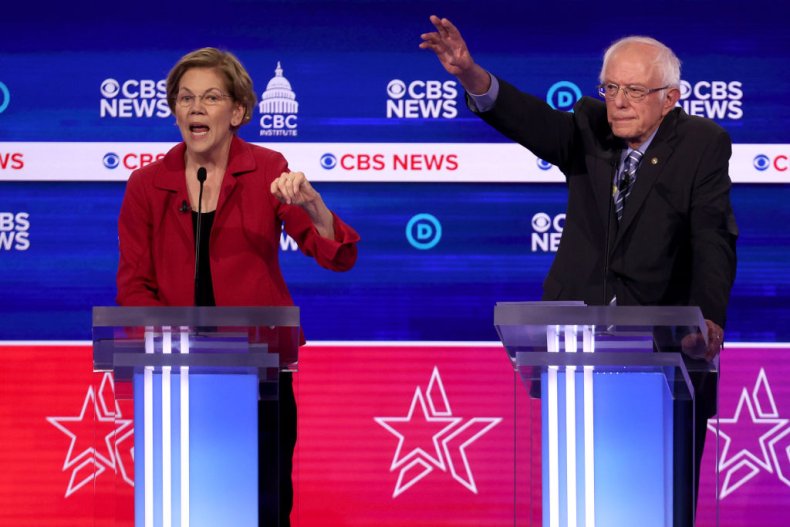 "Can you explain why the will of the voters should not matter if no candidate reaches a majority of delegates?" he asked.
The Massachusetts senator responded, "So you do know that was Bernie's position in 2016?"
"That was Bernie's position in 2016, that it should not go to the person who had a plurality," she later added. "The way I see this is you write the rules, before you know where everybody stands, and then you stick with those rules."
Warren went on to argue that Sen. Sanders had a "big hand" in writing those "rules," adding: "Everybody got in the race thinking that was the set of rules. I don't how come you get to change it just because he now thinks there's an advantage to him for doing that."
Newsweek has contacted the Sanders 2020 campaign for comment and will update this article with any response.
The Vermont senator did push for a contested convention ahead of the Democratic National Convention in 2016. But he also called for a suspension of convention rules as he nominated Hillary Clinton at the Philadelphia party event.
CNN host Don Lemon asked Senator Warren on Wednesday night to clarify whether she would continue to fight for the Democratic nomination if she arrived at the party's national convention with less delegates than another candidate.
She confirmed that she would and said, "Because a lot of people made $5 contributions to my campaign to keep me in it. We raised $9 million in three days from just folks who said 'I'll pitch in.' They are the heart and soul of this race."
The congresswoman later added, "As long as they want me to stay in this race, I'm staying in this race."
Sen. Warren won only 8 delegates from the opening Democratic nominating contests in Iowa, New Hampshire, and Nevada, putting her in fourth place.