Elizabeth Warren Called 'Hypocrite' For Taking Big Money Before Bashing the Rich, Defended by Andrew Yang
Top-tier 2020 Democratic candidate Elizabeth Warren faces criticism from wealthy donors for fighting big money after rolling millions of dollars she accepted from them for her Senate run over to her presidential campaign. But she's also received support and understanding from her fellow Democratic candidate, Andrew Yang.
Warren, the candidate who has made the greatest gains in recent polls, moved $10.4 million in unused funds from her 2018 Senate race to her presidential bid. That money included donations from wealthy donors to boost her 2020 run early on, The New York Times reported on Monday. Though there is no way to distinguish what amount of the transferred amount was from sizable donations, but just five other candidates had raised more than $10.4 million as of June.
Some donors are upset at Warren's switch to bashing big money, a stance that has helped her gain supporters.
"Can you spell hypocrite?" former Pennsylvania Governor Ed Rendell, who gave Warren $4,000 in 2018, told The Times.
Rendell said he got donors to attend a fundraising dinner at a steakhouse in Philadelphia for Warren last year and got a thank you note from her, but that her campaign criticized a fundraiser he held for 2020 frontrunner Joe Biden earlier this year as "a swanky private fund-raiser for wealthy donors."
"She didn't have any trouble taking our money the year before. All of a sudden, we were bad guys and power brokers and influence-peddlers," Rendell said. "In 2018, we were wonderful."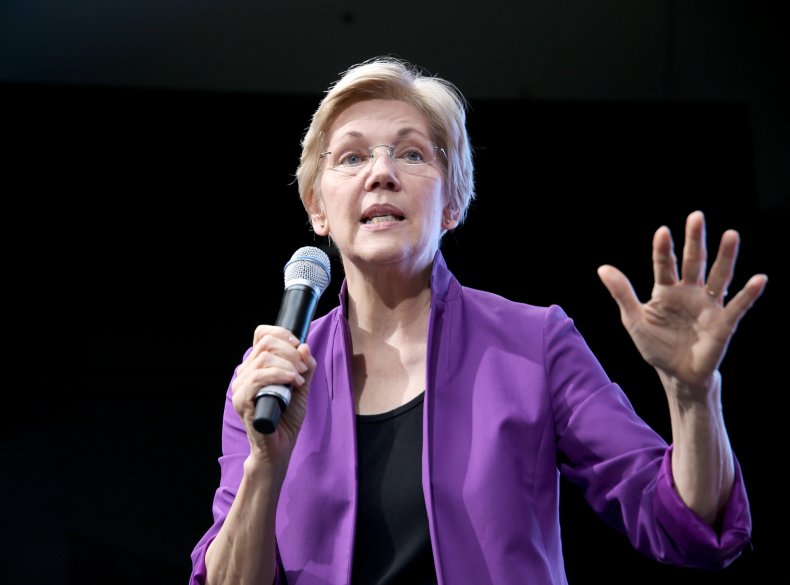 Philanthropist Stephen Silberstein, who hosted Warren for an event at his home in the San Francisco Bay Area, told the newspaper, "my first reaction was I was insulted," but then called it "gutsy."
"After I sort of got over the fact that she wouldn't be calling me anymore," Silberstein said, "I saw that she made a big success out of it."
Meanwhile, Yang, an entrepreneur and political newcomer, saw some sense in Warren's strategy.
"Certainly it's a lot easier if you have $12 million as a starting point," Yang told The Times and laughed. "If she hadn't, then it might have been a slightly different calculation."
Yang added: "You can't begrudge something that someone has done at an earlier point if they decide to move in a direction that I personally think is very positive."
Warren's campaign did not immediately respond to a request for comment from Newsweek on Monday. Warren's advisers told The Times that donations from big money made up about one-fourth of the $25.8 million she raised in 2017 and 2018 and her communications director said they are "pleased that our grassroots strategy has been so effective."
As of Monday, Warren's pinned tweet on her Twitter page reflected her new attacks on big money.
"For some candidates, 'call time' means dialing up millionaires and asking for big checks. Not me," states Warren's tweet from Friday. "Last night, I spent 'call time' thanking supporters and talking with voters. Will you chip in $3 to our grassroots campaign? I might call you to say thanks!"
Yang has given other top-tier candidates credit where he thinks it is due. On Bernie Sanders' birthday Sunday, Yang tweeted, "He has moved our country in the right direction and he's not done yet."