Elizabeth Warren Calls Donald Trump Vladimir Putin's 'Elf on The Shelf' at Virginia Rally
At an event on Thursday, Senator Elizabeth Warren called President Donald Trump an "elf on the shelf" for Russian President Vladimir Putin.
During a rally in Arlington, Virginia, an attendee asked Warren what she would do as president to ensure everyone was held to the same standards under the law, including Putin's "boy in the White House." The attendee pointed out President Gerald Ford's pardon of former President Richard Nixon and asked for an assurance that Warren would hold everyone accountable for criminal actions.
"His elf on the shelf," Warren said in reference to Trump before adding, "So the answer is, yes, no one is above the law, everyone is held accountable."
The Massachusettes senator claimed it wasn't a matter of political prosecutions or retribution, but was a matter of having an independent Department of Justice that enforces the rule of law. Even if there is a president who is willing to "look the other way," in terms of improper behavior, Warren said administration officials who break the law should know they'll be investigated because "Elizabeth Warren as president will not look the other way."
Newsweek reached out to the White House but did not receive a response in time for publication.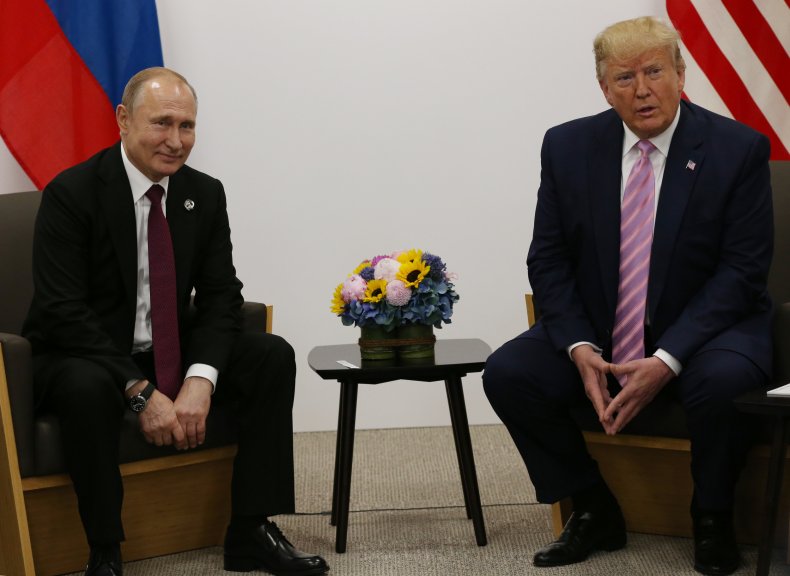 At the helm of the Justice Department is Attorney General William Barr, who's found himself in the hot seat recently for his involvement in political consultant Roger Stone's sentencing.
On Monday, the U.S. Attorney's Office in Washington recommended Stone, who was found guilty on seven counts, including lying to Congress, tampering with a witness and obstructing a House of Representatives investigation, serve seven to nine years in prison. The Justice Department then submitted a second sentencing memorandum encouraging Judge Amy Berman Jackson to sentence Stone to jail time that was "far less" than the initial recommendation.
Following the second memo's submission, four prosecutors in the case withdrew prompting criticism that Trump interfered with the Justice Department's work. On Wednesday, the House Judiciary Committee announced that Barr will testify on March 31 to address "numerous concerns" about his leadership and Trump's "improper influence over the Department and our criminal justice system."
Barr told ABC News on Thursday that the president "never asked me to do anything in a criminal case" but said it would be better if Trump stopped commenting about the work of the DOJ on Twitter.
"I'm not going to be bullied or influenced by anybody...whether it's Congress, a newspaper editorial board, or the president," Barr said. "I'm gonna do what I think is right. I cannot do my job here at the department with a constant background commentary that undercuts me."
On Wednesday, Warren told CNN's Anderson Cooper that Barr's actions mean he should resign and if he won't, legislators should begin the process of removing him from office.