Elizabeth Warren Calls On ICE To End Deportations During Pandemic: 'Stop Terrorizing Our Communities'
Senator Elizabeth Warren called on the U.S. Immigration and Customs Enforcement agency (ICE) to end deportations of undocumented immigrants who pose no national security threat on Wednesday, citing concerns that the deportations could lead to an unnecessary spread of COVID-19.
The Massachusetts senator joined forces with the state's additional 11 members of Congress to write a letter to the U.S. Department of Homeland Security (DHS) stating that "detention and deportation of immigrants only serves to increase the spread of COVID-19 among detainees and to foreign countries."
"ICE should listen to the medical and public health experts who want the agency to stop terrorizing our communities and deporting harmless people during this pandemic. It's needless, cruel, and undermines the COVID-19 containment efforts," Warren tweeted on Wednesday.
In the letter, the lawmakers said that deportation flights "endanger passengers and crewmembers and increase the likelihood that the United State is exporting COVID-19 to countries with weak public health infrastructure."
In April, Warren, along with Massachusetts Senator Ed Markey, and Representative Ayanna Pressley, criticized ICE for attempting to deport several individuals who had tested positive for COVID-19 to Haiti.
The congressional members also noted that ICE detention facilities have been prone to coronavirus outbreaks, citing an occurrence at the Farmville Detention Center in Virginia, where 75 percent of incarcerated individuals tested positive for the virus.
"ICE enforcement activities terrorize immigrant communities and stop immigrants from seeking critical medical care. As a result, public health officials and medical professionals are unable to provide needed treatment that helps control the outbreak of COVID-19 in the United States," the letter said. "We urge you to listen to medical experts who have called for a stop to deportations as a matter of public health."
The statement referred to a New York Times article published in May, which cited growing concerns that undocumented immigrants who may have been exposed to the virus are afraid to seek medical care due to fear of deportation.
"The first rule of public health is to gain people's trust to come forward: People who don't seek care cannot be tested or treated, and their contacts won't be traced," Lawrence Gostin, a professor of global health law at Georgetown University and adviser to the World Health Organization, told the Times.
"The last thing immigrants want to do in this political environment is tell health officials about their friends who are also unlawfully here," he added.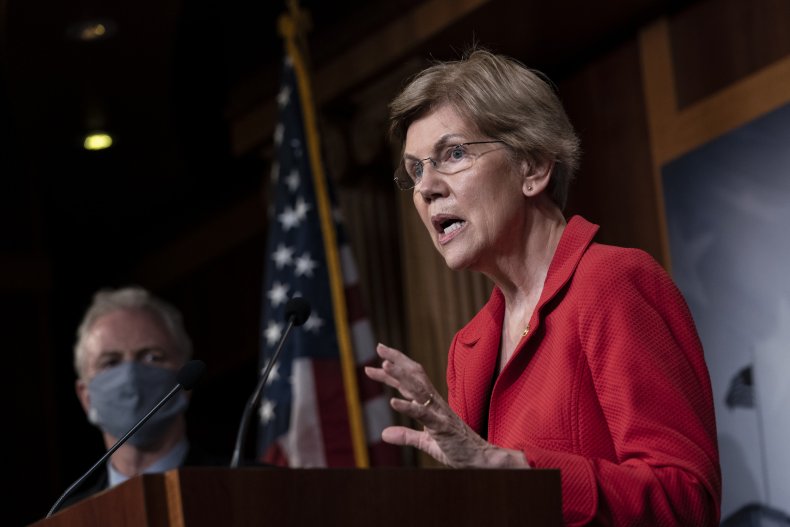 The Massachusetts congressional members added a series of inquiries in their letter, asking ICE to confirm whether or not they have been conducting pre-departure COVID-19 tests on all individuals scheduled for deportation and to disclose how many positively tested individuals have been deported.
In a statement, ICE said that its agency is "paying close attention to this pandemic."
"While our law enforcement officers and agents continue daily enforcement operations to make criminal and civil arrests, prioritizing individuals who threaten our national security and public safety, we remain committed to the health and safety of our employees and the general public."
Warren and the additional congressional members requested a written response to their requests from DHS by December 11.
Newsweek reached out to Warren for additional comment but did not receive a reply before publication.