Elizabeth Warren Calls for Joe Biden to Cancel Billions in Student Loans: 'Single Most Effective Action'
Senator Elizabeth Warren has called on President-elect Joe Biden to cancel billions of dollars in student loan debt early into his administration.
The Massachusetts Democrat—whose name has been floated for treasury secretary—posted a Twitter thread on Thursday morning explaining some of the "big changes that a Biden-Harris administration can achieve on day one."
"1. Biden-Harris can cancel billions of dollars in student loan debt, giving tens of millions of Americans an immediate financial boost and helping to close the racial wealth gap," Warren wrote. "This is the single most effective executive action available for a massive economic stimulus."
Warren also listed lowering drug prices, establishing a $15 minimum wage, and "prioritizing strong anti-monopoly protections and enforcement" as possible day-one actions.
"Biden-Harris ran on the most progressive economic and racial justice platform of any general election nominee ever. Now isn't the time to hand over the keys to corporate lobbyists," the senator added.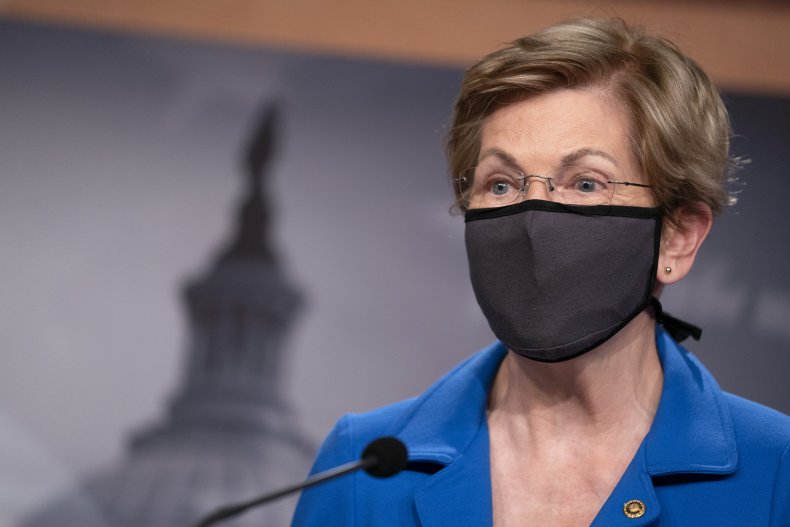 During the campaign trail, Biden proposed creating a program that offers $10,000 of undergraduate or graduate student debt relief for every year of national or community service. He also called for making public colleges and universities tuition-free for all families with incomes below $125,000.
The student loan burden in the United States is about $1.6 trillion, according to a report from the credit rating agency Moody's Investors Service released earlier this year. The amount of debt owed today has doubled from a decade ago.
Warren isn't the only lawmaker calling for student loan forgiveness. Senate Minority Leader Chuck Schumer (D-N.Y.) suggested Biden can cancel a large amount of student debt in his first 100 days as president in an FDR-style package of proposals.
"I have a proposal with Elizabeth Warren that the first $50,000 of debt be vanquished, and we believe Joe Biden can do that with the pen as opposed to legislation," Schumer told author Anand Giridharadas in a pre-election interview.
While President Donald Trump still has not conceded the presidential race—which was called for Biden on November 7 by the Associated Press and other news outlets—Biden and Vice President-elect Kamala Harris are moving forward with their transition plans.
The Biden campaign updated its transition website to showcase four key issues the incoming administration will prioritize: the coronavirus pandemic, economic recovery, racial equity, and climate change. So far, the website does not include any information on the student loan crisis.
"A Biden-Harris administration, propelled by the foundation laid by the transition, will lead a just and equitable recovery that rebuilds a strong, inclusive middle class and builds an economy for the future," the website read.
Newsweek reached out to Biden's representatives for a comment on Warren's proposals.