Elizabeth Warren Claims Senate GOP Trying to 'Steal' Vacant SCOTUS Seat
Senator Elizabeth Warren (D-Mass) has accused Senate Republicans of trying to "steal" the Supreme Court seat vacated by the late Justice Ruth Bader Ginsburg, as she railed against the nomination of Amy Coney Barrett.
The former Democratic primary candidate also said the GOP was trying to appoint Barrett before election day to "advance an extremist agenda" beyond 2020.
The Quote
"Senate Republicans have better things to do than pass a relief package, things like steal a Supreme Court seat.
"Here's the ugly truth: Donald Trump and his Republican buddies know that confirming Amy Coney Barrett to the nation's highest court is their path to advance an extremist agenda, long after the country is fed up and disgusted with their failures.
"In the middle of an election, in the depths of a pandemic, their extremist agenda is all that matters. And that's why they're so desperate to ram her nomination through the Senate."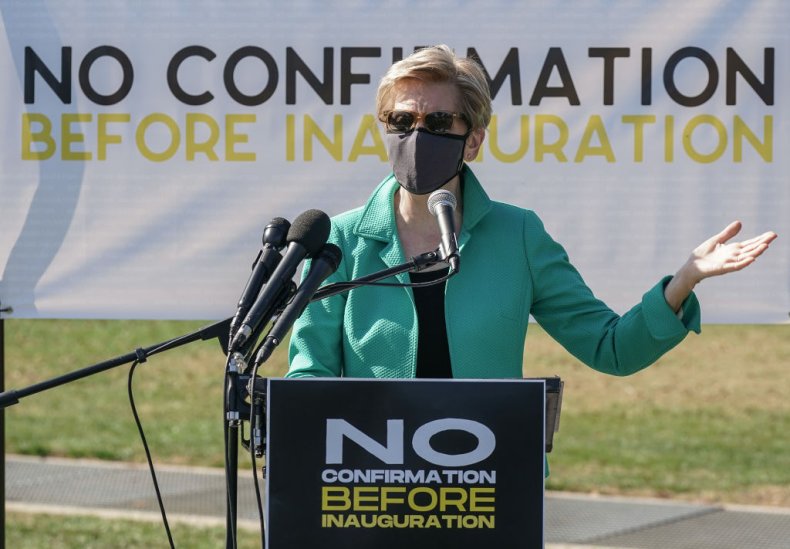 Why it Matters
The confirmation vote on Amy Coney Barrett's appointed to the Supreme Court is slated to take place on Monday after the Senate voted 51-48 on Sunday to bring the nomination vote forward.
Her appointment to the Supreme Court is expected to be approved by the Republican-controlled Senate after Alaska Sen. Lisa Murkowski indicated that she would no longer oppose the nomination.
Vice President Mike Pence is also expected to be in attendance despite some of his closest aides testing positive for COVID-19. He said on Sunday that he would not "miss that vote for the world."
Speaking in the Senate on Sunday evening, Republican Majority Leader Mitch McConnell said: "Judge Amy Coney Barrett of the U.S. Court of Appeals for the Seventh Circuit is a stellar nominee in every single respect. Her intellectual brilliance is unquestioned, her command of the law is remarkable."
He also said the Supreme Court would have a new member by Monday night, signaling his confidence that Republicans would back the candidate.
Counterpoint
President Donald Trump has every right to nominate a Supreme Court Judge with consent from the Senate under Article II of the U.S. Constitution.
There is no Constitutional or legal caveat dictating that a president is barred from nominating a candidate for the Supreme Court in an election year. Past precedent also dictates that such a move is legally acceptable.
Former President Barack Obama tried to push through a Supreme Court appointment in an election year, nominating Merrick Garland to replace the conservative Justice Antonin Scalia in early 2016.
The Democrat's nomination was blocked by the GOP-controlled Senate, with Majority Leader Mitch McConnell calling for any appointment to be made after a new president had been elected in November that year.