Elizabeth Warren Claps Back at Facebook's Mark Zuckerberg Over Leaked Audio
Massachusetts senator and 2020 Democratic presidential candidate Elizabeth Warren shot back at Facebook CEO Mark Zuckerberg on Tuesday for his criticism of her plan to break up big technology companies, including his own.
In audio recordings obtained by The Verge, Zuckerberg can be heard sharing his disdain for Warren's plan with employees. The 35-year-old tech mogul said that if Warren becomes president and follows through on her mission to split up large technology corporations like Facebook, then "I would bet that we will have a legal challenge, and I would bet that we will win the legal challenge."
"And does that still suck for us? Yeah," Zuckerberg continued. "I mean, I don't want to have a major lawsuit against our own government ... But look, at the end of the day, if someone's going to try to threaten something that existential, you go to the mat and you fight."
Warren was quick to respond after the audio's publication, knocking Zuckerberg and his social media platform. She accused Facebook of stifling competition, abusing users' privacy rights and contributing to foreign election interference.
"What would really 'suck' is if we don't fix a corrupt system that lets giant companies like Facebook engage in illegal anticompetitive practices, stomp on consumer privacy rights, and repeatedly fumble their responsibility to protect our democracy," she wrote in a tweet. "I'm not afraid to hold Big Tech companies like Facebook, Google, and Amazon accountable. It's time to #BreakUpBigTech."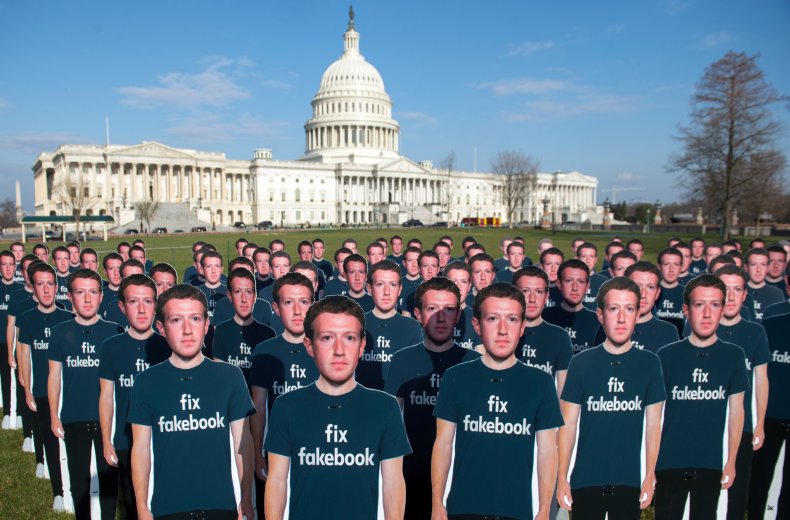 Warren believes the so-called "Big Tech" companies, which also include Apple and Microsoft, are monopolies and need to be broken up in order to benefit consumers, allow for increased competition and prevent corrupt business practices. Antitrust regulators recently slapped Facebook with a $5 billion fine and compelled the firm to adhere to a new set of rules set by the Federal Trade Commission when handling users' personal information.
In speaking to his employees, Zuckerberg scorned the notion that the solution was to separate large technology companies.
"It's just that, breaking up these companies, whether it's Facebook or Google or Amazon, is not actually going to solve the issues," he said, according the audio The Verge published. "And, you know, it doesn't make election interference less likely. It makes it more likely because now the companies can't coordinate and work together."
Since Russian election interference in the 2016 U.S. election, Zuckerberg has been pressured to improve his platform's ability to filter out misinformation and fake news. Russia used Facebook, among other sites, to cultivate discord within American politics in the run-up to the last presidential election, according the findings of former Special Counsel Robert Mueller's investigation.
"We must ensure that Russia—or any other foreign power—can't use Facebook or any other form of social media to influence our elections," Warren wrote in her plan to break up big tech, published in March. "More competition means more options for consumers and content creators, and more pressure on companies like Facebook to address the glaring problems with their businesses."